The Business of Data: How a Business Analytics Degree Can Close the Skills Gap in Organizations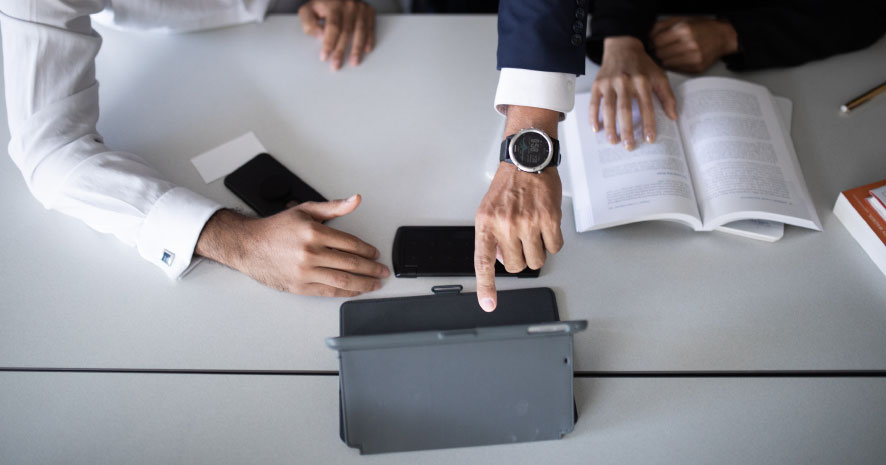 Data is everywhere – from consumer behavior and transactions, business operations and marketing, and even to how cities run – every day there is an increasing amount of data. Similar to a river swollen by relentless rain – more and more data is coming, relentlessly.
But the data river is spilling over its banks and headed out to sea. Not all gets captured, much is unused, and a lot is left unanalyzed, ending in lost opportunities and, in the case of businesses, lost revenue.
That data needs to be sorted, coalesced, analyzed, and put to correct use. The overarching problem is that the growth in data and its usefulness aren't being matched by businesses' ability to analyze it. The phrase "data-rich and information poor" is a common pain point found in most businesses today.
This is why business analysts – those who can use data to not only study what has happened, but just as importantly, predict what will or can happen next – are in very high demand today. With its growing relevance and increasing importance, it's why graduate business students are being more and more drawn to earning a master's degree, or even an MBA concentration, in business analytics.
Organizations Have a Business Analytics Skills Gap
That river of data, larger by the day, upholds the promise that "information is power." For reasons that boil down to efficiency and profitability, large organizations with sprawling operations and distribution need centralized access to and understanding of what is happening with their enterprise. This information not only tells them about internal situations, but external ones as well – and how to plan for the future.
But despite all the resources available today – not only with data collection but also data analysis – several factors can get in the way.
As an example, consider when "Company A" acquires "Company B", promising shareholders that the merger will synergistically improve performance and yield greater shareholder value. Fulfilling that promise may very well require coalescing consumer data, manufacturing supply chain data, or data relating to talent costs and productivity metrics.
Unfortunately, the likelihood of simply melding different companies' systems attached to those functions is remote at best. Even within companies, disparate legacy systems – some including binding contracts with outside vendors operating off different platforms – can prevent the use of valuable data. It's the old problem of informational and operational silos where parts within the organization fail to share vital information with others.
Those silos might be full of great data – but only someone with advanced skills in business analytics can make use of it.
Businesses Are Looking for Candidates with Business Analytics Knowledge
Successful organizations need business analytics in order to progress – and not just the largest, multinational corporations. With increasingly affordable artificial intelligence and other data-intensive cloud-based software, data can be exceptionally valuable and accessible to small businesses and even start-up enterprises.
Not too long ago, the business intelligence firm MicroStrategy published a research report, "2018 Global State of Enterprise Analytics Report," which queried 500 enterprise analytics and business intelligence professionals working in 20 industries. As reported in Forbes, what they found defines the demand for business analysts who can interpret the data in a variety of ways:
71% say their investments in data and analytics will accelerate in the near future (3+ years out)
57% have a Chief Data Officer to "democratize data and analytics" across organizations
52% of companies now leverage advanced and predictive analytics "to provide greater insights and contextual intelligence into operations"
The three technologies expected to have the greatest impact on analytics over the next five years are cloud computing, Big Data, and artificial intelligence/machine learning
The net results are a boost in process and cost efficiency, using data to drive strategy and change, monitor, and improve financial performance.
By the same token, companies that fall short at analyzing data, lacking leadership from managers who are short on business analytic skills, and who fail to employ a comprehensive operation approach, suffer many consequences. Such consequences include wasted time, an inability to reach new customers, lost sales, stalled market introductions, reduced margins, as well as internal matters such as a poor assessment of staff strengths and uncertainty over enterprise priorities.
The Increasing Value Business Analysts with a Masters Degree Offer to Organizations
There is some misunderstanding as to what business analytics is. Sometimes confused with data analytics, business analytics actually is a higher function that justifies its place within an MBA or specialized master's curriculum.
Data analytics approaches the more tactical issues, such as where geography and weather might influence a product rollout. Data analysts dive deep into massive datasets to identify patterns and trends that yield data-based insights. Other terms for data analytics are data mining, data modeling, and data science.
Business analytics somewhat transcends the datasets to focus on strategies, based on data analytics, such as where to prioritize resources. An organization with an effective focus on business analytics will apply statistical techniques to identify where and if the company is performing to expectations, including revenues, product innovation, and planning for external changes. The company that understands business analytics understands how data is an asset.
Both data analysts and business analysts employ quantitative means to drive business decisions. But business analysts interpret historical data to find broader patterns and trends. They also interpret this data somewhat forensically, to recognize why things in the past happened as they did.
Looking to the future, business analysts forecast outcomes, as the discipline is often used to be prescriptive. This is when the data is used to create testing models that can identify optimal outcomes against a mix of external conditions.
Two areas where business analytics are powerful tools are when the discipline draws from social media and online purchases. The "Data Never Sleeps 9.0" report from Domo, a software company that specializes in business intelligence, provides some insight on how the volume of data, created every minute of every day, can be a rich resource to the companies that know how to harness it.
After assessing the Domo report, it is clear that the pandemic drove a noticeable uptick in overall internet usage; from January through July 2021, the number of people globally logging online rose by 10%, to where 5.17 billion people, 65% of the earth's inhabitants, now access something through a browser. Other findings:
Every minute, 240,000 photos are uploaded onto Facebook
Every minute, TikTok users watch 167 million clips
Every minute, users post 575,000 tweets on Twitter
Every minute, 5.7 million people search on Google
Every minute, shoppers spend $283,000 on Amazon
Every minute, users send $304,000 on Venmo
The massive troves of information generated by these platforms can be hugely valuable to a broad swath of companies. But how do enterprises engage in the iterative and ongoing process of methodically exploring the data? And given the real-time nature of online platform-generated data such as this, how immediately can this information be put to work? Just as important, how is useful data separated from the noise inherently present in high-volume data scenarios?
All of this is the job of the business data analyst. The data expert is tasked with finding the fastest answers to questions on an ongoing basis. Guesswork and intuition are increasingly challenged if not altogether replaced with meaningful data and its interpretation. Consumer behavior insights are much more advanced and nuanced than ever dreamed possible just a few years ago. Cross-selling to consumers is now far more likely, given the rich detail with which those consumers are understood – on an individual basis, in many cases. And reports on the metrics can be generated on demand – this morning, this evening, next week, and next year.
Grow Your Knowledge and Career in Business Analytics at Pepperdine Graziadio
When considering a degree in business analytics, you have multiple avenues in front of you. Specifically at Pepperdine Graziadio, you have three options specifically designed to fit your goals, career stage, and schedule:
Full-Time Master of Science in Business Analytics (MSBA)
Designed specifically for individuals looking for an analytical career, our Full-Time Master of Science in Business Analytics (MSBA) program boasts a STEM-designated, experiential curriculum that can be completed in as little as one year. With an emphasis on predictive analytics, risk management, optimization modeling, and information technology, MSBA graduates are given the tools to lead in organizations that value and rely on evidence-based decision-making. Students within our MSBA program revel in solving complex challenges in the world of big data. They leverage business analytics to create innovative solutions in order to drive bottom-line results and lead organizations forward. Skilled business analysts use data-based intelligence to counsel executives, who in turn use that intelligence to formulate high-level strategies and manage organizational risk.
The MSBA curriculum courses include advanced statistical tools, Big Data management, predictive analytics, marketing informatics, social media analytics, and business analytics electives, to name a few.
As an added bonus, any course units achieved as you earn an MSBA can later be applied to an accelerated MBA program at Pepperdine Graziadio. This program also allows international students on an F-1 visa to apply for a 24-month extension of their optional practical training (OPT).
With a masters' degree in business analytics, the specialist can earn the national average salary of $127,150 (source: glassdoor.com).
Full-Time or Part-Time MBA Concentration in Business Analytics
As a part of our Full-Time and Part-Time MBA curricular offerings, the concentration in business analytics is designed to close the skills gap that is prominent in commerce, providing new options and greater earnings potential to graduates with the technical and strategic skills that organizations clearly need.
The business analytics concentration includes requirements in core decision sciences (advanced statistical tools, optimization modeling, predictive analytics, simulation modeling, and multiple attribute decision analysis), core information systems and technology management (social media analytics, marketing informatics, and business process analysis and innovation), as well as elective courses in the following:
Supply chain management analytics
Healthcare analytics
Project management
Valuation of real options
Information security data analytics
Business analytics and intelligence
Regardless of which business analytics degree you may choose to pursue (if any at all), the need for business analytic professionals grows more and more every day. As an example of how critically important these skills are, let's take, for instance, the conditions of COVID-19 and the vulnerabilities in supply chain systems – and how data-based decisions can impact supply chain practices. And for those interested in healthcare, the importance of research design, data collection, and applied statistics are fundamental to healthcare research methodologies. As you consider your future, we invite you to be among the Best for the World leaders, to create smarter, more efficient, and more effective organizations by way of business analytics.