Alumni Spotlight: Russ Shumaker, MBA '18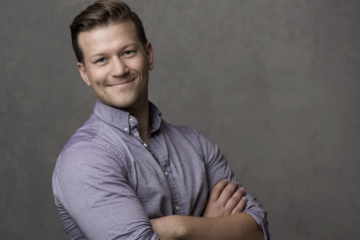 At the Graziadio Business School, our mission is to develop purpose-driven leaders who are dedicated to making decisions that go beyond their industry and influence positive change within their local communities. Alumnus, Russ Shumaker (MBA '18), embodies our vision of a purpose-driven leader by applying his learnings and values-based business acumen to impact his industry on a global scale.
Currently residing in Seattle and working for World Vision, a global Christian relief and development organization, Russ leverages the SEER principles and the values instilled in him during his time at Graziadio to support impoverished families, children, and communities around the world. Russ maintains a strong moral compass while promoting sustainable business practices that are ethical in focus and global in orientation.
Interview Questions
What drew you to earn your MBA from Pepperdine Graziadio?
Graziadio's reputation was what first caught my attention. What sold me was the flexibility of the program and the generous merit-based scholarship they offered. Having multiple campuses throughout Greater Los Angeles allowed me to take classes that fit my schedule, and the financial aid package significantly increased the ROI of my education. Looking back, I would say the faculty and staff are Graziadio's greatest assets. They genuinely care about the success of their students and it shows in every interaction and in every class. I've never experienced that in a university setting before. The sense of care and community is evident as soon as you step onto campus.
I see that you worked on several business consulting projects while earning your degree. What experience did you gain while working on these projects and do you have any key takeaways?
I had the privilege of working with four very different companies on projects that were quite diverse. Being able to take my learning out of the classroom and apply it directly to real companies was of tremendous value. And working across industries—luxury fashion, manufacturing, food and beverage, and healthcare—allowed me to gain insights I wouldn't otherwise have had. Plus, these consulting projects gave me direct exposure to executives who offered valuable feedback and gave me confidence in my abilities. One of my clients was an international firm based in Shanghai. Being able to travel there and interact directly with the CEO provided the intercultural experience I wouldn't have received any other way. And it created friendships with other MBA students in the program that I value deeply.
What was your biggest learning experience from our MBA program?
Graziadio helped me weave a comprehensive business framework out of several distinct threads. Studying strategy, marketing, innovation, and entrepreneurship showed me the big picture, but it was classes in organizational development that tied them all together. I think it was Bob Epstein who said, "If you can get everyone in an organization rowing in the same direction, you can dominate with any business, against any competition, any time." On the flip side, it doesn't matter how good your strategy is if your team isn't functioning. A good leader needs both hard business skills and soft people skills.
World Vision's work is both extremely impactful as well as touching. Talk to me about the Chosen campaign that was recently launched.
For those that aren't familiar with World Vision, we are a global Christian humanitarian organization. We operate in nearly 100 countries, including the US, partnering with children, families, and their communities to reach their full potential by tackling the causes of poverty and injustice. We are widely known for our child sponsorship program, but we also have industry-leading programs in gender equality, microfinance, economic empowerment, disaster relief, health, We're also the largest non-governmental provider of clean water in the developing world. And we partner with hundreds of corporations and small businesses to provide CSR business solutions that are good for the world, and good for the bottom line of our partners.
With Chosen, we're flipping child sponsorship on its head. Instead of donors picking a child they would like to sponsor in the developing world, we put the choice in the hands of the child. It's a simple reversal, but it's incredibly powerful. And it illustrates the lifetime of empowerment that sponsorship provides. Chosen started off as an experience we offered to churches, but now it's also open to individuals and to companies who want an innovative and powerful new way to engage employees.
Did Graziadio's values and focus on ethical leadership play any role in your work at World Vision?
The SEER (Socially, Environmentally, and Ethically Responsible) principles learned at Graziadio are tools that I use on a daily basis. In my role at World Vision, I lead our marketing efforts to corporations and foundations. That means helping companies understand why SEER is important, and how it is advantageous for their business model. Corporate social responsibility works best when it is deeply embedded within a company's business model, and not just something that's tagged on as an afterthought. My job is to help companies find CSR solutions that are strategically aligned. Thankfully, World Vision's work is so broad and comprehensive, we usually have a solution that works, whether it's a cause marketing campaign, accepting and repurposing excess product, creating an employee engagement opportunity, or simply putting a cash grant to good work in a developing country.
What advice do you have for those looking for their next opportunity after earning their graduate degree?
One of the best things that you can do is leverage your Pepperdine network. There are so many people connected to the university, and having Pepperdine as a common ground is a great way to start a conversation. The easiest way to do this is with LinkedIn. If you find a company that you're interested in, check LinkedIn to see if any alum work there, then reach out to them and see if they'd be willing to answer a few questions about their experience. When I was looking for a job post-graduation, I did this a lot and was never turned down. You never know what can come from it. Referrals are a big part of the process in a job hunt, so it is important to connect with those who can provide you with insight and opportunity.