National Hispanic Heritage Month: Cristian Quintanilla
Graziadio Alumnus and Founder of Don Leo Coffee
Share a little bit about your background: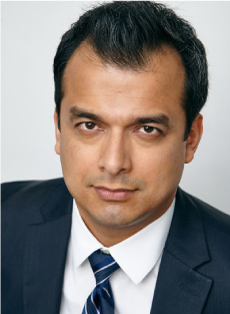 I was born in El Salvador, where I was raised by my grandparents, during the civil war of the 80's, in which 85,000 people were killed. I came to live with my mother in Los Angeles at the age of 10. I have been living in Los Angeles ever since. Through hard work and perseverance, I became the first one in my family to graduate high school, college and graduate school, in the US.
Shortly after completing my MBA at Pepperdine University, I decided to start my own business, Don Leo Coffee. I named my brand after my grandfather. Don Leo Coffee is the first 100% Salvadoran brand of gourmet coffee that is distributed in the US. My coffee is processed at the source, which means it is not only grown, but also processed, roasted, ground and packaged by farmer owned CoOp in El Salvador, making it truly authentic. This also means that by switching away from the industry's current business model from the current "locally roasted" to my "processed at the source", I am able to generate more revenue for the farmers and local economy in El Salvador. Don Leo Coffee can be found in a few local grocery stores around Los Angeles, and on online at www.DonLeo.coffee
What does it mean to be Hispanic/Latinx?
Being Latin means that I come from a long line of ancestors who have endured great hardships and have overcome poverty, wars, life altering trauma and tragedy in order to survive. My grandparents had to leave their home and all belongings behind more than once to flee the civil war, moving to different parts of El Salvador, in order to keep their children, and me, alive. I thank them for that. My mother had to leave behind her one-year old son, and migrate to the US, where she had to start from scratch; an 18 year old girl, in a new country, with a new language, a new culture, a new system. She started by cleaning other people's homes.
Slowly but surely, she paved the way so that I could one day have opportunities she didn't have in this country. I thank her for that. I always carry their stories in my mind and my heart, as reminders of the sacrifices those that came before me had to make, in order to me to be where I am today, and so that I remember to honor those sacrifices with every step I take.
What does being part of Hispanic/Latinx community mean to you and your family?
Being part of the Latin community in the US means that in many ways, I have to work harder and smarter in order to "level the playing field" for me, and for those who will come after me. However, it also means that I have the same audacity and tenacity my ancestors have demonstrated before me, and if they can survive and overcome their circumstances, I can certainly thrive in mine.
I do enjoy knowing that I get to pave the way for many other immigrants or children of immigrants who may not see past their current circumstances; and I hope that I am able to motivate and inspire them.
What are some Hispanic/Latinx customs/traditions that are meaningful to you?
Some of the most memorable traditions I recall growing up in El Salvador came during Semana Santa or "Holy Week", which is basically Easter. The family gatherings and meals that are very specific to that time of year, such as "tortas de pescado" (fish patties in fried in egg batter), or "torrejas en miel" and "nuegados de yuca en miel", both sweet and savory treats that are dipped in home-made syrup, of course, with coffee. After my grandfather passed away several years ago, Day of the Dead became a very special day for me.
What is a local Hispanic/Latinx business that you support?
Some local Latin businesses that I support are Panaderia Cuscatleca in DTLA, La Pupusa Urbana in DTLA, and Don Antonio's in West LA.
What is your favorite Hispanic/Latinx food or recommended food?
There are so many delicious types of Latin foods that it is difficult to choose just one, but if I had to choose, to quote Leonardo DiCaprio, "I'm a pupusa-man myself".
What's your favorite Hispanic/Latinx song or type of music?
I love all types of Latin music, but I particularly enjoy dancing Salsa and Bachata.
Do you have any closing thoughts or comments?
I appreciate the opportunity to share my story and my culture with my fellow Waves. Getting an MBA from Pepperdine has definitely marked a pivotal point in my life, catapulting my career and entrepreneurial ambitions. I will always be grateful for the teachings, the friendships and support; and I will most certainly always be Pepperdine Proud!