A Million Pound Mission: Meet Alumnus and Entrepreneur Jared Lee (MBA '15) of EAT Almonds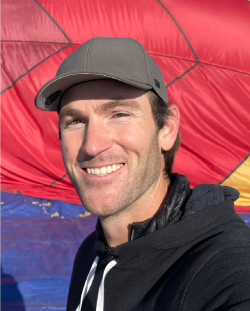 Entrepreneur, athlete, and true example of a Best for the World Leader, Jared Lee (MBA '15), wakes up every morning with one million pounds of almonds on his mind—and one million opportunities to give back to people in need. Being no stranger to living with intention, Jared channels his many years of family support, team commitment, and "managing failure" to drive his entrepreneurial endeavors. And ever since TOMS founder, Brian Mycoskie, spoke at his commencement address, Jared drives his entrepreneurial endeavors with social responsibility at the heart.
His company, EAT Almonds, is "in business to feed people," but not just his consumers. Balancing profit with purpose, Jared based his organization on a one-for-one model, donating one bag of almonds for every EAT Almonds bag purchased. His ultimate goal? The Million Pound Mission, where EAT Almonds aims to sell, and therefore donate, one million pounds of product--enough to feed 40,000 neighbors in need one serving per day, everyday, for a year.
Read on for more about EAT Almonds, Jared, and his Million Pound Mission. And if your tastebuds are already watering, check out EATalmonds.com to see what tasty, healthy treats can come to your door with no cost shipping using the code SHIPFREE.
1. Tell us about your background. What drove you to become an entrepreneur?
I don't think any one thing in my life drove me to be an entrepreneur, but rather a blend of my past experiences. So, here's the 30,000-foot view of my background: a supportive family, lots of baseball, a handful of marathons and four years of investment banking.
All my family ever says is, "Go for it! Get 'em!" It gives me the chills when I type that out, but what an amazing support system to have as an entrepreneur, right? Over 20 years of baseball taught me to be invigorated with failure, because…managing failure is the backbone of the game. You've all heard it before, but even Hall of Famers failed more than 70% of the time!
Marathoning came after baseball, and I can't really explain what I've learned through the miles other than I now know I have far more endurance than I ever imagined—physical and mental. And investment banking…oh, investment banking. Investment banking taught me to take complete ownership over my work. It taught me to get the job done, and done correctly, no matter what.
2. What inspired you to create EAT Almonds and it's one-to-one model?
I have a ton of hobbies and one of them is to think of business ideas. I have always been that guy. I love thinking through new ideas to find key players, pain points or opportunities. Baby shoes, bamboo chopsticks, effervescent tablets, pocket squares, to name a few; I love them all for different reasons.
But here's the interesting thing: I've always envisioned creating these businesses, no matter the industry, with a social impact component. To me, it's kind of automatic. I think it's because the founder of TOMS shoes, Blake Mycoskie, spoke at my graduation. He's the brains behind the one-for-one model and, in my opinion, subconsciously encouraged us 30-ish-year-olds to think along the lines of giving back. Not only can you generate a ton of positive impact with a one-for-one model, but it's also proven that you can create a thriving and profitable business. So now we're here!
3. What's your dream goal for EAT Almonds?
We at EAT Almonds are focused on our Million Pound Mission. The mission calls for us to serve 1 million pounds of seasoned almonds—which is doable—so that we can donate 1 million pounds of natural almonds to neighbors in need. This is our dream goal, our shining light and the fire that lights me up each morning on Mach 1 with my hair on fire. One million pounds can feed 40,000 folks one serving of almonds per day, every day, for a year. That's literally the homeless population in Los Angeles!
You see, this all really started after I called 130 food banks across the country and learned shelf-stable proteins are, and always have been, in high demand. I knew a ton about almonds and felt very comfortable navigating the supply chain given my agricultural roots in Fresno, California (Fresno and surrounding areas grow 80% of the world's almond supply). So, I set out to create a long-term solution to help provide shelf-stable protein in the form of almonds. Are we at EAT Almonds going to end hunger in the United States? I dare to dream but am also realistic, so unfortunately, I don't think that will happen. But it's a start, and it's a start that may just inspire other like-minded folks to help address the food insecurity problem we currently experience in America.
4. How did your MBA play a role in the creation of EAT Almonds?
I grew up a ton when I attended Graziadio. I was young, fresh off the baseball diamond and did not know what to expect. Luckily Graziadio focuses on a well-rounded education, and I studied different verticals that are vital components of starting/running a business (e.g., finance, economics, marketing, legal). Graziadio really gave me a 360-degree-view of how to conceptualize a business which gave me comfort when diligencing, and ultimately committing to, the consumer-packaged goods space specifically in the snack nut category.
In tandem with the education, Graziadio was full of professors and colleagues who motivated me to go out and be somebody. The team atmosphere is something I miss every day. Not every MBA program in America creates an environment where students and faculty maintain relationships well beyond graduation. I still talk to countless classmates and regularly communicate with professors—and that's special if you ask me.
5. What made you choose Pepperdine Graziadio for your MBA?
I attended Pepperdine's undergraduate campus. I loved the experience so much that I decided to apply for Graziadio and was elated when I found I'd be attending the MBA program. Pepperdine has such a high quality of human beings that walk around the campus. From the professors to the students, to the security officers and baseball groundskeepers, everyone has a certain positive glow about them that really makes Pepperdine special in my opinion. It's amazing. I miss it.
On top of that, I knew I was interested in living in the Los Angeles area post-school. So, given Pepperdine's mystique and strong network of alumni, it was a no-brainer to choose Graziadio.
6. What advice would you give to someone considering their degree?
I am unequivocally unqualified to give advice (I used that line during a best man speech recently) but here it goes: if you're going to go after your degree, go after it like you mean it. Research schools like you mean it, write your essays like you mean it, communicate with current students and professors like you mean it. Because the real ones, the decision-makers, can tell if you mean it. And schools that offer great higher education programs want to fill their classrooms with students that really mean it when they say they want to grow as a professional and as an individual.
You can do it and you can get amazing value out of a degree, whatever it's in, if you lean into it and commit to bettering yourself and others around you. And what does that look like? It looks like a ton of work, failure, uncomfortable situations, tinkering, introspection, intense conversations; I could go on. But coming from someone who has been through it: it's worth it. Man, that just fired me up. Cheers!