Emphasizing "Connectability": Alumnus Steven Van Cohen Influences Leadership in Workplace Cultures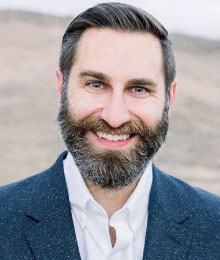 What's the key to success? A common question asked by many, yet the answer yields a variety of responses. Just as everyone has a different definition of success, they also have different interpretations of how to achieve it. For leading entrepreneur and author, Steven Van Cohen (MSOD '11), success comes from connections. A connection brought him to Graziadio, where he spoke with MSOD faculty member, Dr. Ann Feyerhem. From there, his journey to becoming an organizational consultant materialized as he furthered his connections both inside and out of the master's program. Fast forward twelve years, connectivity is what drives him today.
Since graduating from the MSOD program at Graziadio, Steven learned to increase his professional opportunities through expanding his network, setting a goal to make valuable relationships along the way. Over the past twelve years, Steven has helped renowned companies improve their employees' well-being and belonging through leadership coaching, resulting in safe workplace cultures. By placing an emphasis on "connectability", he continues to significantly impact the lives of those who have experienced loneliness in the workplace.
Steven is pursuing his purpose through a variety of passions, including becoming a co-author of Connectable – How Leaders Can Move Teams From Isolated to All In, co-founding LessLonely.com, and standing as the current CEO of a leadership development practice, SyncLX. Being a true embodiment of a Best for the World Leader, Steven seeks for LessLonely.com to be the main resource for individuals to increase their "connectability" with upper-level management and coworkers alike.
Read Steven's Interview:
1. Tell us a little bit about yourself, professional and personal.
I have spent the past 12 years consulting for companies like Home Depot, Blackstone, Salesforce, Bank of America, and Komatsu. Most of my work is rooted in leadership development, executive coaching, generational dynamics, and L&D. I am a partner at a global consultancy called SyncLX and just founded a new company called LessLonely.com. I am the proud author of a new book, Connectable – How Leaders Can Move Teams From Isolated to All In (McGraw Hill 2022) and have been focused lately on helping clients lessen loneliness and boost belonging inside their organizations.
I grew up in the windy city in Chicago but migrated to California six years ago. I am surrounded by incredible women, my wife, Jen, and two daughters, Claudia and Colette. I am a musician, love to go on daddy-daughter adventures with my girls, and have an affinity for playing sports. Lately, I have been doing a lot of extra reading, writing, and speaking, which has been fun.
2. Why did you choose to pursue your MSOD? What drew you to Pepperdine Graziadio and the MSOD program?
Two years after college (University of Illinois Urbana-Champaign), I reunited with a professor to discuss my professional goals. He recommended I pursue an MSOD and said Pepperdine had the best MSOD program in the world. When I called the admissions office to inquire about the program, I got connected with Dr. Ann Feyerherm. For anyone who has ever met Dr. Ann, all it takes is one phone call with her to feel totally connected. We talked at length about the program, why it might make sense for me, our childhoods (we grew up in the same suburb of Chicago), and a host of other topics that totally drew me in. After an amazing chat with her, I was hooked.
I wanted to become a consultant and knew an MSOD would help. It not only set me up to live the professional dream life I have today, but it set me on a path that has helped me show up more fully for the people in my life.
3. What inspired you to co-found LessLonely.com?
In early 2019, my business partner and I discovered research that highlighted that 73% of Gen Z workers reported sometimes or always feeling alone. Surprised and saddened by that number, we began exploring what was causing this loneliness. As we began our pre-pandemic research, it became clear that it wasn't just Gen Z individuals who were experiencing loneliness – everyone was.
Considering there weren't any resources to help organizations lessen worker loneliness, we decided to create it. Loneliness isn't shameful, it's a signal. A signal we belong together. And we believed the best place to tackle the loneliness epidemic was at the place we convene the most – work. And leaders were best positioned to cultivate more belonging among their teams.
Amid the COVID-19 pandemic, we began sharing our loneliness research with clients and were astonished by how large the appetite was for this topic. The pandemic had finally pulled back the curtain on the concealed topic of loneliness. Two years, one book, two frameworks, an app, and a team connection assessment later we built LessLonely.com. We have been thrilled to see how accessible this topic has become for organizations, big and small, all over the world.
4. How did your MSOD education prepare you for your business venture?
In both of my professional endeavors, creating change has been at the core of what I do. Pepperdine's MSOD equipped me not just with the knowledge I needed, but the confidence required, to go into different companies and lead my work.
The goal of LessLonely.com is to help organizations create cultures that fully "see" the people inside. SyncLX has a mission rooted in helping organizations transform through inspirational learning and development.
I launched my first consulting company days after my MSOD graduation. That was 11 years ago and I am still running strong. The program helped me more fully understand myself, my leadership competencies, organizational dynamics, and behavioral science.
Pepperdine Graziadio's MSOD program also helped me break down some of my walls and learn to connect more deeply with the people around me. This transformation has been vital to successfully run a company and "showing up" for my clients.
5. What are your future goals for LessLonely.com? Why is it important to address loneliness in the workplace?
With 72% of the global workforce regularly feeling lonely and 94% of leaders saying their teams have grown lonelier since the start of the pandemic, loneliness is becoming a serious business threat leaders at all levels need to be aware of. Our goal for LessLonely.com is to combat this threat with innovative solutions that help people feel more connected to their teammates, work, and leaders.
Our vision is to be the premier resource for worker well-being. We've built a fully validated Team Connection Assessment that measures the current connection-level within a team, The Connect DeckTM which is a physical game that helps people reconnect with humanity, a comprehensive digital learning tool, an app, and a host of other things that are all dedicated to lessening loneliness and boosting belonging.
We believe that everyone deserves to go to work and feel fully seen. Work takes up the biggest "slice" of the pie chart of life. Making work a place where people can feel genuinely connected is something we are excited about contributing to.
Loneliness is on the rise, but that means it is malleable. What rises can also decrease. LessLonely.com is our attempt to normalize the conversation around loneliness and help people become more connectable. The strength of our connections is vital to our success at work, which is why we are hopeful LessLonely.com can continue to grow over the subsequent years.
6. What is the key to succeeding post-graduation?
Being connectable. Being teachable means you are ready and willing to be taught and being connectable means you are ready and willing to connect. We live in a world predicated on convenience. The "frictionlessness" of our day-to-day hijacks our opportunities to connect with people more deeply. We no longer need to talk to a barista, go into a restaurant to pick up our food, call someone for advice, or ask a friend how to fix something. Technology has allowed us to eliminate many of the human-to-human touchpoints we need in order to network, connect, and thrive.
All of my success has come on the backs of other people. My network helped me get my first internal consulting job, my first big project when I started my external consulting firm, my book deal, many of my speaking engagements, and the host of friends I am so lucky to have in my life. We are nothing without our connections.
Succeeding starts and stops with who you know, not what you know. Since we are becoming more distanced, and suffer from an epidemic of busyness, we need to become much more intentional with how, when, and who we connect with. "Connectability" in my opinion is the key to a long and sustainable career. It is also the key to a healthy, happy, and rewarding life.