Graziadio School Scholarships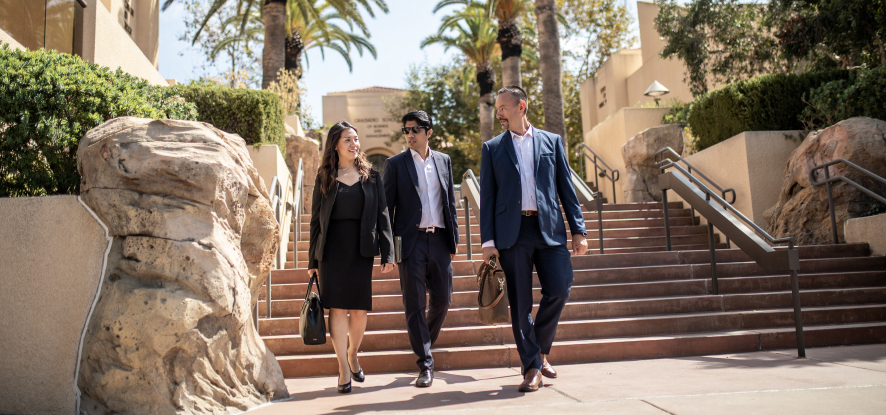 At the Graziadio Business School, we don't just assemble a great curriculum, we assemble a great group of individuals who can learn and grow in a challenging classroom environment. One of the ways we accomplish this is by taking a holistic view of each prospective student exploring scholarship options for students enrolled in our on-ground, on-campus programs.
Merit-Based Scholarships for Graduate Students
You're much more than a score, so we not only look at each applicant's cumulative GPA, GMAT, or GRE score but we also take into account your academic achievements, work experience, leadership skills, and other factors that can inform us of your strengths. Awards are given at the time of admittance to the program. To see if you qualify, contact us at: PGBSFinancialAid@pepperdine.edu or call us at 310.568.5530 .
Endowed Scholarships
The Graziadio Business School offers a number of special scholarships for students meeting specific scholarship criteria. These awards are made available by gifts from University supporters and alumni as well as from endowed funds. Awards are made annually according to established requirements and amounts may vary based on the availability of funds. Scholarships include:
Thomas E. Burnett, Jr., Memorial Scholarship
This memorial scholarship was established in honor of Thomas E. Burnett, Jr., a 1995 graduate of the Graziadio School's Presidents and Key Executives MBA program, who passed away on September 11, 2001, on United Flight 93. It is designated for Graziadio School students who have demonstrated leadership skills.
John Nicks Memorial Scholarship
Established to honor the memory of administrator and long-time Pepperdine professor John D. Nicks, Jr., funds are designated for Graziadio School students who show their past and future commitment to serving others and have demonstrated financial need.
Reva Graziadio Endowed Scholarship
This endowed scholarship was established by Reva Graziadio, widow of the school's benefactor George Graziadio and a longtime supporter of the school. The funds are designated for incoming Full-time MBA students who have proven themselves as aspiring leaders and active community members.
J. McDonald and Judy Williams Scholarship
Established by J. McDonald and Judy Williams, the funds are designated for active members of the Church of Christ attending the Graziadio School.
Berryman Endowed Scholarship
Established by Mr. Berryman, the funds are designated for African American students with financial need and merit who are pursuing a Graduate degree at the Graziadio Business School.
Scholarship Contact Information
For further information about the scholarships listed above, please contact Murzi Kay in the Financial Aid Office at: murzi.kay@pepperdine.edu