Application Basics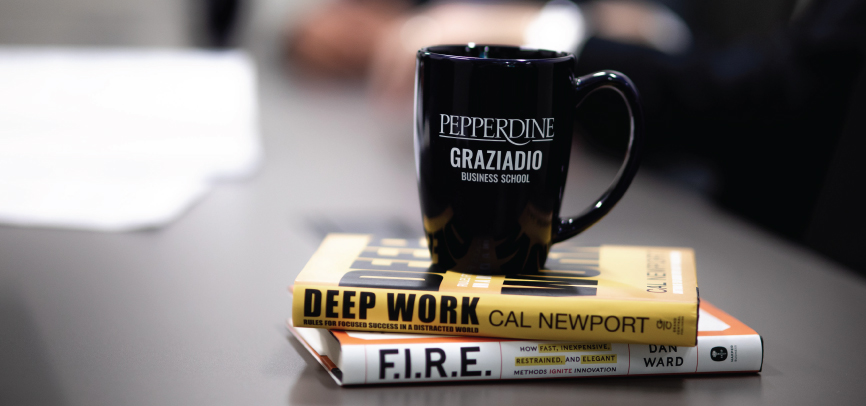 We're committed to identifying individuals that match our passion for innovation, entrepreneurship, and responsible business practices. Ensure you have met all admission requirements and deadline for your program by reviewing our application guide below. If you are a non-U.S. resident, please explore our application requirements for international students.
The Pepperdine Graziadio Online Application
Start your program-specific application and submit the nonrefundable application fee:



Bachelor of Science in Management: $50
All other programs: $150

Please use one email throughout the application process.
International applicants: @163.com and @126.com addresses often have difficulty receiving Pepperdine emails. The International Student Data (ISD) form and financial support documents are not required at the time of application. 
Within 3-5 business days of submitting your application, a  system generated email from donotreply@pepperdine.edu will be sent to the email address listed on your application. The email will provide instructions to create your WaveNet student portal username and password credentials. These credentials will give you access to the Applicant Center to check the status of your application, including a To Do List with required materials needed to complete your application. Students admitted to Pepperdine Graziadio Business School will also be able to access an intent form, pay enrollment deposit/fee,  access Financial Aid, and much more. 
Tips: Create a password you will remember. Also, keep your username and password in a safe, accessible place as you will use it several times throughout the application cycle.
Essay
Applicants are required to provide an essay with submission of their online application. Essay topics vary by program and are available to view once an application has been started.
Special Circumstances
Applicants are encouraged to submit an 'Optional Essay' to provide additional information to the Admission Committee regarding special circumstances that impacted your academic performance, test performance, and/or share information regarding gaps in your work experience.
Resume
A current resume is required at time of application submission for several of our programs. For questions about your resume, please contact one of our recruitment advisors.
Tips: A resume is required for all applicants. Here are some tips to stand out - Be sure it's an updated resume. Check for accuracy of dates. Ensure internships, professional work experience, volunteer involvement are clearly labeled. Include your involvement in college, professional, community organizations. Include awards, presentations, special papers, etc. Don't forget to spell check.
Work Experience
Some of our programs require a minimum amount of work experience to qualify for admission. Please review the admission requirements for your specific program to see if your experience qualifies.
Official Transcript(s)
Official transcripts from all colleges or universities you've previously attended are required. 
Official transcript(s) must be in English and issued electronically by the Registrar's secured transcript provider (preferred)  or issued by the Registrar in a sealed envelope and mailed to: 

Graziadio School Admission Office
Pepperdine University
6100 Center Drive, Suite 400
Los Angeles, CA 90045
FASTEST METHOD - We prefer electronic transcripts from the Registrar's secure provider.
International Students: see the International Students webpage for translated, evaluated transcript information.
Letters of Recommendation
Letters of recommendation written by a peer or direct supervisor who can speak to your leadership, performance, and potential contributions to a business program may be required. Letters of Recommendation are required by some programs. Review the admission requirements for your specific program. 
Entrance/Diagnostic Test Scores
A GMAT or GRE test taken within the past five years is valid and required for the following programs:
MS in Applied Finance
Full-Time MBA

GMAT/GRE test waivers may be awarded to candidates who meet qualifying undergraduate GPA and work experience criteria. 

Official score reports are accepted electronically directly from the test provider (preferred) or in a sealed envelope directly from the test provider. 
Use the following codes for score reporting:
GMAT: 37B-BJ-91
GRE: 5996
Evidence of English Language Proficiency
Applicants who earned their undergraduate/graduate degree(s) in a language other than English must submit one of the following to fulfill the English proficiency requirement:
Interview
Depending on the your program of interest, interviews may be required with the academic director, regional director, or faculty member. Review the admission requirements for your specific program.
Applying to Multiple Programs in a Single Term
Prospective students have the opportunity to apply for more than one program in a single term. An application fee is required for each application submitted. Prospective students are encouraged to learn more about our programs and speak with a recruitment advisor prior to submitting multiple applications. 
If admitted to multiple programs, the admitted student may only submit an Intent to Enroll and enrollment deposit or fee for one program. Students may only be matriculated to one program at a time, unless participating in an approved joint University program.
Withdrawing an Application
To withdraw an application prior to an admission decision, applicants must request in writing, via email to PGBS.Admission@pepperdine.edu. The email should contain the student's full name and CWID #.
If the applicant is interested in being considered for a future term and has not received an admission decision, a written request to change the application term is required. The email should be sent to PGBS.Admission@pepperdine.edu and include the student's full name and CWID #.
Former Applicants
The Admission Office maintains applicant records for 2 years. An applicant that did not enroll, may request to 'reactivate' their application and does not need to submit a new application. The prospective student must send an email with a current resume to PGBS.Admission@pepperdine.edu. The prospective student must also indicate if he/she attended another college or university within the 2 years. A copy of the transcript(s) must be provided to the Admission Office. 
If the student's application file is incomplete, the student will be notified by the Admission Office and will have access to their To Do List in WaveNet student portal. If the application file is complete, it will be forwarded to the admission committee for review. Once the 2 years have elapsed, the student must submit a new application and pay the application fee.  
Veterans
Veterans who seek admission are required to meet the regular admission requirements but also should contact the Office of Student Information and Services (Registrar's Office) on the Malibu campus. This should be done as early as possible to expedite handling of applicants' VA forms and counseling. Many of Pepperdine University's programs are approved for veterans' benefits; however, because assignment and distribution of funds are controlled by the federal Veterans Administration office rather than by the University, Pepperdine University cannot assure that a student will receive veterans' benefits. Veterans must be admitted to the University before receiving benefits. Admitted Veterans are advised to consult the "Academic Policies" section of this Graziadio Business School catalog under "Information for Veterans".
Appeal Information for Denied Students
Denied students who wish to be reconsidered for the same program, in the same term, must submit a written request accompanied with new academic information. New academic information consists of updated test scores or updated course grades that were not available at the time of application review. 
The written request and new academic information must be emailed to PGBS.Admission@pepperdine.edu by the final deadline specified for the same program in the same term. The email subject line should include the following: Appeal Request - Student Full Name - CWID #.
Students will receive acknowledgement of the appeal request and be notified of the appeal decision within 14 business days of the acknowledgement date.
Record Retention Policy for Applicants
All documents submitted to the Graziadio Business School Admission Office become the property of Pepperdine University. Documents will not be returned or duplicated for any purpose.
Unique Application Requirements
Bachelor of Science in Management Degree Completion
How to Transfer into the BS in Management Program
An equivalent of two years of lower-division coursework is required: 60 lower level semester units at a regionally accredited college or university, including a minimum of 30 general education units at a regionally accredited college or university.
An Associates of Arts/Science degree with a minimum cumulative GPA of 2.8 from a regionally accredited college or university is required and English Composition and Math (College Algebra or higher).
College-Level Examination Program (CLEP): A maximum of thirty‐two (32) units of CLEP credit will be accepted toward admission and graduation. Sixteen (16) units of CLEP credit taken will be accepted towards general education requirements, and sixteen (16) units of CLEP credit taken will be accepted towards elective requirements.
Lower Division Requirements
English Composition: 3 Semester Units
Online BSM students must complete a course in English composition with a grade of "C" or better.
Mathematics: 3 Semester Units
Online BSM students may meet this requirement by taking a college-level mathematics course with a grade of "C" or better. Examples of mathematics subjects include college algebra, geometry, trigonometry, or calculus.
Social Science: 6 Semester Units
Courses in subject areas such as economics, history, political science, psychology, or sociology with a grade of "C" or better fulfill this requirement. Lower-division courses in microeconomics and macroeconomics are strongly recommended as preparation for the Online Bachelor of Science in Management program.
Humanities and/or Fine Arts: 6 Semester Units
Courses in subject areas such as art, music, speech, English, religion, foreign language, or history with a grade of "C" or better fulfill this Pepperdine Online BSM requirement.
Natural Science: 3 Semester Units
A course in a subject area such as natural science, physical science, or life science with a grade of "C" or better fulfills this requirement.
Additional General Education Courses: 9 Units Minimum
Four units of physical education and up to 15 units of computer science with a grade of "C" or better may be applied toward this requirement.
Electives: 30 Semester Units
To complete the minimum of 120 units required for the bachelor of business degree, students may choose elective courses from any area of study from an accredited college or university. Courses taken at other colleges and universities by a student already enrolled at Pepperdine University must be approved in advance by the registrar if they are to be applied toward a degree from Pepperdine.
Executive Doctor of Business Administration
The Executive Doctor of Business Administration program is designed for seasoned, top-tier executives looking to cultivate new ideas and solve complex business problems through rigorous, applied research. In order to create a strong program cohort of qualified individuals, candidates will be evaluated by a two-phase process. 


Joint BSM/MBA (MBAJ)
Current Pepperdine BSM Students and Pepperdine BSM Alumni Only 

Students must have earned a 3.4 or higher grade point average in the Pepperdine Graziadio BSM program in one of two situations:
Current Pepperdine BSM Students
Requirements
You must be currently admitted to and have completed 40 or more units of the Pepperdine Graziadio Bachelor of Science in Management program and have no outstanding lower-division course work.

You must apply to the MBAJ program during your fourth BSM term (or after 40 units).

You must sustain the 3.4 GPA between the time of admission to and during your initial enrollment in the MBAJ program.
Pepperdine BSM Alumni
Requirements
You must have graduated with a BSM degree from the Graziadio School no more than five years prior to the intended start term.

If you meet the minimum eligibility requirements below, please contact the program office.

A minimum of three years of acceptable work experience is required.

A minimum grade of "B" is required in each BSM course for which the equivalent Fully Employed MBA core course is waived through the MBAJ program. Students who have not achieved this minimum "B" grade in the BSM course will be required to complete the equivalent MBA core course in addition to the standard course requirements of the MBAJ program.

A completed Employment Information form with essay, as specified, must be submitted with the application.

The GMAT is waived for applicants who meet all the above criteria.