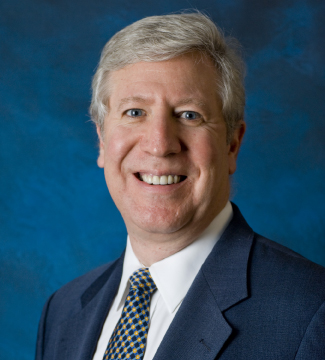 Mark Allen, PhD
Practitioner of Organization Theory and Management
Graziadio Business School
Biography
Dr. Mark Allen is an educator, speaker, consultant, and author who specializes in talent management, corporate universities, and human resources. He is the author of Aha Moments in Talent Management, The Next Generation of Corporate Universities, and The Corporate University Handbook. In 2017, he was honored with the Global Training and Development Leadership Award by the World Human Resource Development Congress in Mumbai, India. Dr. Allen was recently named one of the Top 100 Human Resources Influencers by Engagedly.
Dr. Allen is a lecturer at Pepperdine University's Graziadio Business School, where he serves as academic director of the Master of Science in Human Resources program and where he previously served as director of Executive Education. He is also a senior faculty member of the Human Capital Institute, a senior associate with the Kiely Group, and has taught for Vatel University and the American Management Association.
As an internationally-recognized authority, he is a popular speaker and has presented his research in numerous countries, including China, France, Italy, Mexico, Barbados, Turkey, Colombia, Saudi Arabia, Australia, India, throughout the United States and Canada. In addition to his expertise in talent management and learning & development, his other areas of expertise include; strategic workforce planning, the assessment of training and development programs, the evaluation of teaching and learning in postsecondary, adult, and corporate education, creativity and innovation. Dr. Allen consults with both new and mature corporate universities and has served on the Board of Regents of the University of Farmers at Farmers Insurance and the Board of Advisors of the Global Council of Corporate Universities.
Dr. Allen has a bachelor's degree in psychology from Columbia University, an MBA from Pepperdine University, and a PhD in Education from USC. An award-winning teacher, Mark teaches courses in leadership, management, human resources, creativity, and adult learning at Pepperdine's Graziadio Business School and Graduate School of Education and Psychology and has taught business and management courses at a number of institutions.
He has consulted with and delivered executive development programs for 3M, Alpha Natural Resources, AT&T, Baxter International, Boeing, Caesars, Farmers Insurance, Kaiser Permanente, the Los Angeles Police Department, Samsung, Northwestern Mutual, Southern California Edison, the government of Taiwan, Verizon, and many other global organizations.
Previously, Mark was the program director in Executive Education at the University of Southern California's Marshall School of Business, where he developed a variety of highly successful executive education programs. He has also held managerial positions at Kaplan, Integrated Data Concepts, and SRS Publishing.
Mark regularly blogs about Talent Management at www.markallenconsulting.com/blog. He may be followed on Twitter @DoctorMarkAllen. He lives in Redondo Beach, CA, with his wife Dayna and their two sons, Skyler and Dylan.
Education
PhD, Higher Education Administration and Policy, University of Southern California, Rossier School of Education

Master of Business Administration, Pepperdine University, Graziadio Business School

Bachelor of Arts, Psychology, Columbia University


Research
Aha Moments in Talent Management, ASTD Press, 2014
The Next Generation of Corporate Universities, Pfieffer, 2007
The Corporate University Handbook, AMACOM, 200
Awards
Top 100 Human Resources Influencers, Engagedly, 2017
Global Training & Development Leadership Award, World Human Resource Development Congress, 2017.
Presentations
Allen, M. "Everything You Need to Know About Launching and Managing a Corporate University." Society for Human Resources Management (SHRM) Annual Conference and Exposition, Las Vegas, NV, June 2019.
Allen, M. "Strategic Talent Management: The Next Frontier for Human Resources." (Keynote). China Human Capital Forum 2018, Beijing, China, May, 2018.
Allen, M. "The Future of Performance Management." Employers Group Workplace and Employment Law Update, San Diego, CA, November, 2017.
Allen, M. "Connecting the Dots: How Better Engagement Drives Performance and How Better Performance Management Drives Engagement." Human Capital Institute Webinar, September, 2017.
Allen, M. "Bringing It All Together: The Science and Tactics of Feedforward Performance." (Closing Keynote). 2017 Performance Management Innovation Conference, Chicago, IL, May, 2017.
For more, please contact Dr. Allen.
Areas of Expertise
HR Transformations
Corporate Universities
Strategic Workforce Development
Performance Management
Topics
Talent Management
Strategic Human Resources
Strategic Workforce Planning
Creativity and Innovation
Management
Leadership
Courses
OTMT 676—Talent Management
OTMT 670—Advanced Principles of Organizations and Leadership
OTMT 661—Cross-Cultural Management
OTMT 678—Managerial Creativity and Innovation for Leadership
OTMT 650b—Leadership of Teams
OTMT 650c—Leadership Through Systems
OTMT 608—Human Resources Overview
GSBM 609—Business Acumen Integration
EDD 763—Leading Educational Programs (Doctoral level class)
Links