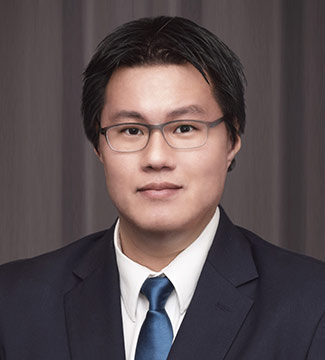 Kwangjin (KJ) Lee, PhD
Assistant Professor of Accounting
Graziadio Business School
Biography
Kwangjin (KJ) Lee is an assistant professor of accounting at the Pepperdine Graziadio Business School. His research focuses on disclosure, information intermediaries, non-financial information, and social media. His dissertation won the Lazaridis Institute Prize: "Best Paper on Accounting Issues Affecting High-Growth Technology Firms." It was published through Canadian Academic Accounting Association.
He has a deep passion for teaching and educating the best for the world leaders by creating transformative learning experiences. His teaching interests include Financial Accounting and Managerial Accounting.
He is an honorably discharged veteran (E-5, Sergeant) and received two Army Achievement Medals (AAMs). He also worked at PwC as an internship of external auditor in Seoul, South Korea.
His hobbies include marathon, triathlon, photography, coffee, and cooking. He is a supporter of CureSMA, Association to Benefit Children, and World Vision.
Education
PhD, Michigan State University, 2018
Accounting

MS, London School of Economics and Political Science, 2012
Economics and Management

Diploma, London School of Economics and Political Science, 2011
Economics (with Merit)

BS, Seoul National University, 2009

Business Administration (Summa Cum Laude)


Publication
"Who Classifies Interest Payments as Financing Activities? An Analysis of Classification Shifting in the Statement of Cash Flows at the Adoption of IFRS." (with B. Baik, H. Cho, and W. Choi). Journal of Accounting and Public Policy, 35(4), 331-351.
Academic
AAA New Faculty Consortium Fellow 2019
The Lazaridis Institute Prize for Best Paper on Accounting Issues Affecting High-Growth Technology Firms, Canadian Academic Accounting Association 2018
Graduate School Writing Fellow Fellowship, Michigan State University 2016-2018
PhD Student Excellence in Teaching, Michigan State University 2016
AAA FARS Doctoral Consortium Fellow 2015
AEJMC Annual Meeting, Communication Technology Division, Best Student Paper Award 2015
Doctoral Fellowship, Michigan State University 2012-2018
Maryls and Jack Gray Doctoral Fellowship, Michigan State University 2012
Master's Degree Fellowship, Samsung Scholarship 2010-2012
Best Learner Award, Seoul National University 2010
Undergraduate Fellowship, Doosan Yonkang Foundation 2004-2009
Non-Academic
Most Valuable Participant Award, Samsung Scholars Academic Camp (Twice) 2012, 2016
Distinguished Reserved Armed Forces Trainee Award 2011
Red Cross Silver Medal 2009
Army Achievement Medal (Twice) 2005, 2006
Topics
Disclosure
Information Intermediaries
Non-financial Information
Social Media
Courses
ACCT 591 Financial Accounting
ACCT 652 Accounting for Information and Control Systems