MBAJ Admission Requirements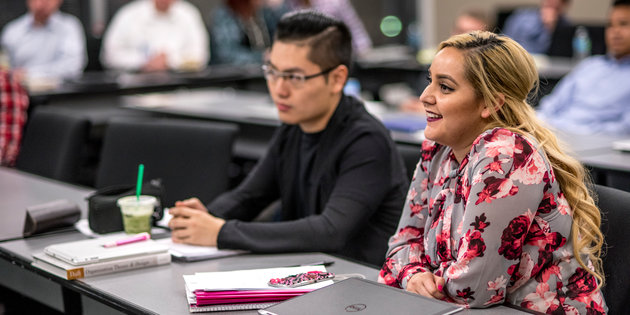 Eligibility Information for Our Joint BSM/MBA Program
Our MBAJ program is an exclusive opportunity for students and graduates of the Pepperdine Graziadio Bachelor of Science in Management (BSM)*. If you qualify, you can earn an MBA in 30 units, rather than the standard 52 units.
*Graduates from other schools are not eligible.
BSM Qualifications
Students must have earned a 3.4 or higher grade point average in the Pepperdine Graziadio BSM program in one of two situations:
Current Pepperdine BSM Students
Requirements:
You must be currently admitted to and have completed 40 or more units of the Pepperdine Graziadio Bachelor of Science in Management program and have no outstanding lower-division course work.
You must apply to the MBAJ program during your fourth BSM term (or after 40 units).
You must sustain the 3.4 GPA between the time of admission to and during your initial enrollment in the MBAJ program.
Pepperdine BSM Alumni
Requirements:
You must have graduated with a BSM degree from the Graziadio School no more than five years prior to the term of attendance.
If you meet the minimum eligibility requirements below, please contact the program office.
Work Experience
A minimum of three years of acceptable work experience is required.
Course Waivers
A minimum grade of "B" is required in each BSM course for which the equivalent Fully Employed MBA core course is waived through the MBAJ program. Students who have not achieved this minimum "B" grade in the BSM course will be required to complete the equivalent MBA core course in addition to the standard course requirements of the MBAJ program.
Employment Information and Essay
A completed Employment Information form with essay, as specified, must be submitted with the application.
GMAT Waiver
The GMAT is waived for applicants who meet all the above criteria.
---
If you are not eligible for the MBAJ program...
BSM graduates who do not qualify for the MBAJ program may still apply to the Fully Employed MBA program.
Students with a GPA between 3.0 and 3.39 may qualify for the Pathways to FEMBA program, in which up to 16 units and the GMAT may be waived. All other regular admission requirements for the Fully Employed MBA program must be satisfied.