Part-Time MBA in Dispute Resolution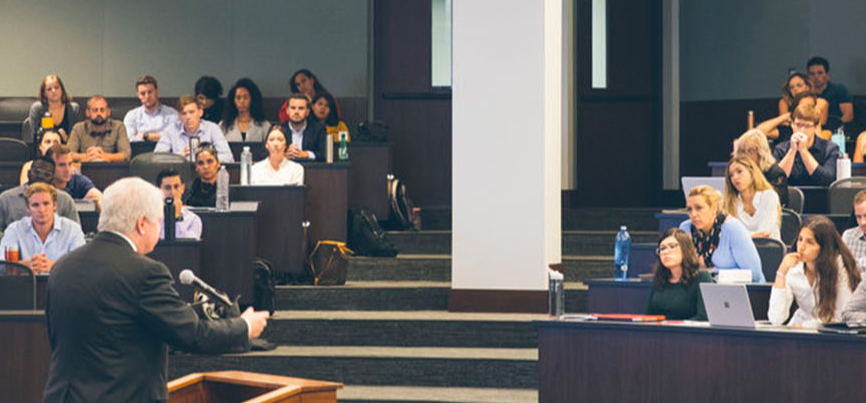 Recognizing that problem-solving skills and deal-making are essential management tools, the Graziadio School, in conjunction with the Straus Institute for Dispute Resolution, provides MBA students an opportunity to study in Pepperdine Caruso School of Law's internationally recognized Dispute Resolution program while fulfilling MBA requirements.
An arm of the Pepperdine University Caruso School of Law, the Straus Institute offers two tracks of study for MBA students: individual courses in dispute resolution or a 12-unit curriculum that allows students to earn an MBA with a Concentration in Dispute Resolution.
MBA students who complete an additional 2-unit elective at the Straus Institute, which would not count toward their MBA degree, would be awarded a Certificate in Dispute Resolution from the Straus Institute, Caruso School of Law.
The Straus Institute offers the most extensive law school dispute resolution curriculum in the country and is annually recognized by U.S. News & World Report as a prominent leader in this field.
Take the Next Step
Learn more about how to achieve your career goals with the Pepperdine Graziadio Part-Time MBA program.
Required Courses
| Course No. | Course Title | Units |
| --- | --- | --- |
| | Four required units from the Graziadio School: | |
| LEGL 684 | Business Negotiation and the Resolution of Conflict | 4 |
| | Eight required units from the Straus Institute, Caruso School of Law: | |
| | Mediation Theory and Practice Seminar | 2 |
| | Arbitration Course (one of three) | 2 |
Elective Course
| Course Title | Units |
| --- | --- |
| Two elective courses from the Straus Institute, Caruso School of Law | 2, 2 |
For a full list of Dispute Resolution elective courses, including 2-unit courses with global content that meet the global requirement for the FEMBA/MBAJ Programs, please refer to the Caruso School of Law academic catalog.
Straus Institute elective courses with global content include:
Cross Cultural Conflict and Dispute Resolution
Faith Based Diplomacy and International Peacemaking
Current Issues in International Dispute Resolution: Summer Study Tours to London/Geneva and Hong Kong/Beijing
International Commercial Arbitration Theory and Doctrine
Law 2902 International Commercial Arbitration Procedure and Practice (2)
International Investment Disputes
Each course utilizes an interactive participation format and integrates skills-building experiences as well as an academic understanding of the subject matter. To encourage faculty mentoring and coaching of students, course enrollment is limited to 20-24 participants. For additional information, contact Sarah Park, Associate Director at sarah.park@pepperdine.edu or 310.506.4681.