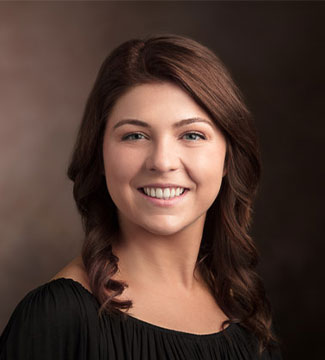 Madison Haws, MBA '22
Founder, H.O.P.E. Present (Hold On Pain Ends)
What was the inspiration to start this business?
"At the beginning of my MBA program, my roommate attempted suicide. It was a time of confusion, fear, and overwhelming emotion. She was estranged from her family at that point and was released from the hospital weeks earlier than expected. This means that the responsibility of ensuring her safety was placed on me and our other roommates. During this experience, I had an up-close and personal experience with the effects of suicide and the trauma that it causes. Suddenly, I was restricted in every element of my life. I was afraid to leave her alone to run an errand or even to sleep because I wasn't able to ensure her safety while I slept. My life was filled with fear and all my personal freedom had been stripped away. It was at this time that I needed to pitch an idea for an entrepreneurial project for class. We were asked to find a solution for a problem we saw in the world around us. I reflected on my life at the time and realized that there were very few resources available for the loved ones of individuals who were suicidal. At that moment the idea for H.O.P.E. Present came to my mind, pure inspiration. I knew that I needed to help those that were trying to help suicidal individuals in an attempt to create a few moments of peace in their lives."
How did your entrepreneurship classes help to move your business forward?
"My entrepreneurial classes are the only reason that I am here today. Before taking classes with Professor Cox I never would have considered myself capable of being an entrepreneur. I have been guided throughout the process and now better understand the entrepreneurial journey. Even if I don't continue with this specific business I now have the tools to craft my own business moving forward, but more importantly, I believe that I am capable to be an entrepreneur."
What have been the challenges you've faced so far?
"I have never knowingly pursued entrepreneurial ventures and so there was a lot to learn. Every day I learned something new but more importantly, I learned how to apply general principles to my individual project. My challenges mainly came from daring to fail while constantly building my personal confidence within entrepreneurial efforts."
What is your hope for the future of your business?
"My hope for H.O.P.E. Present is to actually launch the business. The eventual plan is to incorporate a medical-grade device that can provide even greater accuracy that can be used by individuals as well as medical professionals. Ultimately, I just want this business to help people and start a dialogue. Suicide and mental health is a challenging subject and is often avoided. This is especially true when it comes to the mental health of the people trying to help suicidal individuals. It almost feels selfish to ask for help when you are trying to help someone else, but it's not! I strongly believe that people need to take care of themselves before they can help other people. This business has the potential to open a dialogue where they can ask for help as they strive to provide it. If I am able to start this business and help a few individuals feel safe, heard, and validated then I will have succeeded."