MSB vs. MBA: What's the Difference?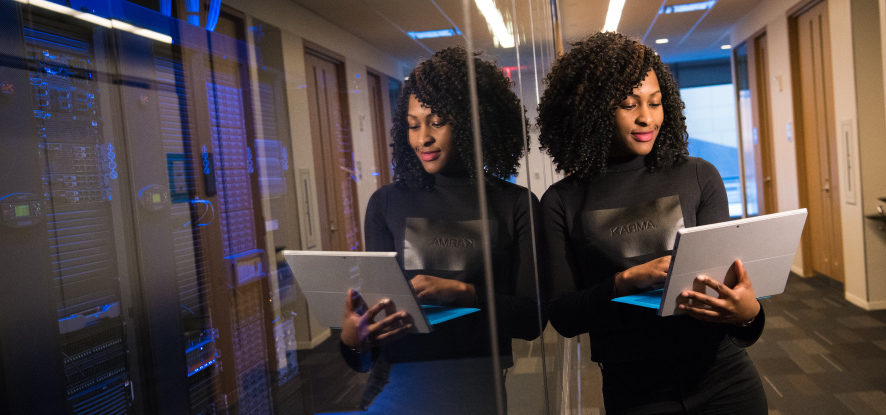 A Master of Science in Business (MSB) and a Master of Business Administration (MBA) are both graduate business degrees. They each offer a comprehensive business education, but there are a few key differences that will determine which degree is the right next step for you.
MSB vs. MBA: Which is right for me?
Master of Science in Business
Many master's programs in business are designed to focus on specialties like data analytics, accounting, or finance. An MSB is unique in that it is designed to cover broad business essentials, building on what you might have studied as an undergraduate.
This is especially useful if you only took one or two business or economics courses while in college. If you majored in something other than business—education, theatre, finance, or psychology, for example—an MSB can provide you with a kind of business literacy that builds confidence and elevates your candidacy for an array of roles and industries.
The foundational principles studied in an MSB program can be applied to real estate, data analytics, accounting, and much more. As such, an MSB is an excellent foundation for those who are still shaping their career.
You can benefit from an MSB if you're looking to:
build your confidence
çexpand your job prospects
run or manage a medical practice, theatre, restaurant—any kind of small business
grow your professional network
MBA
You can do all of the above with an MBA, which prepares graduates for senior management and entrepreneurial career paths, as well. Many MBA students studied business as undergraduates or developed professional work experience in the years prior to beginning their degree. Some are even pursuing a concentrationthat will tailor their degree toward a specific job.
With a Master of Science in Business Administration, you can:
advance to executive and leadership roles–including "C-suite" positions in some cases
lead companies through change and expansion
consult or advise businesses and individuals on their finances
focus your education on entrepreneurship
position yourself for in-demand industries like healthcare management, information and technology operations,
and cybersecurity (to name a few)
Many MBA graduates have a particular area of expertise – like corporate social responsibility, international business, or marketing. This enables them to help organizations achieve certain milestones. In some cases, these milestones dictate contract terms and bonuses.
That said, don't be dissuaded from pursuing an MBA if you've yet to enter the workforce or refine your career goals. You may be an excellent candidate for a full-time MBA or MSB program with or without work experience.
Why study business full-time?
With so many reputable business schools offering part-time, online, and hybrid on-campus/online learning, it's fair to question the benefits of full-time study.
Whether you study on campus, online, or in some type of hybrid format, there are advantages to immersing yourself in full-time study.
1. Finish Faster
The more credits you take per semester, the faster you will complete your degree. An expedited completion time is especially beneficial if you're eager to enter the job market and wish to do so armed with a graduate degree.
2. Dive Deeper
A consistent schedule can intensify your learning. In full-time programs, you are challenged to keep pace with your peers and professors. Retention can also become stronger without the distraction of work or family obligations. That isn't possible for everyone, of course, but if you have the time and resources to devote to a full-time graduate business program, you can certainly benefit.
3. Know Your Network
Another benefit of full-time study is that your cohort tends to remain consistent as compared to that in a part-time program. While there are advantages to meeting new people every semester, there is something to be said for having an opportunity to deepen key relationships.
When you consider that your peers, professors, and mentors comprise the beginnings of your professional network, regular facetime is an especially valuable opportunity.
4. Enrich Your Education
If your business degree also incorporates hands-on learning, that's even better since practical application can strengthen learning. Hands-on experience also speaks volumes to employers when you're applying for jobs early in your career. Full-time time study ensures you'll have ample time to devote to both classroom studies and the practical application of those studies through experiential learning.
MSB vs. MBA: How long does it take to complete?
Many MSB programs take less time to complete than MBA programs, but this can vary. At the Pepperdine Graziadio Business School, the Accelerated Full-Time MBA can be completed in 12 to 15 months, but it requires at least three years of professional work experience.
The Pepperdine Graziadio Full-Time Master of Science in Business (MSB) is completed in just one year and requires no professional work experience for admittance. This makes it an ideal degree for college graduates who want to capitalize on the momentum of their recent undergraduate studies.
MBA Duration – Special Considerations and Opportunities
In some cases, MBA enhancements like hands-on learning, internships, study abroad, and an area of concentration can increase an MBA duration by one or more years. A dual-degree will also add time. Many part-time MBA programs allow students to study while they work full time. This, too, can extend the completion time of an MBA to more than a few years.
MSB vs. MBA: How hard is it to get in?
Studying alongside the right people ensures you'll be challenged and grow as a critical thinker. Most graduate business admissions teams are selective in how they assemble an academic cohort to ensure you'll maximize the benefits of pursuing your degree.
While some schools do require GRE or GMAT test scores and a minimum grade point average for admittance, in many cases scores are waived for MSB prospects who have that minimum GPA. Work experience is also less likely a factor in MSB admissions.
At the opposite end of the spectrum, most Executive MBA programs require as much as 10 years of work and leadership experience.
Costs of MS in Business and MBA Programs
The cost of graduate school can vary and it isn't always the degree that dictates the difference. Some schools are more expensive because of their location and campus amenities. Others are more expensive based on world-class research programs, high-profile faculty, and unique internship opportunities. All of this can add value to your investment.
Ultimately, you'll find MSB and MBA program costs comparable, depending upon their duration. Your budget will likely be a part of your business degree decision, so remember to factor in costs like housing, transportation, meals, textbooks, and any necessary tech upgrades you might need.
MSB and MBA Scholarships and Grants
Don't forget to explore scholarship and grant opportunities to help pay for your graduate degree. At the Pepperdine Graziadio Business School, merit-based scholarships are available for qualified candidates.
Pepperdine Graziadio also offers a "refer a student" scholarship to new students who are referred by a Graziadio alumnus or current student, or a friend of the school.
Sample MSB vs. MBA Comparison
Pepperdine Graziadio Business School Full-Time Programs
The Master of Science in Business (MSB) at Pepperdine Graziadio is a 12-month program that emphasizes real-world application and includes foundational training in current and emerging technologies. One of the benefits of the Pepperdine Graziadio MSB for many recent college graduates is that there is no work experience or test score required for admission. Regardless of your academic background, you can excel in this one-year business graduate program.
The Full-Time Master of Business Administration (MBA) at Pepperdine Graziadio emphasizes leadership skills and an entrepreneurial spirit and can be completed in anywhere from one to three years. The Pepperdine Graziadio Full-Time MBA can be tailored to fit your goals with options to add a concentration, a joint degree, or a one-of-a-kind certificate in environmental and ethical responsibility.
Program Features

Global Business Intensive
Practical application
Small classes

Joint degree options
Areas of concentration
SEER Certificate

Areas of concentration
Global Study
on-the-job application of your studies

Full-Time MSB
Full-Time MBA
Part-Time MBA
Campus Location
Malibu, California
Malibu, California
Various California campuses or online
Duration
12 months
12 to 20 months
2 or more years
Admission Requirements (min.)

no GRE/GMAT required
no work experience required

GRE or GMAT may be required
minimum 1 year of work experience required

GRE or GMAT may be required
minimum 2 years of work experience required
MSB vs. MBA: Conclusion
When it comes to selecting a graduate business degree program, there are personal, professional, and financial considerations that will weigh differently for each individual. In addition to duration, curriculum, and school reputation, you might also ask:
Do I want the option to specialize my degree toward something as specific as digital innovation or global business?
Do I want the option to pursue a dual degree?
Do I need more work and life experience before making this decision?
If I take time off to make this decision, will I lose my focus and drive?
Am I looking to become more business-literate, in general, as opposed to seeking a specific role in a specific industry?
Continue your exploration:
See graduate business degree options at the Pepperdine Graziadio Business School.
Overview of Options: Pepperdine Graziadio Degree Program Comparison