Alumnus Jeremy Evans, Founder and CEO of California Sports Lawyer®️, Shares His Business Insights and Expertise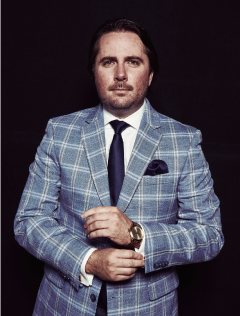 Most individuals choose their line of work based on their interests and passions. That is precisely what Part-Time MBA alumnus Jeremy Evans (MBA '20) did when pursuing his career. As the founder, Chief Entrepreneur Officer (CEO), and managing attorney at California Sports Lawyer®️, Jeremy represents a wide array of clientele in the entertainment, media, and sports industries.
His time at Graziadio allowed him to think differently as an attorney and learn practical skills to become a more well-rounded executive within the areas and industries he is most passionate about—entertainment, media, and sports.
Jeremy offers valuable legal and business advice that can help any business succeed regardless of the industry. Regardless of age or experience, his advice on establishing geography, branding, and community to establish success is insightful and can be found here. Aside from his professional endeavors, Jeremy states a Best for the World Leader comprises someone who emulates faith, hope, love, and genuineness in those actions as part of their prominent characteristics.
We thank Jeremy for his priceless insights and are proud to see he can personally attest to the importance of following your passions and how this can create a fruitful and prolonged career for any individual.
What industry are you in, and why did you choose that industry?
Entertainment, media, and sports, my passions.
How do the values of being a servant leader play out in your life?
Servant leadership is the basis of everything I do. I enjoy passing along knowledge and wisdom to the next generation.
Share your recent professional success and what made it successful?
I was appointed to the board of advisors to the Rose Bowl Legacy Foundation, America's Stadium.
What is one thing that you learned from your experience at Graziadio that has influenced your life?
It has caused me to think differently, learn new theories of business, and gain excellent relationships and practical experience.
What is one business tip that you could share that you've learned during the pandemic?
The importance of geography, branding, and community for success in relationships and business even more so in the digital world.
What book would you recommend to business school students or alumni?
"What They Don't Teach You at Harvard Business School" by Mark McCormack
"Tools of Titans" by Tim Ferriss
"Powerhouse: The Untold Story of Hollywood's Creative Artists Agency" by James Andrew Miller
"Never Eat Alone" by Keith Ferrazzi
"How to Win Friends and Influence People" by Dale Carnegie
What is your favorite quote?
"Content is king, but distribution is queen and she wears the pants." - Jonathan Perelman, ICM Partners.
What do you think makes someone a Best for the World Leader?
Faith, hope, and love.