How Much Can You Make with a Master of Finance?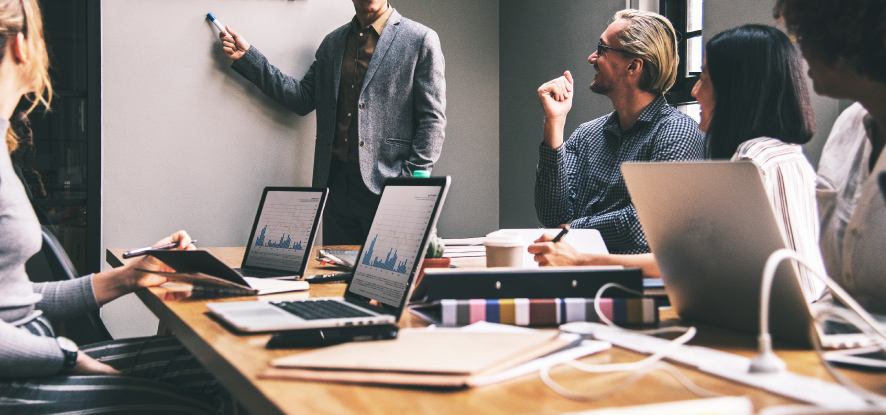 Having a Master of Finance degree can increase a person's salary-earning capabilities immensely, especially in the field of finance. The accreditation gives graduates an edge over other potential candidates with only an undergraduate degree and is a segue into some of the most lucrative careers in the financial sector such as stockbrokers, financial analysts, corporate investment bankers, and actuaries. Graduates with a master's degree not only attract a wealth of opportunities but usually a sixth-figure salary. For graduates with a bachelor's degree, a master's program is the next logical step for its high-earning capabilities and short commitment of one to two years of study. With courses available on campus and online, graduates can complete their studies at their convenience and receive a quick return on their investment.
What Can I Do with a Master's in Finance?
A Master of finance degree can open many doors in the job market and propel graduates into high-paying roles in the financial sector. Consider the following lucrative career paths that a Master of Finance graduate can pursue, along with their listed median salary.
Stockbroker
Stockbrokers buy and sell orders for stocks and securities on behalf of clients. They usually work for a brokerage firm with individual clients, assisting them with their investment portfolio and advising them on what investments would best suit their financial situation. Stockbrokers receive commission for their services, the amount varying between companies. The national average salary for a stockbroker recorded in July 2020 was $135,264 based on information collated by Zip Recruiter. However, since the career is based heavily on commission, stockbroker salaries can range anywhere between $14,000 and $400,000 depending on the individual's investments in the stock market.
Financial Analyst
Financial analysts work as translators of information to management teams and their duties will vary depending on the company. Essentially, financial analysts evaluate finance and market data and provide insight for organizations to help them make better investment decisions. Their goals are to create larger profit margins and decrease financial risk in a company by analyzing past and present data. According to Glassdoor, a financial analyst makes a national average salary of $61,971 per year. This can vary significantly depending on experience, education, certification, and other skills. A financial analyst working in a Wall Street investment firm or company can make upwards of $180,000 per year.
Corporate Investment Banker
Corporate investment bankers are typically employed by financial services companies, investment banks, and funds or private equity firms. Their main duty is to give advice to companies or government agencies what will help raise capital. Investments bankers tend not to deal with individual investors. Investment banking is one of the most coveted careers in finance due to its high-earning potential. According to Indeed, the median salary for an investment banker sits at $60,416 per year but this can fluctuate on skills, experience, and company. This figure is a base salary and does not include signing, stub, and end-of-year bonuses. Investment bankers have the potential to make up to $166,000 per year.
Actuary
Actuaries work with the measurement and management of risk to develop the premiums of insurance plans. This job requires a thorough knowledge of math and statistics as well as business and finance. A strong aptitude for numbers is essential for this career. Most actuaries work for companies dealing with health, life, property, and casualty insurance. They calculate the risk factors involved for various policies and assess the risk the insurance company will take by insuring an individual or business. It is common for actuaries to move into management and executive roles where they direct and supervise a team. The median annual salary of an actuary is $101,560, according to The Balance Careers. This will depend on skill set, experience, and employer.
How Do I Get a Master's in Finance?
A master's in finance degree is faster to obtain than an MBA and can usually be completed in one to two years. To be accepted into a master's program, students need to have completed a Bachelor's degree. Every school will have set admissions criteria for students regarding acceptance into the program. While it may not necessarily be required that students have a Bachelor of Finance, some schools may prioritize students who have taken courses in finance as part of their undergraduate program. To accommodate different lifestyles, most schools offer on-campus and online classes. This allows students with busy schedules to study at their convenience and gives others the chance to interact face-to-face in a learning environment.
Earn Your Master of Science in Applied Finance at Pepperdine University's Graziadio Business School
Earn your Master of Science in Applied Finance at Pepperdine University's Graziadio Business School. Unlike other finance programs that tend to focus exclusively on theoretical concepts, our curriculum takes a more experience-based approach to prepare students for careers in the field of finance. Accelerate your career in finance with our STEM-designated experiential program that seeks to hone your skills and knowledge in relevant topics such as business valuation, equity analysis, financial accounting, and investment banking.
Complete our 39-unit program in 12-15 months at our beautiful Malibu campus. Steeped in Christian heritage with a strong community of excellence, Pepperdine University offers students the chance to study on and off campus to best suit their lifestyles. Learn more about our admission requirements and program benefits by visiting our website. Our MS in Applied Finance also offers international students the chance to apply for a 24-month extension of their optional practical training. Please review our information for international applicants to learn more about our program.