The Pepperdine Paradigm: Proudly Giving Back to Those Who Serve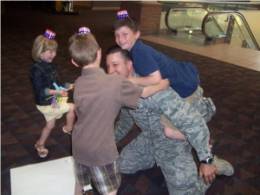 When it comes to distinguishing servant leadership, the veteran community is the first to come to mind. The brave men and women who serve our country genuinely manifest Pepperdine's ideological beliefs—putting others before themselves, contributing to the prosperity of communities worldwide.
Pepperdine University commits to service, purpose, and leadership in every possible opportunity as a faith-based institution. These guiding principles are a framework for how Graziadio models its mission of developing values-based, Best for the World Leaders and entrepreneurs who guide current and future generations with a leadership style that is ethical in focus and global in orientation.
United States Air Force Veteran, Colonel Eric Leshinsky, director of Pepperdine's Student Veteran Affairs, is innately a servant leader—proudly serving his country for 27 years. Eric thoroughly enjoyed his time in the Air Force, experiencing diverse career opportunities globally, allowing him to showcase real servant leadership internationally. After years of service encompassing 19 different careers, assignments in nine states, and three foreign countries, his last mission landed him in Portland, Oregon. He served as commander of AFROTC Det 695 and professor of aerospace studies.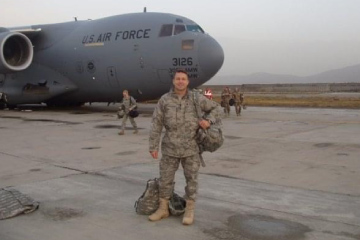 While in Portland, he and his wife, Kim, reminisced about Southern California's beautiful "72 and sunny" weather. Eric eventually placed his boots back in the California sand after Kim found that Pepperdine was looking for a new director of student veteran affairs. Eric chose Pepperdine because of the comprehensive benefits they provide student veterans, allowing them to further their education and make positive waves globally. Pepperdine has a rich history of welcoming student veterans, partly attributing some of its initial success to veterans for helping the institution grow and expand beyond the Malibu region.
For student veterans seeking to further their education, Eric encourages each to consider "the what"—what do you want to do next? How do you want to make a difference? What type of life will you lead? What's important to you? Having the answers to these questions can shed light on a more straightforward, defined path. Once you've defined "the what," it's time to trudge ahead—the sky's the limit!
We are happy to welcome Eric to Pepperdine and celebrate his boundless experience and service leadership that he brings to our University. He has found his next service opportunity, and we are incredibly grateful and excited to see what Eric plans to accomplish next!
Provide insight into your background and how you came to work for Pepperdine.
I grew up in the bay area and finished high school in the California foothills. I played football at California State University, Sacramento, and participated in the Air Force ROTC program for two years. I was commissioned into the Air Force in 1993. Over the past 27 years, I enjoyed a diverse career serving in three mission support career fields, totaling 19 different jobs, and assignments in nine states and three foreign countries. It seemed every time our personal and professional lives were hitting a comfortable routine; we'd be off again, very typical for military life. My last assignment took me to the University of Portland, where I served as the commander of AFROTC Det 695 and the professor of aerospace studies. Since my wife and I are California natives, the Oregon weather made us dream of California's sunny days. I have to thank my wife, Kim, who found the new director of student veteran affairs position on Pepperdine's website earlier this year. The rest is history, and I'm so glad to join Pepperdine. Our oldest son, Jacob, is a senior this year at Seaver as a computer science major.
What value do you think student veterans can get out of attending Pepperdine?
Pepperdine has been serving veterans and their family members for over 70 years and is proud to support hundreds of veterans and family members who currently attend our five schools. Since WWII, Pepperdine attributed its growth, in part, to service members who were seeking the higher education and training needed to pursue new professions while also looking for an experience that was distinctive and challenging to strengthen and prepare them in new ways for continued lives of purpose, service, and leadership.
Today, Pepperdine is actively engaged in supporting veterans, service members, and their dependents. Pepperdine is highly ranked for its service to veterans, coming in at #25 among national universities in U.S. News for 2021. It is one of only two faith-based universities in the top 25. Pepperdine is where veterans are valued, supported, challenged, and prepared for their lives ahead.
Do you have any advice for the active or former military when it comes to furthering your education?
My advice would echo something I recently heard one of our current student veterans say, "start with the what." What do you want to do next? What do you want to impact? What do you want to use your time and tenant to achieve? Once you've figured out "the what," go after it! There are many programs, resources, and institutions out there, including Pepperdine, that want to see you succeed and help you figure out how. Indeed, do your research, network, and get feedback. But do your best to determine "the what," don't sell yourself short, and don't let "the how" keep you from "the what."