Leading with a Purpose: How Full-Time MBA Student, Kayla Eber, is Helping Create New Opportunities for Every Student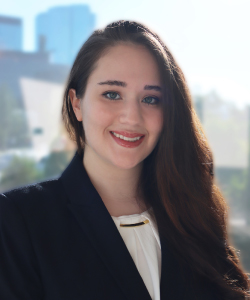 Empowered leaders, empower others. This statement holds true for Graziadio Full-Time MBA student, Kayla Eber, who has wasted no time since the start of her degree to create new opportunities for her fellow students. With her career goals set on starting her own sustainable luxury jewelry brand, Kayla was drawn to Pepperdine Graziadio because of our entrepreneurship and luxury programs as well as our emphasis on ethical, sustainable business practices.
Since starting her degree, Kayla wasted no time in getting her entrepreneurial gears turning. And, as luck would have it, COVID-19 took no time in turning our world upside-down and fully-virtual. However, Kayla's resilience and dedication overcame all obstacles. During the pandemic, Kayla quickly took on the responsibility of co-president of Graziadio's chapter of Net Impact, a national student conglomerate, alongside Amelia Samek. Together, they have been creating the platform to hold valuable events around networking, sustainable business, and even mindfulness—with goals to host even more.
In addition to her work at Net Impact, Kayla also recognized the need for student support, especially during a time of isolation and social distancing. After being inspired by the stories she heard at the ROMBA conference, she went on to establish the Pepperdine Spectrum, an LGBT+ support group and student resource. The Pepperdine Spectrum provides a space for all students to share their journeys, be themselves, and network with individuals who may be going through similar experiences. Kayla plans on continuing to provide support and resources to all students as well as hosting fun networking nights for the group to participate in.
After seeing all that Kayla could accomplish just one year into her MBA, her goal of launching her own company doesn't seem all that far away. Kayla continues to emulate what it means to be a Best for the World Leader through her entrepreneurial focus and overall drive to not only find new growth opportunities for herself but also to create new opportunities for others.
Learn more about Kayla, her goals, and what she plans to accomplish as a strong, female entrepreneur and a Best for the World Leader:
Interview with Kayla
Tell us a little bit about yourself. What led you to Pepperdine Graziadio and what program are you currently enrolled in?
I'm a first year full time MBA student. My goal is to start my own luxury jewelry brand and I was drawn to Pepperdine Graziadio's entrepreneurship program, their luxury program, and their focus on ethical leadership.
What brought you to establish the Pepperdine Spectrum at Graziadio and why?
I attended the ROMBA conference and met a number of LGBT+ people who told me that they only came to terms with their sexuality during quarantine, and that they didn't know of any resources where they could get their questions answered. Their stories inspired me to start the Pepperdine Spectrum as a support group for all out LGBT+ individuals, questioning individuals and allies at Pepperdine. I hope to create a space where people can openly be themselves, meet other people going through similar experiences, and get access to resources and information.
Tell us about Net Impact. What is it about and what drove you to join?
Net Impact Pepperdine Graziadio is just one chapter of the Net Impact conglomerate, which has over 700 chapters worldwide. We focus on ethics and sustainability, and on business being a force for good. I joined Net Impact because I hope to one day launch an ethical and sustainable company, and I wanted to meet like-minded individuals and access resources on how to achieve that.
What are your goals as the founder and co-president of two prominent organizations at Graziadio?
With Net Impact, we hope to have multiple speaker events including speakers from prominent companies who will talk about sustainability within organizations, and we plan on holding a diversity and racial equity workshop. We've been holding weekly networking sessions every Monday, and we're currently in the middle of a meditation and mindfulness series created by our other co-president Amelia Samek. We just had our first mindfulness event, Hypnosis for Confidence and Success, and it was a hit! Next semester we're going to continue to focus on mental health-based events to help relieve stress.
My goal for the Pepperdine Spectrum is to create LGBT+ support groups for queer and questioning men, queer and questioning women, and gender/ non-binary questioning individuals. We also plan on having a few networking events, and I'm hoping we'll have some film nights in the future!
What are your plans for the future after Graziadio?
I'd like to work at a luxury brand for a few years to gain experience in the field and then go on to start my own ethical and sustainable luxury jewelry brand.
Are there any significant historical role models who've inspired you during your academic journey?
I'm a big fan of Elsa Schiaparelli, founder of the House of Schiaparelli. She was a free-spirited, hardworking woman who surrounded herself with artists in 1920's Paris, and their work inspired her to start her own jewelry and fashion house. She inspires me because of her work ethic, her creativity, and her love of collaboration. She was never afraid to create something no-one had ever seen before, and she was comfortable taking risks. She's inspired me on my academic journey because I always like to infuse my artistic side into my academic work, and she inspires me to take risks.
What is an accomplishment you are most proud of? This can be personal or professional.
When I was getting my BA in Design at UCLA, I took a class called 'Form', which focused on product design. We were given a simple prompt 'Design and 3D print something that is wearable.' I decided to design some 3D printed nail jewelry, because I used to do intricate nail art at the time. My professor entered my work into a scholarship competition on my behalf, and I won. It was the first time in my life that I won anything, and I remember showing people my work and watching them gasp and seeing their eyes light up. It's very rare to have people say to you 'Are you going to sell those one day? How much could I buy one for?'. I always wanted to be an entrepreneur and I'm excited to explore the idea even further during my time at Pepperdine. Who knows, by the time I graduate I could have a startup!