Passion with a Purpose: How DBA Candidate, Sharifa Batts, Plans to Change the Perspective on Women in Leadership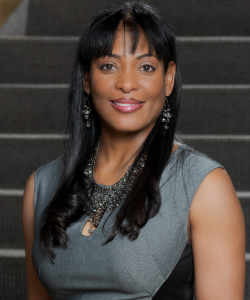 Everyone has their own unique perspective—their own opinions and worldviews built through experiences, race, gender, upbringing, and so much more. With this, each individual's perspective holds its own value. Current Executive Doctor of Business Administration (DBA) candidate, Sharifa Batts (MBA '17), strives to bring this diversity of thought and the significance of individual insights into every organization's leadership board—especially for women and minorities.
As the director of safety at Ports America and with over 21 years of experience in project and people management, Sharifa is no stranger to what it means to be a female executive in the ever evolving business landscape. Growing up the only girl of five brothers, having two daughters, two granddaughters and a grandson, Sharifa is driven to continuously be a role model for both her family and aspiring female leaders. She brings her robust leadership background to the DBA program at Pepperdine with her passion for bringing a voice to those who are not always heard—women and minorities.
Sharifa's DBA dissertation focuses on the value of a diversity on organizational boards and the unique human and social capital women bring to its overall success. Through her research, she strives to reduce inequalities in the workplace while changing the perspective around women contributions in business.
She is the direct representation of what it means to be a Best for the World Leader, with her work having the potential to positively impact the narrative of women and minorities in leadership positions. Read more to learn about how she plans to bring a voice to all:
Interview with Sharifa
Tell us a little bit about yourself. What led you to your current role and how did you come to enroll in our DBA program?
I'm currently the Director of Safety at Ports America, where I oversee the company's safety protocols and provide strategic guidance to their business units. Before I completed my Executive MBA at Pepperdine, I started researching schools that offered a DBA program to further my education. Before I graduated with my EMBA, Graziadio's DBA program was finalized so that the inaugural cohort could start in Fall 2017. I completed the EMBA program in August 2017 and immediately started the DBA program in September 2017. I was motivated to enroll in the DBA program so I could be a role model for my daughters, grandchildren, and increase awareness of underrepresented groups' contributions whose voice is not always heard.
Tell us about your dissertation – what is the topic and what inspired you to pursue it?
My dissertation initially focused on leadership and succession planning, but during a residential one of the faculty explained, we need to have a topic we are passionate about. After I wrote a paper that focused on epistemic injustice in Dr. Anthony Hatzimoysis epistemology course, I realized being the only girl of five brothers, having two daughters, and two granddaughters and a grandson, I was extremely passionate and motivated to concentrate on women and minorities. My topic evolved a few times after receiving valuable feedback from my cohort members and consulting with my chair, Dr. Cristina Gibson, before I arrived at my approved topic focusing on the unique human and social capital contributions of diverse board members.
How do you want your dissertation to make an impact on the future of female leadership?
With the current heightened awareness of the negative impact specific to the marginalization of females and other groups in society, hermeneutical injustice, and systemic racism, I am confident my topic is extremely relevant and will have a positive impact during these uncertain times. By documenting the unique human and social capital contributions of women to corporate governance, I will display a way to improve board capabilities and firm outcomes. Developing a relational theory that identifies specific contributions and interaction processes for women and other members, I will illuminate means of reducing inequalities and increase the perceived value of women contributions.
What advice would you give to an aspiring female executive?
First, determine what you want out of your career and as you grow professionally, build a valuable network (social capital) of people that believe in your capabilities. Next, communicate and promote your strengths (human capital) and be adaptable as this will allow you to overcome any adversity or stress. And finally, focus on your wellbeing and find a healthy balance between work and personal life.
Are there any significant historical role models who've inspired you during your professional journey?
There are many significant role models who've inspired me during my professional journey such as Ginni Rometty (IBM), Mary Barra (General Motors), and Roz Brewer (Walgreens) who are only some of the exceptional executives that motivate professional women to strive to make a difference in organizations. Ruth Bader Ginsburg (RBG) said it best, "Women belong in all places where decisions are being made. It shouldn't be that women are the exception."
What is an accomplishment you are most proud of? This can be personal or professional.
I am proud that I qualified for the Olympic trials in the 400 meter hurdles, but I am most proud of becoming the first female and first African-American ASB President at Los Alamitos High School, where I learned very early in life that when the majority is open to change, everyone benefits from the diverse contributions.