Going the Extra Mile: Getting Involved With Graziadio as a Student Ambassador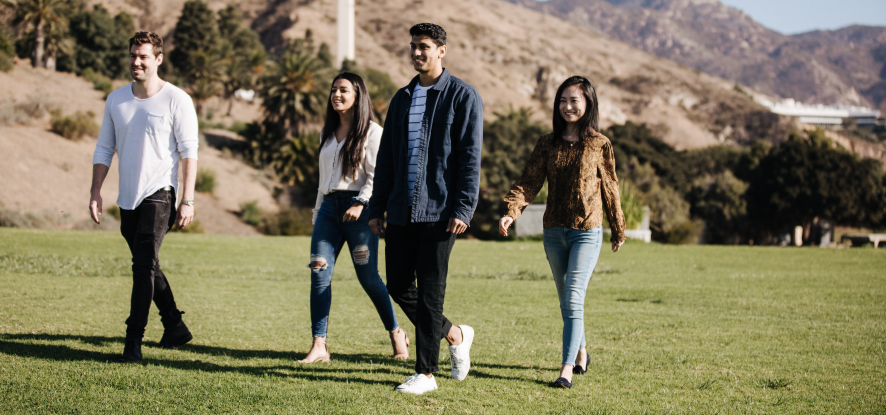 Part of the joy of being a college student is getting involved outside the classroom and becoming part of campus culture. There are multiple ways you can get involved, and one of the most common ways to engage yourself is by joining a student organization and/or club. From organizations that glorify specific industries, such as finance and marketing, to clubs that embellish in the joys of being alive, like the outdoor and ultimate frisbee clubs – there are numerous opportunities for you to find your niche.
At Pepperdine Graziadio, we offer a wide variety of clubs and student organizations catered to a mixture of interests and disciplines. One of Pepperdine's most popular student organizations is our Graziadio Student Ambassadors (GSA) program. As the Graziadio student body's face, our students, known as ambassadors, form a dedicated association that allows student voices to be heard on matters involving any prospective student activity or experience. Members develop a distinct understanding of the administration of Pepperdine Graziadio's co-curricular programs, processes, and services, and help advise staff and administration on matters that directly influence the student recruitment process.
Our program's mission is to allow our ambassadors to provide all prospective students with genuine insight into life at Pepperdine Graziadio, ensuring their success along their academic journeys.
So, what're some of the benefits of becoming a GSA? And why is it potentially an excellent organization for you to consider joining? Let's take a more in-depth look at some reasons why becoming a GSA is advantageous for you.
The Community Connection
Part of the collegiate experience is creating and fostering relationships that can turn into lasting connections. However, what is an excellent way to meet people? The answer is simple, clubs and organizations. One of the main reasons students join clubs is for the community. One easy way to achieve community involvement is through clubs and organizations built around a particular interest or goal. If you seek to meet like-minded individuals, joining a student organization centered around your hobbies and interests is one of the best ways to do so. Furthermore, a unique benefit of student organizations and clubs is that you can create your own. Are you passionate about protecting the elephants in Asia facing extinction? Form a club and see how many others share the same passions as you!
Building Your Resume
Having marketable experience to put on your resume is always valuable, especially in today's competitive landscape. Student clubs and organizations not only offer experience but provide you with an opportunity to hold a position of power. Many student organizations have leadership teams in which qualified students act as authority figures upholding the organization's reputation. The more involved student leaders are, the better the club or organization performs. Having a leadership title on your resume speaks volumes. Whether you were the vice president of marketing for the business communications club or president of the film organization, having some authentic leadership experience makes you a better contender.
Hands-on Experience
Much like adding to your resume, gaining hands-on experience is invaluable. While learning in the classroom is also essential, only so much knowledge and experience can be pulled from the textbook. Participating in clubs and organizations enables you to flex your skills on an entirely different level, as many clubs are dependent on the students' skills and knowledge to operate successfully.
Let's paint a picture of how student organizations can offer you experience. Say you're the lead marketing strategist for the "Doggy Daycare Club." Your goal is to increase club membership by 35% by the end of the semester. You have your goals, and now you need to execute. You develop creative ways to increase memberships by offering students exclusive incentives. You have current members volunteer at a non-profit shelter to spread awareness of your organization's involvement, and you document and showcase your club on social media. By the end of the semester, you've increased memberships to 50%, exceeding your goal by a metric of fifteen.
Having experience like this provides you with two advantages. One, you can list those quantitative results on your resume, showcasing a positive impact. As they say, numbers don't lie. Secondly, you now have a talking point that can be discussed in an interview. Employers love to hear about SMART goals, as many want to ensure you can help them achieve their own measurable goals.
An Outlet Outside the Classroom
Maintaining and promoting balance in your life is imperative, especially during your schooling. One of the best ways to ensure a healthy balance is by having a creative outlet. Clubs and organizations facilitate ongoing stimulation in your environment outside of the academic sphere of influence. Additionally, burnout is possible if all your energy is focused solely on one portion of your life. Participating in an outlet holds you accountable for not spending too much time only in one area. By doing this, you will have time to refresh and come back ready to tackle your workload.
Overall, it is evident that involving yourself on campus in any format has multitudinous advantages. Becoming a unanimous voice for the student body through the Graziadio Student Ambassador program is one sure-fire way to cement yourself in the culture of Graziadio and prepare you for the future.