Dreams Do Come True: Roumann Pangilinan Elevates Career and Professional Development Resources to Land a Job at Nike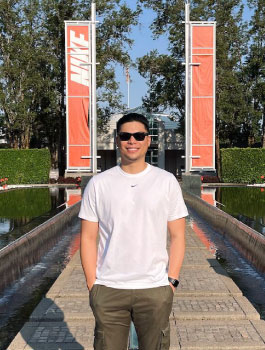 What do you want to be when you grow up? From doctors to professional athletes to artists and more, our dreams motivate us to create goals and strive for what's next, regardless of the outcome. With the support of family and friends, we are further driven to turn a "one-day" aspiration into a feasible opportunity and, hopefully, a lifelong passion. As for Roumann Pangilinan, his dreams all start with Kobe Bryant. Watching Kobe run across the court in Lakers purple and gold as a child inspired Roumann to daydream about a future of working in sports, but little did he know this dream would bring him to the brand behind the very shoes Kobe laced up before his games.
Roumann Pangilinan, Full-Time MBA '22 alumnus, decided to pursue a degree at Pepperdine Graziadio due to our esteemed reputation and welcoming community. Throughout his time at Graziadio, Roumann made sure to get the most out of his degree, taking advantage of numerous resources and opportunities offered to students as they look toward their post-graduate careers. In fact, his path to Nike all started at Graziadio's Career and Professional Development (CPD) team, where he could build out his career plan and solidify the next steps to landing his dream job.
By establishing goals, addressing core values, and recognizing key skills, the CPD team helped Roumann align his passions with a professional path that fit his interest – leading him to a position as a Senior Process Lead and checking off all the boxes. With a Best for the World Leader mindset, Roumann is turning his dreams into a reality, inspiring future leaders to Just Do It.
Read the Interview:
1. Tell us a little bit about yourself, personal and professional paths.
Throughout my educational experience, I naturally grew a fondness and skill in STEM subjects, which drove me to major in Chemical Engineering and minor in Chemistry at Long Beach State University. Once I received my degree, I began my career with a chemical manufacturing and distribution company called Spectrum Chemical Manufacturing Corporation, focusing on mitigating supply chain risks through product specification tracking and assessing impacts on the customer's business. After a couple of years, I made the transition over to Amgen, a biotechnology company, as an engineer for the Thermal Engineering Systems team, where I honed in on my technical and engineering expertise while developing strong business acumen by collaborating with the operations, supply chain, logistics, and quality teams to compile business requirements and develop a robust solution. Navigating through dynamic scenarios with cross-functional stakeholders inspired me to leverage my analytical skills as I transitioned to the operations side of the business. However, throughout my career, I felt that longevity and the utmost joy would derive from aligning my personal passions with a company's values and purpose. Sports was undoubtedly a vital component that influenced my life in foundational ways and something I dreamed of incorporating into my career.
Growing up in LA and being a huge Lakers fan, there was a pivotal moment that brought sports and Nike together for me. When Kobe laced up in the iconic Nike Huarache, my love for the game grew into a passion for the Nike brand. My passion for Nike quickly expanded from sports into a deep enthusiasm for sneakers and fashion. For as long as I could remember, I have always been an advocate of the Nike Swoosh.
With the opportunity to attend Pepperdine Graziadio and pursue their Full-Time MBA program, I gained access to their great resources, such as having individualized career coaching available at my fingertips. It helped to have my heart and mind set on Nike as I entered my career conversations.
My career journey to Nike finally made its first stop with the Global Operations internship at Nike, where I was on the Global Logistics Product Management team. It was an incredible moment to finally be employed with the company that I long sought after, but I knew the job was not finished. I was committed to landing a full-time position after the internship.
I am happy to share that I am now a full-time Nike employee as a Senior Process Lead and made the move across state lines to Nike's world headquarters in Beaverton, Oregon this summer!
2. What drew you to attend Pepperdine Graziadio for an MBA?
Coming from Amgen, there was a strong network of Pepperdine Graziadio alumni who mentioned positive experiences about the program. Additionally, coming from a university with a sizable student population, I wanted a deeper and more intimate connection with my professors and fellow students. I found that Pepperdine Graziadio's small class setting and an incoming class of fewer than 100 students would ultimately allow me to immerse myself within the program, take full advantage of all their resources, create meaningful relationships with my professors and peers, and have a strong connection with the Career and Professional Development (CPD) team produce a robust plan based on my career goals. But a key factor that drove me to Pepperdine is the Christian foundation that the University instills. Whether I come across blessings or hardships in life, I know it was all a part of God's plan and Pepperdine provides an environment to follow His plan and practice my faith. I also took the advice of a respected mentor that strongly encouraged me to pursue my MBA and I'm grateful for his guidance. And, of course, the views at the Malibu campus!
3. What professional development resources did you utilize while earning your MBA?
I would often reach out to the Career and Professional Development team for guidance on career opportunities to explore. Whether that be to initiate a connection with alumni, fine-tune my resume, seek insight for interview scenarios, or overall career advice, CPD would readily provide support as I navigated through my career journey.
I was also able to attend the National Black MBA Conference (NBMBAA) in Chicago, IL this past September, and the CPD team was extremely helpful when it came to preparing for the conversations with the companies I wanted to connect with at the conference. Afterward, we strategized and discussed how to further develop the relationships I made from the event. I was fortunate to receive an MBA Conference and Career Fair Scholarship which provided financial support to attend the event. I am grateful that PGBS allows students to take full advantage of such opportunities like this.
4. What opportunities did you receive from working with Graziadio's Career and Professional Development team?
Once I shared my career and personal goals, the CPD team worked with me to find a Nike internship. Nike's Global Operations internship aligned with my background and my passions, and we started working on developing a plan to prepare me for the internship application process. The CPD team connected me with alumni who work at Nike to provide insight into the company culture and how to approach conversations from a Nike employee perspective. I met with alumni who were more than willing to provide the support I needed throughout my application process. But specifically, Debra Teo, a Finance Director at Nike and Pepperdine Graziadio alum, shed invaluable knowledge and helped pave the way for my journey to Nike.
After immense preparation, I was offered a Global Operations Graduate Intern role with Nike! The internship was an amazing experience and I was able to further expand my professional and personal skill sets. I ventured out to explore the dynamic job market and the CPD team happily supported my search for the next role suited for me. But, my ultimate goal was to land a full-time role with Nike. Once I found a role with Nike that I felt a strong connection with, I applied and solely focused on preparing my material for this role. The CPD team continued to connect me with alumni who provided deep insight into how to address the challenges associated with the role, which I could use as key points during my interviews. By having numerous conversations with Jon Koegler, Director of CPD, to fully prepare for various conversations I could possibly find myself in, I felt confident with my material and my mindset going into my upcoming interviews. After months of preparation, including individual coaching sessions, mock interviews, and networking, I was offered the role with Nike! Jon was one of the first people I reached out to after the offer was presented to express my excitement about the opportunity and appreciation for all the insight and guidance he provided throughout.
5. How did Graziadio's Full-Time MBA help you prepare for your career after graduation?
Coming from an engineering background and looking to pivot industries, I was able to learn from professors with diverse backgrounds and perspectives which broadened my approach to solving critical business problems. But more importantly, attending classes with other students in a similar pursuit to expand their business knowledge helped develop my business acumen going into a new industry. With the new role I've stepped into, I am dealing with managing change and digital evolution throughout the organization. With my concentration in Digital Innovation and Information Systems (DIIS), and Business Analytics (BA), I was able to take classes that gave me the framework when dealing with ambiguity and resistance that comes with change and digitization and leveraging data to make highly informed business decisions.
6. How do you plan on using the skills from your MBA to help you grow into your role at Nike?
Pepperdine Graziadio has pushed me to step outside of my comfort zone and challenged me to grow in a myriad of ways. At Nike, building relationships is fundamental to your career. It helps you understand processes, showcase and socialize your work, and create opportunities to move around within the organization. I've brought a lot of the networking skills I made from connecting with Graziadio alumni and other key contacts, which will be beneficial as I continue building my network at Nike.
Another key skill that I look to utilize in my new role is my ability to present and package key information to leadership. My role at Nike deals with identifying critical operational problems, proposing a solution that aligns with corporate strategy, and justifying change by presenting key business drivers and the impact on metrics and KPIs. I'll take concepts and frameworks dealing with change management to effectively and seamlessly implement solutions, ensure stabilization when transitioning from pilot trials to business-as-usual, and continuous monitoring to identify opportunities for improvement.
7. What advice do you have for current and future graduate students?
From the professors, faculty, CPD team, fellow students, and alumni, Pepperdine Graziadio epitomizes a culture where we all want to help each other succeed. Take advantage of all the resources, knowledge, and networks around you to pursue the information or opportunities you're looking for. With all the help I received from the tight-knit community at Pepperdine, I look forward to paying it forward by supporting my classmates in their future endeavors and incoming Graziadio students looking for insight into how to navigate through their careers.
In his memoir Shoe Dog, Phil Knight, co-founder of Nike, said it best when looking for a purpose in your life, "Never settle for a job or a profession or even a career. Seek a calling. Even if you don't know what that means, seek it."
Work will always be work. But following your dreams, passions, and callings will make your journey in your career all worthwhile.