A Joint Venture: Alumnus Rich Barsumian (MBA '20) Details His Experience in the MBAJ Program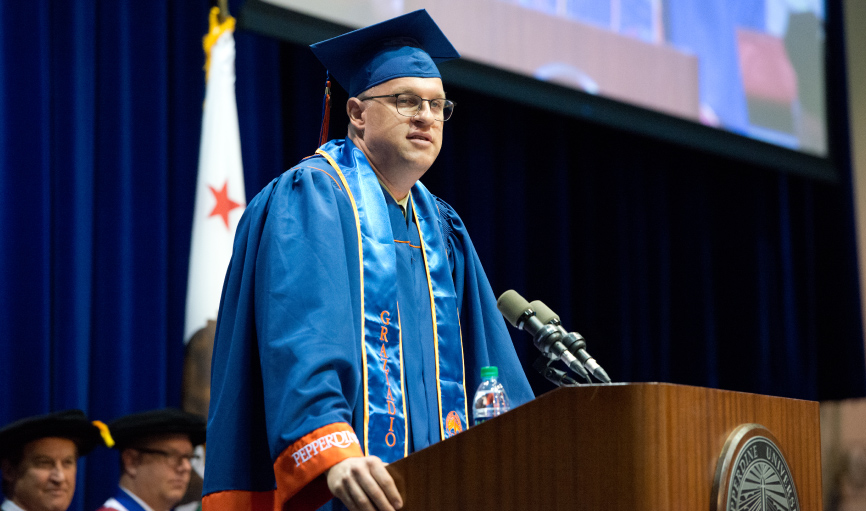 At Pepperdine Graziadio, we offer a wide range of diverse programs to cater to our student's career aspirations and personal interests. Each program is specifically tailored to meet your academic needs based on schedule, location, and career stage, allowing you to maximize your educational investment and complete your career demands. Alumnus Rich Barsumian (MBA '20) took advantage of Graziadio's Bachelor of Science in Management (BSM) degree completion program. Later deciding to take it a step further, Rich earned his Master of Business Administration through our Joint BSM and MBA (MBAJ) program.
Throughout both programs, Rich experienced a positive academic environment that allowed him to flourish personally and professionally. The BSM program's flexibility enabled him to earn his degree while also working full-time at Sony. Due to the cutting-edge business curriculum, Rich directly applied his learnings to benefit his organization, which eventually led to him securing a promotion within Sony. As he approached the completion of his bachelor's, Rich was introduced to the program benefits of Graziadio's MBAJ. He credits his Graziadio academic counselor for helping influence his decision and is highly satisfied with earning his Master of Business Administration in a single year.
Rich believes his time spent in both programs was invaluable and beneficial for anyone seeking to earn their bachelor's and master's in a condensed time frame. Putting in the work pays off—and Rich exemplifies this statement profoundly.
What drew you to the BSM program at Pepperdine Graziadio?
A personal friend of mine was a student in the FEMBA program, and I would talk to him about school. He encouraged me to speak to an admissions counselor to see how far it would take me to be enrolled. I met with Kate Seamonds, and she was not only encouraging but inspiring. She gave me directions to complete the one class I needed to start my BSM program. The staff, professors, and fellow students have made sure things worked for me and helped me reach my goals and move forward.
What was your experience working full-time while pursuing your BSM degree?
While doing my BSM, I was working full time at Sony Pictures Entertainment. They assisted me with tuition costs, and I had the support of my supervisor and coworkers. What I learned to do was rearrange my priorities. I had to eliminate wasteful items from my life to be able to get my studies done. I would often get to work an hour early to study, and while my coworkers were spending their lunch hour watching TV in the lunchroom or looking at Facebook, I would go to a quiet office and read some homework. While it was a busy time, it was manageable, and I was able to complete my assignments and do a great job at work. I was promoted at Sony while completing my BSM program. I am sure the upper management saw me going to the Graziadio school as a part of their decision to advance me.
When did you decide to further your education and pursue the MBAJ program?
During my admissions process, my counselor Kate explained the benefits of coming to the Graziadio school. One of the things we discussed was the MBAJ program. To achieve a bachelor's degree in two years seemed a definite goal and achievement, but to add an MBA for one additional year was incredible. I discussed with Kate the options, and I knew when enrolling for the BSM program that it was a package deal for me. I was determined to do well in the bachelor's program, specifically to wave a grad school year. The extra time and money saved by doing the MBAJ were incredibly worth the extra work I put into excelling during my undergrad program. It was a win/win situation.
How has the MBAJ program influenced your career aspirations?
About halfway through my BSM program, one of my professors kept hitting the idea that we are getting a degree in "Management." He explained we are capable of being managers. Then my MBAJ program showed me how to run a business.
When coming to the end of my BSM classes, I knew I wanted to pursue being a professional conservator, trustee, and fiduciary. After graduation, I was in good shape to have my own fiduciary office and not only work for myself but hire others and give them an opportunity for success.
What advice do you have for students considering a joint degree program?
The time spent putting the hard work into getting high grades in the BSM program made me eligible for the MBAJ. When the professors see a student making a real contribution to their education, they want to help. It was a team effort to get through my studies at Graziadio, and when people saw that I wanted to succeed, they wanted to contribute to my success. Please do it. It was worth the time and effort.