Marvin Duddek (MBA '20) Shares His Overseas Collegiate Experience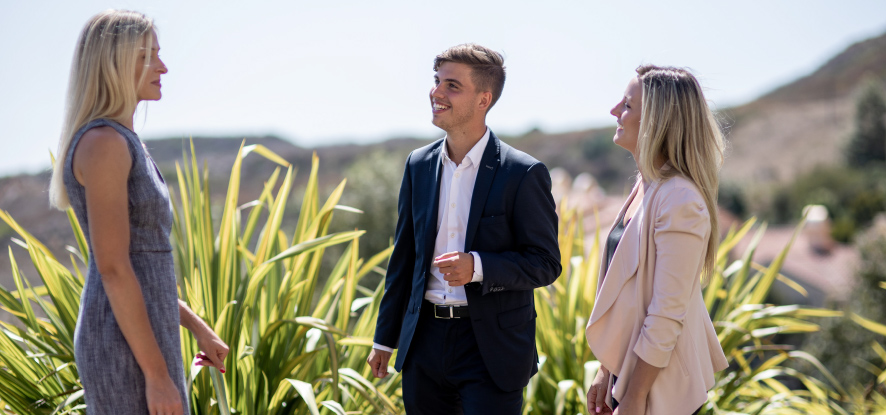 International students play an imperative role in Graziadio's mission to develop Best for the World Leaders. We are proud that our students from across the globe find their "home away from home" in our Full-Time MBA program.
Marvin Duddek (MBA '20), a graduate of our Full-Time MBA program, found his home away from Germany at our Malibu campus. While earning his undergraduate degree in Germany, Marvin focused on finding what drives him to enter the working world. Marvin eventually sought an MBA in hopes of a new challenge, looking to expand his global reach while being immersed in a new environment.
Seeking sunny weather and a school focused on purpose-driven leadership, he quickly found his home at Pepperdine Graziadio. As he finished his second-year studies, Marvin valued both the differences and parallels that Graziadio offers compared to his undergrad collegiate life in South Westphalia. Marvin genuinely acknowledges the privilege he has to study at Pepperdine and looks forward to the future of possibilities ahead.
Why did you seek an MBA program that was international?
During my undergraduate studies in Germany, I realized that the most crucial part of studying wasn't the degree, but the quest to learn more about myself and find the things that drive me. Since I worked part-time throughout my whole undergraduate studies and immediately started working full-time upon graduation, I couldn't spend as much time traveling and exploring the world as I would have liked to. As a consequence, I never intended to get my master's degree for the sake of getting a degree that I can list on my resume – I wanted to use it to challenge myself in a new environment and broaden my horizon.
What drew you to Pepperdine's MBA program?
Having visited my relatives in Los Angeles several times before, I was already intrigued by the California lifestyle. I knew that it would be amazing to study in such a vibrant place. Looking for potential schools in the area, my uncle drew my attention to Pepperdine. And as a real values-driven person, Pepperdine's vision of Best for the World Leaders resonated with me.
Was the transition from Germany to California challenging?
Yes and no. Thanks to the internet and the fact that I visited LA multiple times before, I anticipated what was ahead of me. However, I must say that going from a village with less than 1,000 inhabitants to a metropolitan area with more than 10 million people was a significant change – for the better. Taking traffic and the homeless problem aside, living in such a cultural melting pot that attracts intellectuals and tech enthusiasts equally as much as artists and athletes are the dreams of most with a cosmopolitan mindset. Aside from the city itself, I also experienced a very welcoming culture. I was fortunate to make many excellent friends who immediately gave me a sense of belonging.
What are the differences between collegiate life at Pepperdine Graziadio and collegiate experience at South Westphalia? What are the parallels?
Comparing my undergraduate experience in Germany with my experience at Pepperdine is almost like comparing apples to oranges. In Germany, my studies were part of a four-year apprenticeship program that trained me in IT and business administration. Since everything was paid for by the company, I went to a private university that only taught students who were employed at my company – in other words, the campus was super small, and there weren't many clubs and sports events.
The upside of being employed during your undergraduate degree is that you are getting paid; the downside is that you almost have no time to spend the money. However, we still managed to establish a great group of friends with whom I am still in contact. Having small class sizes helped create close ties to my peers – that's probably the most significant similarity compared to my MBA experience at Pepperdine.
What advice do you have for international students looking to enroll at Pepperdine Graziadio?
Visit the campus – Pepperdine truly is an extraordinary place, and I have personally never experienced a learning atmosphere like this before. Even after almost two years, I don't get tired of just standing on the plaza looking at the Pacific Ocean on a sunny day. Especially when I am "stressed" because of two consecutive four-hour classes and group projects, the view always grounds me and reminds me that there is no need to lose my head over an assignment. On the other hand, it also motivates me. It reminds me that not everybody is in such a privileged position and thus helps me stay hungry and appreciate the opportunities I am provided with.