Leading the Pack: MBA Alumnus Arabo Beiki Details His Regimen for Success and His Thoughts on Best for the World Leaders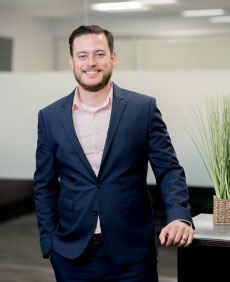 Servant leadership is a word that resonates strongly throughout the Graziadio community and is a strong identifier for many of our alumni as they make strides as Best for the World Leaders.
Arabo Beiki (MBA '15) is an impeccable representation of servant leadership and has seen its manifestation in his personal and professional life. Through great discipline, he creates an ideal schedule for himself that enables him to capitalize on every opportunity and make the most of each day. This mentality has created a thriving chance for his work as a business consultant in the cannabis industry—tapping into the field's potential for early-stage entrepreneurs and business professionals.
When it comes to his academic experience at Graziadio, Arabo reminisces the self-confidence learned throughout his educational journey. Whatever one does, it's imperative to take a firm stance with the confidence to drive it forward and gain others' faith. Never fear failure and turn every failure into a learning opportunity. As many say—"fake it till you make it."
Arabo's advice is simple and powerful for those seeking successful careers—learn, read, utilize the tools available to you, and practice, as practice makes perfect.
When asked what he thinks makes a Best for the World Leader, Arabo states leaders should necessitate a level of transparency and a "willingness to educate their populace rather than indoctrinate their populace." In layman's terms, leaders that are best for the world should focus on educating instead of pushing beliefs onto others as a misguided attempt to influence behavior. Sometimes what is right isn't always popular, and what's popular isn't always right.


Interview with Arabo Beiki
1. How do the values of being a servant leader play out in your life?
Today, many individuals have unfortunately conflated "manager" and "leader" into an indiscernible, authoritative identity. Leadership is meant to be the anchor that keeps us steady, allowing for stability among the unpredictable waves of uncertainty rather than merely holding us down to persevere said waves. A servant leader focuses on his or her team's goals rather than his or her personal goals; this is best illustrated in the wolf pack—the first of the pack are the at-risk wolves (old, sick) and provide the pace to the entire pack; if they were instead "managed" in a hierarchy and relegated to the back of the pack, they would ultimately be left behind and susceptible to loss, given their limitations. Following the first group is the rest of the pack, with the stronger ones (front line wolves) buffering both ends.
The very last wolf is the alpha, the servant leader. From his position, he can see everything, decide the direction, and effectively lead the pack on its journey. The alpha controls everything from the rear while taking into account the individual strengths and weaknesses of every wolf in the pack. When this form of selfless leadership is applied to my teams, it allows me to significantly harness the strength of my entire unit and also validate my capabilities as a true leader beyond a mere "manager." Everyone is in the wolf pack for a reason. My job is to ensure that everyone is in the appropriate position to capitalize on their strengths, supplement each other's weaknesses, and collectively achieve their goals.


2. Share your recent professional success and what made it successful?
The rudimentary skill that we all need is discipline, whether we like it or not. When we boil down every inspirational quote, every speech from motivational speakers, and every psychological assessment, discipline is the common denominator. It is the precursor to hustling, being an entrepreneur, being an early riser, committing to a workout regimen, and so on. Now, I am not saying we must adopt a strict militaristic sense of discipline (although that wouldn't necessarily be a bad thing), but rather realizing that we have 24 hours in a day and we are the ones who choose how to fill that time. It can't only be all work or all play.
I created an ideal daily schedule for myself—what time I would like to get up, how much time is allocated to getting ready, how long a dog walk usually takes, minimizing unnecessary cell phone scrolling, when and what to prepare for lunch, when to sleep, etc. Of course, it is impossible to repeat the same sequence daily because life happens, and I can expect contingencies, but just knowing that I have a rough schedule of everything I need to take care of gives me some semblance of control. This, in turn, allows me to have a greater focus on each task rather than being mentally distracted by other tasks I need to take care of, falling victim to a never-ending mental loop. By disciplining myself and creating a baseline schedule of daily goals, I focus on work when I am at work, allocate sufficient time towards physical health instead of Netflix binging, and overall learn how to optimize my time much better. This has significantly enhanced my professional success. The main challenge is mustering up the self-discipline to remain committed to my schedule.
If we don't have discipline, we must train ourselves. Even a small task such as making the bed every morning is a small victory, which sets the stage for the rest of the day.


3. What industry are you in, and why did you choose that industry?
I am currently a business consultant in the cannabis industry. At the risk of sounding hackneyed, it is an exciting world with tremendous potential. There is little precedent in the world of cannabis, and all players can dictate the future of the game. Unlike other mature industries, there is a myriad of untapped opportunities present for early-entrant entrepreneurs and professionals, which will ultimately set future norms and expectations for future growth and maturity.


4. What is one thing that you learned from your experience at Graziadio that has influenced your life?
Self-confidence can make or break our future. It does not matter how good a product or service is. If we are not confident in what we are presenting, the audience is not convinced, and we have not gained their faith, our efforts are in vain. This is precisely why many good ideas and companies do not get funded—the leaders do not appear to be confident in the words that they are saying. It is a balance of pride and humility. On one extreme, we have arrogance. Leaders try to sell the world through hype and fantasy without substance; on the other, we have inactive ambition. The leader is fully capable of closing the deal, but their paralanguage, body cues, and overall delivery scream hesitation.
Many decisions are made emotionally, viscerally (especially in a sales/pitch environment). That positive or negative "gut feeling" we get comes from unconscious emotional information provided by the confident (or diffident) voice we hear. Sometimes, the information is not always accurate (think politicians or the stereotypical "used car salesman"), but the speaker's conviction makes us believe otherwise.
The fear of potential failure is always there, but it should never be why we lose confidence in ourselves. "Fake it 'til you make it." It is easier said than done, and it may be discouraging at times, but we should embrace those times as learning opportunities and not "failures." Even if a snake is not venomous, it should pretend to be.


5. What is a business tip that you could share that you've learned during the pandemic?
You can never read too much about anything. To pull out another trite expression, "knowledge is power." Read everything. Books, journals, magazines, social media posts, nutritional facts on a box of cereal, everything. Interested in how Richard Branson started Virgin? Or about residential construction zoning ordinances? Instagram post about "10 best kitchen life hacks?" You get the idea. Read. Tossing in a documentary or two doesn't hurt either. Even Tiger King has valuable lessons to teach. You never know when that piece of information may come in handy in your personal or professional life. Imagine being the lifeline on Who Wants to Be a Millionaire and knowing the answer to the million-dollar question because you recall something you read before.


6. What advice do you have for those looking to build a similar career path or transition into your function or industry?
Read about it—practice (further) building your self-confidence. Never be afraid to ask questions (there is no such thing as a dumb question). Remind yourself that nothing worth pursuing will ever just be handed to you. Create and utilize your network.
Now that last one has been hammered so much that it has lost all significance to many people. A "network" is more than just a Rolodex of industry contacts; it is our neighbor, our cousin, our cousin's neighbor, our cousin's neighbor's cousin, and so on. Everyone has their own story and their associations, and as long you have enough confidence to introduce yourself and leave a positive impression, that is enough of an elevator pitch. Sometimes, it is only one or two degrees of separation between you and your goal, not six.


7. What advice do you have for business owners that may be struggling during this global pandemic?
It is extremely difficult to offer advice that can be applied universally to most businesses in today's unprecedented climate of uncertainty. First and foremost, never rely on the government to be your savior; they will ultimately harm your bottom line more than they will ever help. With that said, always take advantage of any resources they have to offer you, even under "normal" circumstances.
Second, now is the perfect time to consider focusing on your brand (or re-branding entirely). What is your unique value proposition? What can you do that sets you apart from the competition? Philanthropy is the new marketing. By aligning your business with a mission (think Toms shoes), this will be one way to organically generate buzz and tap into available and potential markets beyond just offering mobile/delivery services a new product line.


8. What book would you recommend to business school students or alumni?
Start with Why by Simon Sinek.


9. What is your favorite quote?
There are two that presently stick out for me.
"Everything you have ever wanted is on the other side of fear." - George Addair.
"If you want to look good in front of thousands, you have to outwork thousands in front of nobody." - Damian Lillard.


10. What do you think makes someone a Best for the World Leader?
Transparency (to a degree) and genuinely looking out for the best interests of their nation. The "best interests" might not always appease the masses, but there needs to be a willingness to educate their populace rather than indoctrinate their populace. Otherwise, it ends up being another means of control and self-appointed righteousness.