MSOD for an International Stage
Michael Jonckheere, MSOD '15
Having just returned from the first of three international practicums, my cohort and I – students of the Masters of Science in Organization Development (MSOD) program – have laid a strong foundation for practicing organization development with an international perspective. The practicum took place in Lyon, France, where my cohort worked directly with local managers to address real-world issues.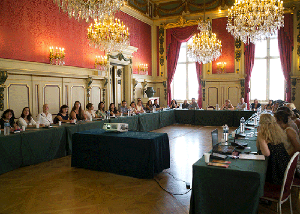 Pepperdine's top-rated MSOD program is the only OD program in the world to spend more than 50 percent of class time in international locations. This experience in Lyon will be expanded by similar sessions in Costa Rica and China as we continue to develop our skill in practicing OD with a global mindset.
Virtually all organizations in today's environment are influenced by globally integrated views, products, ideas and other aspects of culture. Our experience in Lyon showed us this first-hand. The challenges facing managers, including the managers we worked with, need be addressed with this in mind. Traditionally, practitioners in OD assist managers in increasing organization effectiveness and health through planned interventions in the organization's processes using behavioral science. In essence, OD facilitates a planned system of change. Our cohort learned first-hand that organizational changes are more relevant when developed by a practitioner with an international skillset.
The ability to understand the impact of change from multiple perspectives is critical. "Whenever we're in an international context, we have to challenge our own biases. We have to make different decisions about how we behave and what's important to a different culture." commented Bryan Clifton, Vice President of an Oklahoma City-based leadership development company and member of my cohort.
The nine-day practicum in Lyon began with several formal and informal experiences to deepen the theory we acquired leading up to the session expanding our international perspective.
The first formal experience was an exclusive meeting with the deputy mayor Madame Dounia Besson. The meeting took place at the 17th century Hôtel de Ville (Lyon City Hall). Since the building is not open to the public, the invitation from Hôtel de Ville was a testament to the strength of the relationship between Pepperdine's MSOD program and the city of Lyon.
With extensive course-work and exposure to Lyon now under our belts, we were eager to put our OD skill to work in the boardroom. We were each designated a real-world consulting intervention from an impressive roster of companies. Clients included a multi-billion dollar agricultural technology company, global transport organization, world-renowned culinary arts and hospitality management school and a variety of others.
Reflecting on the consulting component of the practicum, it was fascinating to see the business challenges managers from another culture are facing and understand the similarities and differences in the way they are handled. For myself and our cohort, addressing these issues while maintaining a keen awareness of cultural dynamics was both a challenging and very rewarding experience.
We closed the session with an in-depth debrief both on an individual level and within our consulting teams. With a strong foundation of practicing OD in an international setting now in place, we are looking forward to further growth and development as we head to Costa Rica and China in the coming year.