A Learning Opportunity: Graziadio Students Detail Their Discoveries About the COVID-19 Pandemic and its Effects on the Workforce
One of the most significant sectors highly impacted by the COVID-19 global pandemic is the workforce. Regardless of job function, level, or industry, we've all seen a massive shift in the working world—so much that for some, it may be forever changed. However, there can be a silver lining in uncertainty that enables us to learn and create budding opportunities.
For current Graziadio graduate students Jennifer (Evans) Collins, Charlie Johnson, Rachel Ohale, and Dave Pennoyer, researching the COVID-19 pandemic and its impact on the workforce allowed them to shed light on the situation while learning something new in the process. Each of them personally saw the effects the pandemic has had on someone in their lives and felt the topic would help comfort others during ambiguous times. Conducting their research for their DESC 638 course—a class focused on analyzing and displaying data in a digestible format—concentrating on COVID-19's unemployment impact within public sector data, diving further into its implications at the macro and micro levels.
Their thorough research found minority groups absorbed most noticeable negative impacts on underrepresented individuals, further proving the disparity—both economically and racially—within the United States. The data they presented to their classmates and Graziadio Board Member Kathleen Grave, managing director, and CEO for EI Group, astonished them and shone a light on the evident inequality the United States has grown accustomed to.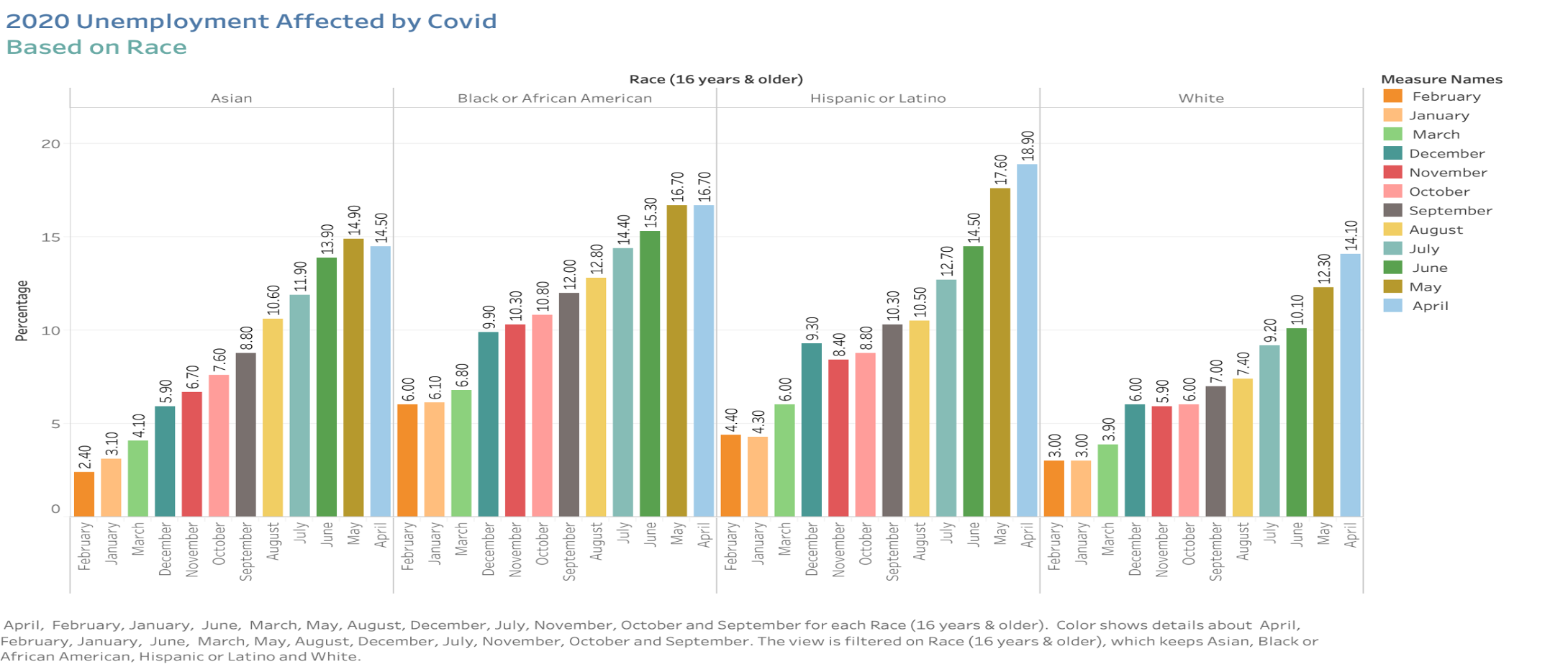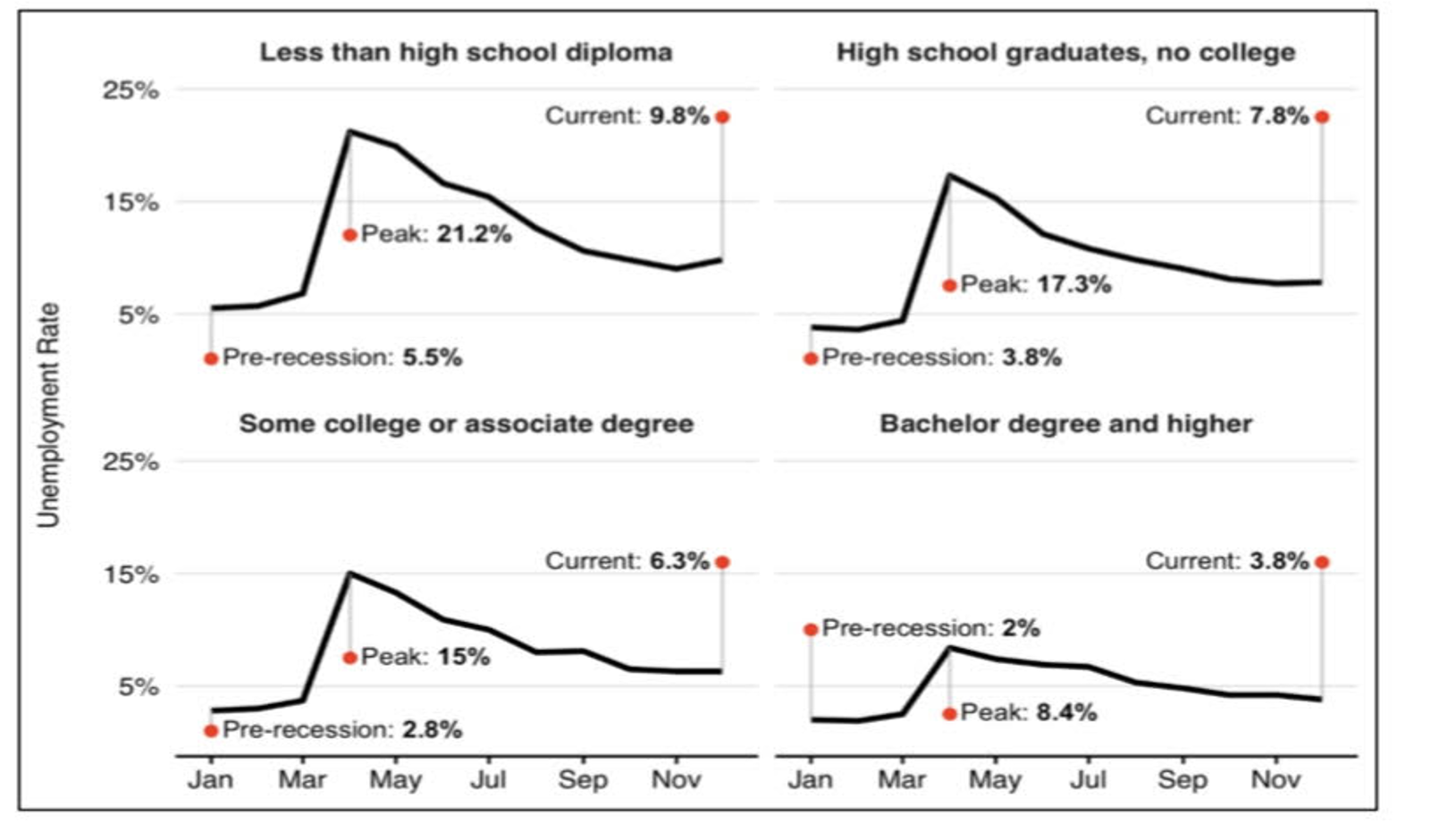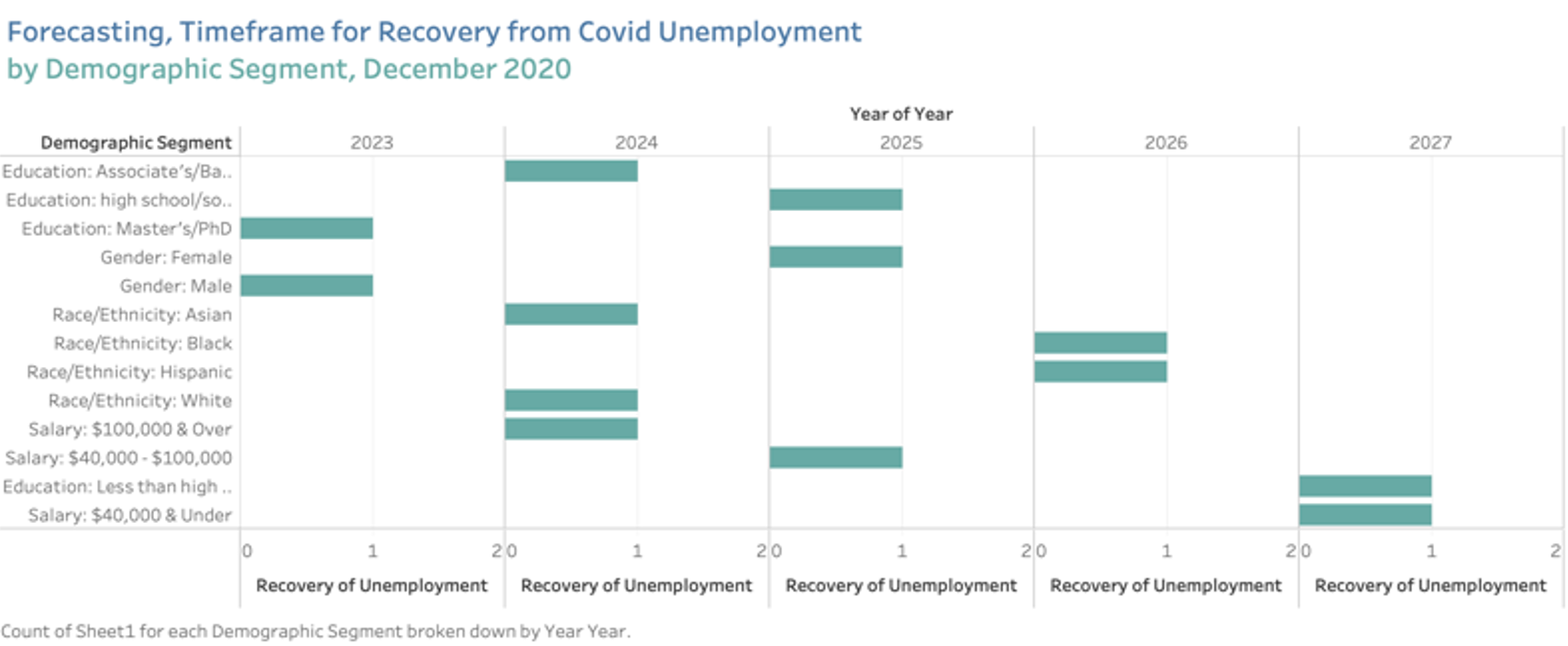 Nonetheless, despite their disheartening findings, Jennifer, Dave, Rachel, and Charlie, feel this data not only proves there is work to be done in this country, but they, as Best for the World Leaders, can make strides to improve the conditions for all. These students' significant research demonstrates we must continue to move the needle closer to creating an equal system for all.
Jennifer, Dave, Rachel, and Charlie
1. What drew you to attend Pepperdine Graziadio?
Dave: My friend/boss is Pepperdine alumni, and he spoke highly of Graziadio.
Jennifer: The Pepperdine Graziadio Business School is highly ranked, and the professors are top-notch. When I evaluated the overall program, the community's values, the diversified student body (from experience, ethnicity, and age) from varying perspectives and experiences, along with community involvement, made the decision easy to become a Wave.
Rachel: I was drawn to attend Pepperdine Graziadio because of their reputation for shaping the Best for the World Leaders through their holistic approach to education.


2. What types of academic material are you covering in the DESC 638 class?
We studied how to analyze and display various aspects of data by using powerful tools like Tableau and various Adobe add-ons. The art of storytelling by choosing a passion project and sharing an authentic journey; by reviewing the data, running analysis, and creating multiple visuals to display the results impactfully.


3. Please explain in detail the purpose of your project and the main objectives.
We knew that COVID-19 was top of mind but who was directly affected with unemployment by this pandemic? The focus was the unemployment impact of COVID-19 with the public sector data and its impact at the macro and micro levels. We honed in on the restaurant industry, discussing the closure of Souplantation that occurred in a 6-month time frame. Souplantation, at the beginning of January 2020, had made the business strategy to place a large amount of equity in remodeling their restaurants and couldn't shift gears quick enough to financially recover. By April 2020, 30% of employees lost their jobs with Souplantation.
Restaurant and business closures and unemployment numbers due to the pandemic affected the 18-24-year-olds, Black African Americans and Hispanic workers, and different ethnic groups, millennials, and women exiting the workforce.
Maybe our classmates weren't exposed to the information/details and the significant impact on both a local and national level, so we decided to discuss this. We knew this pandemic personally impacted each member of the Pepperdine community. Our team had the opportunity to share how COVID-19 impacted each of us personally.
Charlie: Friends and family disproportionately affected.
Rachel: A Millennial with friends negatively impacted by the COVID-19 pandemic.
Dave: A senior citizen widow forced into isolation.
Jennifer: A working mom while homeschooling two children.
We were part of the curriculum, but it was a real eye-opener for our team. Through this data exploration, we were humbled by one another's journey during Covid and gained further respect for one another.


4 .What interested your team in conducting a research project focused on the impact of COVID-19 on the current and future workforce?
Each of us knew someone who was impacted by losing their job or closing their business. Our team wanted to be informative regarding which groups were the most impacted by job loss during COVID-19. Our team shared the demographic details of how the workforce was suffering and offered hope that we, as a nation, have become stronger due to this adversity. We wanted people to have hope and offer them information about resources for physical and mental anxiety and assure them that collectively we will get through this pandemic. Our team provided a slide with online resources.


5. It was reported that your team had significant findings in this study. What was the outcome? What are some of the notable takeaways your team gained from this?
Dave: I would guess first and foremost the sheer number of people affected, not just by being sick but the economic impact of unemployment as well. Secondly, how each of us was impacted personally gave us a chance to open up to each other and realize we are not alone and that there is always someone worse off than we are. It was humbling, and we gained respect for one another.
Jennifer: COVID-19 "widened the discrepancy" in employment and lifestyle between US citizens.
Rachel: COVID-19 not only affected the health and well-being of American's but also negatively impacted a plethora of US businesses.


Points: 4 sectors of impact.
1st: Black and Hispanic workers: faced 1.6 to 2.0 times the unemployment rates of their white counterparts.
2nd: Households with less than $40,000 in annual income faced double the unemployment rates of higher-income households.
3rd: Education matters; obtaining a bachelor's degree reduces unemployment risk by 34%.
4th: Women have accounted for nearly 43% of exiting the workforce since the start of the COVID-19 pandemic.


"The Good, the Bad, and the Ugly Impacts" Points:
1st: The Age Group most affected by high unemployment rates of over 30% is the 18-24-year-olds.
2nd: As is often the case in situations of national disaster or adversity, sub-sectors of society take advantage of relaxed requirements designed to expedite aid to those in most need, and some will submit false claims for compensation, which in California alone resulted in $11 billion in fraudulent claims.
3rd: COVID-19 pandemic has unknown x-factors, such as time-frame for administering the vaccine and reopening of businesses, which could affect predicted forecasting years of unemployment recovery.
Next, how each of us was impacted personally, it gave us a chance to open up to each other and to realize we are not alone and that there is always someone worse off than we are. It was humbling, and we gained respect for one another.


6. Does your team have any thoughtful advice to share regarding the future of the workforce?
Dave: I want everyone to know that we as a nation will come roaring back, stronger than ever. If we learned nothing from the pandemic, it should reinforce the power of hope and prayer.
Jennifer: We have all been struggling in different ways through this pandemic. If you have empathy and prioritize other people's needs first, the power of hope and prosperity thrives.
Rachel: I want everyone to be encouraged and keep hope alive. We will get through this and continue to be a prosperous nation.