Alumna Poppy Farsijani (MBA '10) Shares Her Experience in the MBA Program and Successful Debut of Film Woman. Life. Freedom.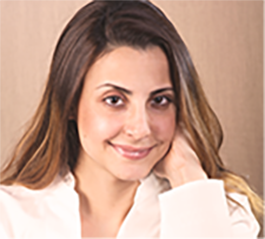 Poppy is a journalist, author, motivational speaker, and entrepreneur born in Tehran, Iran, and raised in Brooklyn, New York. She began her career in broadcast journalism at age 19 as a reporter, evening news anchor, producer, and talk show host for IRIB Channel 6, Channel 4, and Radio BBC. In collaboration with Graziadio's Institute for Entertainment, Media, and Sports and Center for Women in Leadership, Poppy hosted an exclusive screening of her documentary, Woman. Life. Freedom, which she created following the death of Mahsa Amini to shed light on the Iranian sports regime's abuse of athletes, particularly female athletes.
Read Poppy's Interview:
1. Why did you choose to pursue your MBA?
At that time I wanted to pursue a degree in journalism in combination with business leading me to MSNBC and business reporting. As the road of life changed, I decided that pursuing my MBA was the next logical step.
2. What inspired you to create Woman. Life. Freedom? What do you hope to accomplish from the film?
For my first job, I served as a sports journalist in Iran. While in that role, I witnessed the abuse of athletes, especially female athletes, carried out by Iran's sports regime. To shed light on these abuses, I created my documentary, Woman. Life. Freedom. I hope to create awareness and dialogue on a global level about what is happening.
3. How has your Graziadio experience impacted your career?
My Graziadio experience has been very impactful in my career. Business school isn't just about earning your degree. It's intended to hone your business skills, and strategic thinking, and accelerate your career. It gave me the necessary tools to develop a new mindset, my professional ambition, and my desire to succeed.
4. Any future projects you're excited about?
We are currently working on a long-format documentary of Woman.Life.Freedom. The Beginning of the End - exploring different facets of crimes committed by the regime including fake news, abuses towards children, and the mistreatment of ethnic and religious minorities.
5. What are some pieces of advice you would offer to current and future Graziadio MBA students?
My advice to current and future Graziadio MBA students is to come with a full appetite to network, learn, be curious, gain knowledge, attend events, participate in study abroad programs, and have lots of fun! Time is precious. Soak it all up because these moments are so sweet.
Another piece of advice I would offer is to be slow to react. Instead, listen before you impulsively make business decisions, or decisions involving relationships (personal and professional), and any other significant choices. Consider your classmates, your alumni, and your team to be your building blocks for growth.