Turning Sustainability into a Trending Fashion: Entrepreneur Nicky Dodaj Inspires Future Business Leaders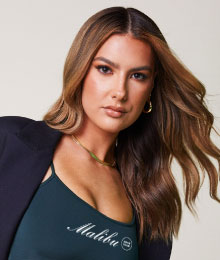 The toolkit to a start-up's success is persistence, sustainability, and, for Graziadio alumna and co-founder of Malibu Juice Club, Nicky Dodaj (MBA '21), a sister who works alongside you. Nicky grew up taking notes from her entrepreneurial father, recognizing that she too aspired to follow in his footsteps and create a business of her own – a business that creates a meaningful impact. Having earned her undergraduate degree from Pepperdine, she looked to continue her studies at Pepperdine Graziadio, aligning her values-based mission to an MBA with purpose-driven entrepreneurship at its core. Upon earning her MBA, Nicky lived out her goal of developing a sustainable fashion business, Malibu Juice Club, built on the values of reaching one's full potential. Nicky reflects on her education at Graziadio as an opportunity to gain confidence and develop a purpose for her future career in entrepreneurship.
Looking ahead, Nicky hopes to carry on with her entrepreneurial ventures and open one-stop wellness shops for communities that further promote living healthier, happier lives. As Malibu Juice Club pop-ups will continue to make waves in local shops and at collaboration events, Nicky aims to continue adapting her brand in a rapidly changing marketplace while staying true to her values and becoming an inspiration to other leaders – much like her father.
Read Nicky's Interview:
Tell us a little bit about yourself. What/who inspired you to become an entrepreneur?
Entrepreneurship is in my DNA. It all started with my father, who immigrated to America in his teens, in search of the American Dream. He chased success since his first day in the states, and through his dedication and tenacity, became a well-known restaurateur in Florida, with over 600 employees. Having grown up under the wing of a natural leader and prosperous business owner, I always knew I wanted to do the same – the goal for me was always CEO and nothing less. After completing both my undergraduate and graduate MBA degrees at Pepperdine University, I set out on my entrepreneurial journey to create a business rooted in sustainable practices – and above all, fostered a community around it.
What is the story behind Malibu Juice Club and what differentiates it from other clothing brands?
Malibu Juice Club was created as a joint venture with my sister, Amy. Amid the early days of the pandemic, we decided to put our brains together to create something that reflected us both in terms of our style and values. We put a few different ideas to the test, but what came most naturally, in the end, was fashion – something we always connected on despite how differently we chose to express ourselves through clothing. We noticed a major gap between the facets of sustainability, and luxury, and honed in on creating everyday pieces that delivered on comfort while inspiring customers to look and feel their best through daily activity and healthy choices.
What sets us apart from other brands among the saturated athleisure industry are our core pillars: mind, body, soul, and earth. We noticed the excess amounts of waste in terms of materials, natural resources, and manufacturing practices that exist within the fashion industry and have devoted ourselves to a business model that upholds eco-friendly alternatives. Malibu Juice Club sources only sustainably made fabrics, hang tags, boxes, trims, buttons, and so much more. Above all else, we also promote our wellness-first mission through every piece. Our goal is to motivate the MJC community to lead healthier lives through better habits, increased activity, and mindfulness that ultimately cultivates a flourishing lifestyle.
What lessons have you learned from running your own business?
There are always lessons to be learned when running a business of any kind. Through my journey in earning my MBA, we discussed countless potential risks and complications, but it's an entirely different beast when it comes to facing them head-on. It's no secret that supply chain issues have riddled just about every industry since the onset of the pandemic. I thought back to my lessons on how to best avoid or entirely eliminate bottlenecks and strategized accordingly, using just about everything in my toolkit. But when dealing with uncontrollable external factors, the most essential skill is the ability to be quick on your feet and pivot - however and whenever necessary. Launching a business amid an unprecedented period of history was no easy task, but learning how to find solutions rather than dwell on a problem has been something that's helped us the most in our ongoing growth.
How did Graziadio's (Full-Time or Part-Time) MBA program prepare you for your career?
Without a doubt, Graziadio's entire curriculum taught me endlessly and propelled me forward in regard to my entrepreneurial abilities. One course that stood out above most was Entrepreneurship with Dr. Cox. It was in this class that I truly gained all the tools I needed to take the leap into starting a business. I learned a step-by-step playbook into entrepreneurship, polished my pitching skills, learned the intricacies of pitching to investors, and so much more. This program undoubtedly instilled the know-how and confidence I needed to run a business.
What advice do you have for developing entrepreneurs pursuing an MBA degree?
If there's one piece of advice I could lend to future entrepreneurs in the making, it's to overcome the fear and follow through. There are too many minds sitting on brilliant ideas that give into the fear of failure and remain on the safer, risk-averse path. I say to take the road less traveled, take the risk, and learn as much as you can along the way. No matter what job or field a person is in, we're constantly learning and absorbing new information - and entrepreneurship is no different. You're bound to make mistakes, but learning and growing from them is what it's all about. Taking the leap was a difficult thing for me to do, but being able to see friends and even strangers wearing something I created makes everything so worthwhile.
What are your future goals for Malibu Juice Club?
There are tons of goals (both big and small) we hope to meet with Malibu Juice Club. The first of which is building physical hubs for the MJC community - a center for like-minded individuals to meet, network, and refresh. The Wellness Hubs would act as a one-stop-shop, housing juice bars, healthy cafes, workout studios, meditation spaces, and much more. To take it a step further, we'd also love to use the hubs as a launchpad for health and wellness weekend retreats for our community members to reboot and rejuvenate. Ultimately, we'd also love to gain the financial and experiential backing to coach and advise other hopeful female entrepreneurs in creating a business – guiding them through accounting, planning, pitching, marketing, and connecting them with sustainable manufacturers in a hope to pay it forward and level the playing field.
What is a personal goal that you have set for yourself?
A personal goal I plan to keep top-of-mind through the entirety of my entrepreneurial journey is to never stagnate. Often times when a business finds success, the same model stays in place – same product, same outreach, same market. That is until another brand comes along with a smarter, better, faster version that delivers on more. With Malibu Juice Club and any other business, I choose to start in the future, my goal is to constantly keep the wheels turning in terms of product innovation, new customer acquisition, manufacturing methods, and so on – ensuring the brand stays alive through a rapidly changing marketplace.