Disrupting Your Element: Laura Woodward's Firm is Changing the Way You Think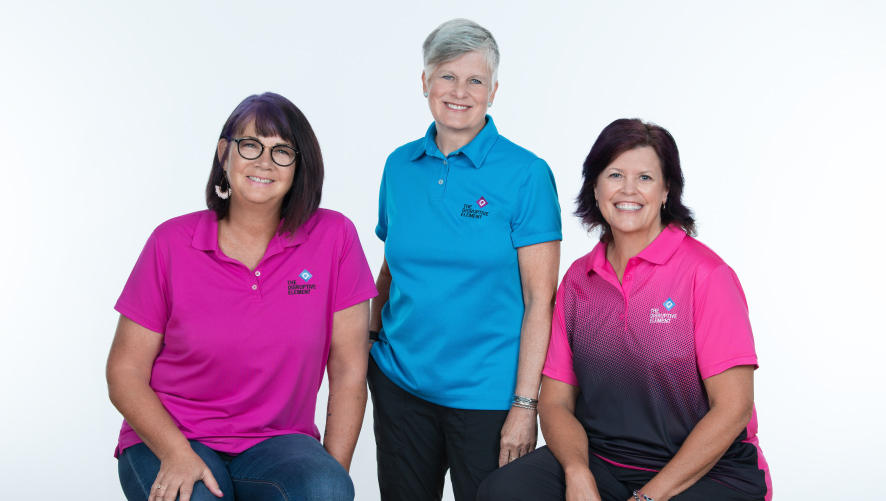 For Laura Woodward (MS '14), the idea of "disruption" and leveraging it to better tune into your thoughts, actions, and more has always been a no brainer. Her company, The Disruptive Element, specializes in helping individuals choose the right steps and behaviors, ultimately enabling them to best suit their needs to be in their ideal "element." This, in turn, empowers individuals to work together better, facilitating an organizational culture that benefits both the employees and the organization's success at large.
During her time in the Pepperdine Graziadio Business School's Master of Science in Organization Development (MSOD) program, she enjoyed various features of the program, including the cohort, the stellar quality of the faculty, the integration of "brain science" into organizational structures, and the expanding network of OD alumni. Some of these initial teachings helped guide a more straightforward path to starting her firm. Laura also credits the MSOD program for allowing her to discover new elements about herself, something she may not have learned without the teachings of organization development.
As Laura progressed professionally, she came to realize her passions lie in the power of people. She strongly desired to help individuals—specifically linear thinkers—advance their leadership traits in a way that would provide the best possible outcomes. After much deliberation, choosing the right business partner, and—lots—of hard work, The Disruptive Element was born. Today, Laura serves as "Compelling Experience Officer" for The Disruptive Element. Her company has been recognized by Inc. 5000 as "One of the Nation's Fastest-Growing Companies," coming in at 1336.
Throughout the COVID-19 pandemic, she—and her business partners—have learned the importance of OD now more than ever before, given the considerable, unexpected hurdles of the past year. However, Laura and her partners are pivoting during this time and learning how to adapt in the process. The pandemic presents a new wave of hurdles to overcome, from operating and selling in an entirely virtual environment to maintaining crucial client relationships. While the Disruptive Element has its work cut out for it, Laura and her team continue to endure the unforeseen challenges of COVID-19. They are working hard to bring positive change to organizations.
Laura leaves us all with a positive message of inspiration—every bit of work you commit to following your dreams is worth the blood, sweat, and tears. There is always power in purpose, and once this is achieved, there is no going back.
Is there a specific driver that inspired you to found your consulting firm?
Yes! As a former IT business leader/executive, two things drove me to do something different. First, I realized that my passion and skills were on the people side of business—not technology or process. I became known for helping organizations thrive through their people and put my efforts and talents there. Eventually, I wanted to do this broader than in a single company environment.
Second, I wanted to provide solutions that helped "linear thinkers" (i.e., IT, finance, engineers, scientists) advance their leadership skills in a way that would resonate with them the most. I wanted to create practical, brain-centered tools presented to them where they connected with the information and wanted to explore using their new skills.
This led me to create our company, The Disruptive Element—where we disrupt your current thinking to understand the connection between your thoughts and actions, allowing you to pause and choose what is best for you to be in your element.
What have been some of the most significant learning curves starting your firm? Has COVID-19 posed any significant challenges?
Initially, we experienced some of the everyday challenges in starting any business—initial capital and learning all the aspects of running your business (i.e., how to sell!). But the one item that stands out the most for me is learning how to choose and work with a business partner. Quickly we realized we needed to treat this like any significant relationship—even like a marriage! You have to learn how to disagree and move forward, support each other even when times are tough, balance workload, and spend quality time with each other. A business partnership is a commitment and one that requires intention. As they say, "the more you put into it, the more you get out of it!"
COVID-19 gave us a whole new set of challenges. Some of which were very similar to everyone else—working from home full-time, adapting to meeting virtually, and business stopping or slowing down. We had to adapt quickly to an entirely virtual environment and learn how to market and sell in a 100% virtual setting. But the main item that kept us on our toes in terms of the challenge was keeping this partnership relationship alive and healthy. Also, did I mention we took on a third partner in February of this year? So not only did my original partner and I learn how to adapt to our new entirely virtual arrangement, but we also had to figure this out with a new partner!
What are some of your favorite aspects of owning your own business? Are there any recommendations you have to those seeking to start their own business?
Following your dreams and doing what you love to do the way you want to do it. We wanted to do something different and couldn't do that within a corporate environment's inner confines. Making a difference in people's lives every day is soul-fulfilling.
Starting your own business takes work. Lots of work! I think people don't realize just how much work—physical and emotional. The rewards are worth it, but you have to work through some tough stuff. Surround yourself with support. We created a board of advisors in our first year, and they have been so valuable in terms of knowledge and support. Also, don't be afraid to ask for help—from peers, friends, family, colleagues.
What drew you to the Master of Science in Organization Development (MSOD) program at Pepperdine Graziadio?
So many things! I did a lot of research when selecting where I wanted to spend my time and money on this degree. I already had a master's, so it wasn't about that. It was about a deep learning and growth experience for this next phase of my life. Pepperdine's MSOD program stood out for these reasons:
Integration of brain science—I'm a science geek by nature, so I loved that this connects science to everything we do.
Practical experience—everything you learn, you must practice in a real-world business. You have real clients with real deliverables. As well, you get to travel to different countries to do this too!
Cohort program—grow and connect with your new family. It made the journey so much more meaningful.
Quality of faculty—Some of the most outstanding educators, speakers, and people I have ever had the experience of knowing.
Alumni community—Pepperdine has such a strong community to support you before, during, and after your program. A fantastic source of continued learning and support.
Did the MSOD program help the process of building your firm?
Absolutely! This program helped clarify for me what I wanted to be accurate and why it mattered. The MSOD program doesn't dive into business modeling. Still, it does explore why business and organization work or don't work—and how people define the performance and culture of that organization. This was directly applicable to starting my own company.
Are there any significant takeaways you have from the program? And what advice do you have for those interested in organization development?
Overall, the MSOD program was a life-changing experience for me. It opened up thinking and possibilities I didn't know existed within me. OD is still a relatively new field, and as an industry, it is needed more to unite and quantify the unique and real benefits of OD. Once you understand the power of OD and how to apply it, there is no going back!