The Journey to MSOD
Maxine Clark, MSOD '17
Like you might be right now if you are reading this blog post, I spent a lot of time daydreaming about my life in the MSOD program before I decided to apply. Each visit to the website was like a fun little holiday for me. I would click through the pages and imagine myself as a part of this exciting adventure filled with inspiring learning, amazing people and unique travel experiences. Today, that daydream has become my reality and I am happy to share my experiences with the application process that transitioned it there for me.

The Decision to Apply
Eight years into my career, I learned about the MSOD program. I was leading a learning and development team, and sensing that there was more to the organizational effectiveness story than the HR/talent management methodologies that I had become familiar with. The combination of the MSOD curriculum, thesis and international delivery was exactly what I was looking for, but it was a larger financial and life commitment than I was ready for and so I mentally filed it under "someday" and visited the website periodically to daydream in a non-committal manner.
Someday became today when I mentioned the program to my husband. Our lives had been turned upside down during the year leading up to that conversation, as my parents had passed away and our first child had been born, and we were just starting to regain our balance. In talking about dreams and inspiration, I mentioned the program and he suggested I apply. As I reflected on what I wanted to create in my career, the window of opportunity that seemed to exist between having one child now and potentially two in the future, and life being short as illustrated by my parents' untimely deaths, I thought, "Why not?"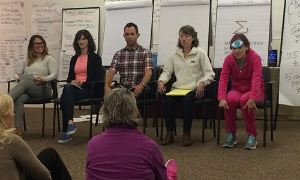 The Application
The application was very in-depth and personal. I loved the level of introspection it required, and at the same time wondered what I might be getting myself into as I mused at what interesting reading the Admissions team must do as part of their work!
While working on the application, I contacted Shany from Admissions, who not only clarified the process for me, but also connected me to three Canadian alumni of the program that I could speak to and provided me with information about scholarships I could qualify for. I followed up on both, and after having the alumni conversations I was beaming about the possibility of joining these people as part of the program's alumni community. They all spoke of a life-changing experience in the MSOD program that was connecting with both my brain and my heart.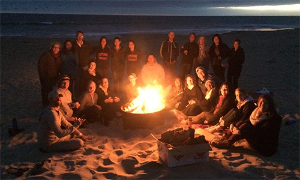 The Interview
After I applied and got a call for an interview, I did some reflection to prepare. I went through past journals and leadership development assignments, and further reflected on what matters to me in my life and work, why I had developed an interest in OD, and what I had learned about myself over the years. I also thought through some stories that demonstrated these things, and thought through the various situations, my own actions, and the results.
I was quite nervous about my interview, though not for the reasons you might think. My prep work got me really excited and I couldn't wait to talk about it. As a new mom on maternity leave though, my interview was mid-day and I was stressed about the possibility of the baby's nap time and the interview not syncing up as planned. The interview ended up feeling more like a conversation than an interview, and involved questions about both my past and my desired future. The tone was very welcoming, and Shany was very understanding of my circumstances.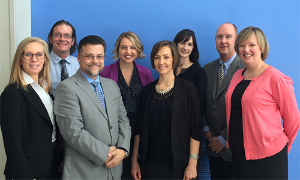 And Then…
Then, I waited. This was the only program I had applied to and I had given it my best shot. Over the next few months, I tempered my growing excitement about my future in the MSOD program with the thought that it also just might not happen.
Then, I got my admission letter via email. I opened the email on my mobile and zoomed into a tiny version of the document and felt absolutely lit up inside. Now this was real, and I had to make a decision. Was it really a good idea to spend all this money? Would our family be able to survive the stress? I was excited, and at the same time started to doubt whether this would actually work after all. I got home, and when I told my husband the news, he squelched any hesitations I was feeling with a huge endorsement of my plans to attend. The next day, I sent in my documentation and never looked back.
So far, the program has been everything I hoped it would be personally and professionally, and so much more. My daydreams are now filled with ways that I can integrate what I'm learning into my life and work, and thinking about the next intensive.