Master's in Business Curriculum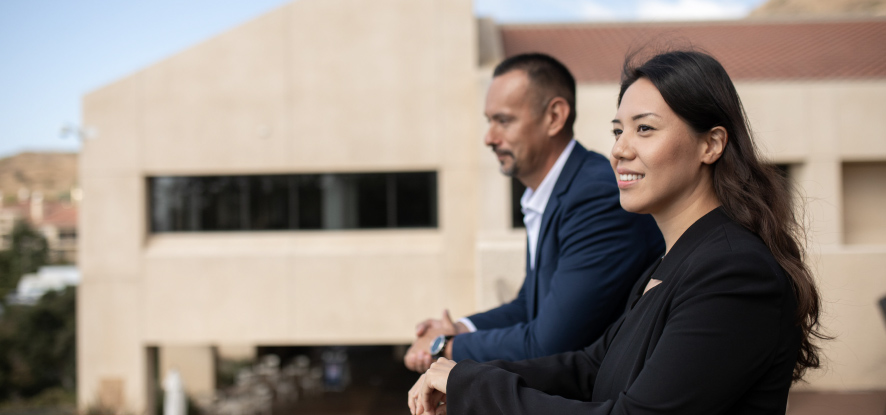 Fall Term: New Opportunities
The focus of the fall term is "New Opportunities." As new explorers of the business world, MS in Business students will be introduced to key business principles and in-demand professional skills to pursue competitive entry-level positions in a range of industries. Students will take courses to professionalize their collaborative work skills and leadership skills; learn Entrepreneurship, Technology Management, Accounting, and Marketing; and develop business communication skills, including audio, video and digital business presentations. We specifically integrate into this first term an introduction to generating new venture ideas and the use of technologies that increase the value of businesses, and this sets our curriculum apart from other "management" programs. Students will also work actively with the career development office to optimize their job finding skills.
BSCI 650 - Personal and Leadership Development Workshop (1 unit)
This workshop serves as an orientation toward the experiential and team based models of learning used at Graziadio. Students engage in exercises and reflection that are meant to enhance communication, ethical decision-making, career development and other relevant skills for interpersonal effectiveness in business. This course is graded credit or no credit.
BSCI 607 - Personal Development for Leadership (2 units)
This course focuses on developing a personal leadership effectiveness model. Leadership is explored by examining historical and current models of leadership and by the use of leadership assessment instruments. Students are mentored in the refinement of interpersonal skills. Personal values are explored together with an examination of the function of personal character in leadership. This course is taken in the first trimester and includes a required two-day, offsite, residential communication workshop, BSCI 650. This workshop assists students in understanding their patterns of communicating and relating to others. While the privacy and autonomy of students are respected, students will be expected to look at and learn from their behavior as group members. Students failing to complete the communication workshop will not be permitted to continue in the course. Co-requisite BSCI 650.
ACCT 591 - Financial Accounting (2 units)
This course, which is for students with no previous study in accounting, presents accounting principles and concepts that provide the foundation for the measurement and communication of financial data. Specific topics include valuation of resources, accounting for debt and equities, income determinants, and analysis of cash flow.
ENTR 661 - Entrepreneurship and the Generation of New Venture Ideas (2 units)
The course is an introductory class focusing on the individual entrepreneur, the generation of innovative business ideas, the protection of intellectual property, the process of venture creation, and the role of entrepreneurship within society. Students will acquire the skills and process knowledge needed to create innovative for-profit solutions to real-world market opportunities and to pitch their ideas.
ISTM 619 - Technology and Operations Management (3 units)
This course will provide an understanding of how information systems can provide a strategic advantage in the digital economy. Students will explore how information, as a resource, can provide competitive opportunities for firms who can effectively gather, analyze, and exploit data. Emphasis will be placed on utilizing "Big Data" and will also look to integrate IT-enabled collaboration, innovation, social responsibility, and IT infrastructure. Additionally, students will learn to understand IT fundamentals and how IT can be leveraged to deliver business results.
MKTG 626 - Marketing Management (3 units)
The course analyzes how buyer behavior, marketing research, and marketing information systems should all guide development and serve in achieving brand and customer relationship management goals. Also included is the analysis of new product development, pricing, marketing communications, and distribution decisions in market planning and marketing program implementation over the product life cycle. As the core marketing class, this course covers a myriad of concepts, ranging from consumer needs, to marketing budgets, and planning. As a broad perspective, it provides a suitable framework for the in-depth topical investigation inherent in marketing electives, as well as the integration of marketing into overall strategic management.
PGBS 620 - Audio, Video and Digital Business Presentation Tools (2 units)
This course will provide students with the opportunity to study audio, visual, and digital tools used to prepare and deliver creative presentations. Content tools found in Excel, visual tools such as PowerPoint, will be explored. Communication technologies offered by Adobe, Zoom, and other leading platforms will be used to discover and experiment with two-way business communications. Students will learn how to use video and animation technologies in self-directed projects shared with classmates.
Total Units: 15
Spring Term: Real and Ideal
In the second term, the theme is "Real and Ideal." Students will focus on building traditional business skills in Finance, Data Analytics, Economics, Organization Theory, and Business Law. In addition, students will also be able to take unique elective courses in topics such as luxury brand management, venture capital, entertainment and digital media, and the use of technology in marketing. Innovative courses that explore the intersection between business creativity, ethics and the dynamic business environment will prepare our students to integrate themselves into a changing marketplace.
DESC 693 - Applied Data Analysis (2 units)
This course covers the basic techniques of applied statistical analysis beginning with an exploration of the meaning of data. Methods of describing data on individual variables and relationships between variables are covered. Sampling and probability are introduced as a basis for understanding how to infer results from samples to the populations from which they are drawn. These techniques include estimation, tests of mean differences, differences in distributions, and regression.
FINC 629 - Managerial Finance (3 units)
This course introduces the student to the major issues in corporate finance. The complexities of financial valuation and decision making are investigated by examining the primary areas of concern to the financial manager: the investment or capital budgeting decision, the financial strategy or capital structure question, and working capital management issues. The concepts and theories developed in class are applied to practical, current business situations. Specific topics will include time value of money, valuation of financial instruments, capital budgeting, risk assessment, an introduction to capital markets, the assessment and pricing of risk, capital structure issues, dividend policy, and working capital considerations. This course integrates concepts from accounting, statistics, and economics.
LEGL 627 - Introduction to the Fundamentals of American Law and Ethics (2 units)
This course lays the essential foundation for studying and understanding the law and ethics of human resources. This course lays the legal and ethical foundation in preparation for the companion course LEGL 632 Employment Law. This course identifies and explores the basic structure of the American legal and regulatory system at the federal, state, and local levels. The course also briefly covers the substantive law and related ethical considerations in the following areas that broadly apply to the American private sector workplace: tort law, criminal law, contract law, agency law, business organizations, and intellectual property law. Lastly, the course promotes an understanding of civil law and its legal process involved in common workplace lawsuits and litigation.
OTMT 608 - Theories and Models of Organization (2 units)
This course provides an introduction to the variety of theories and diverse models of organization design and management worldwide, e.g., mechanistic/bureaucratic/economic, human relations, sociotechnical systems, open systems, contingency, political, cultural, and learning/information processing. The basic assumptions and values of each model will be explored, and analytical tools from each will be introduced and practiced. Linkages with national cultural contexts will be made. The impact of these models upon organizations, managers, and workers will be examined, with special attention to organizational structure and processes, management style, and innovation and change.
ECNM 592 - Economic Concepts (2 units)
Economic Concepts introduces the principles and application of microeconomic analysis. The course fosters students' understanding of, and ability to apply, economic reasoning and decision making to both their personal and professional lives. The course has a strong emphasis on how market economies can affect the welfare of a society. It addresses the role of government in correcting potential failures in a market system including abuses of monopoly power and environmental externalities such as excessive pollution and underfunding of education. Topics include supply and demand, elasticity, production and cost analysis, and competition and monopoly. The course explores ethical dilemmas that people face in a capitalist society and offers guidelines to help values-centered leaders make the right choices in business.
Electives - Electives (4 units)
Elective course availability will vary per term and year based on instructor availability, enrollment, and program needs. Although elective courses are not guaranteed to be scheduled on a regular cycle, students will be provided a choice of relevant options from the program's elective list during course registration.
Total Units: 15
Summer Term: Strategy and Beyond
Third trimester theme is "Strategy and Beyond." Courses in the third trimester are intended to broaden strategic planning and thinking, along with real estate and digital platforms. In addition, students will have the freedom to complete additional elective courses to further expand their creative skills and enhance the value they can bring to their selected career paths. Those wishing to go further in a specialty can apply for a bridge program (course transfer credits) into the MS in Applied Finance, MS in Global Business, MS in Real Estate, and MS in Business Analytics programs.
STGY 622 - Strategic Thinking and Tactical Planning (2 units)
This course explores the challenges of planning in dynamic global environments from a tactical perspective using a 1-2 year planning period and a strategic management perspective over a 5-year period. Significant issues addressed are the globalization of customers, global value supply chains, markets and competitors in different economic environments, changing sources and applications of financial, human, and intellectual resources; evolving organizational and managerial structures; and the increasing impact of technology and artificial intelligence from an Industry 4.0 perspective.
FINC 635 - Real Estate Investing and Finance (2 units)
This course covers methods of property valuation and acquisition for investment purposes within a portfolio optimization concept. Financing sources and techniques are examined from a strategic acquisition perspective. Issues related to property management, maintenance, and collections also are explored. The tax implications of holding real property are applied to the investment decision to maximize the returns to the investor.
ISTM 661 - Designing, Sourcing and Building Digital Platforms (2 units)
In a global business environment, managers must understand the alignment of technology and business functions. There is increasing emphasis on managing enterprise architecture and infrastructure from the perspectives of business enablement, business continuity and risk management. Today's corporate technology environments are exceedingly complex, involving challenging portfolios of inflexible legacy systems and dynamic mobile applications that span on-premise and cloud installations. Together, these are causing IT systems management focus to shift from "develop and operate" to "source and deploy." Organizations need systematic approaches for integrating diverse functional areas into a holistic, application-and data focused enterprise-wide digital platform for supporting the business. This course will cover the areas of Enterprise Architecture and Infrastructure Management as essential approaches for the development of coherent, robust, efficient and agile enterprise digital platforms.
Total Units: 6 or more