Job Hunting During the Pandemic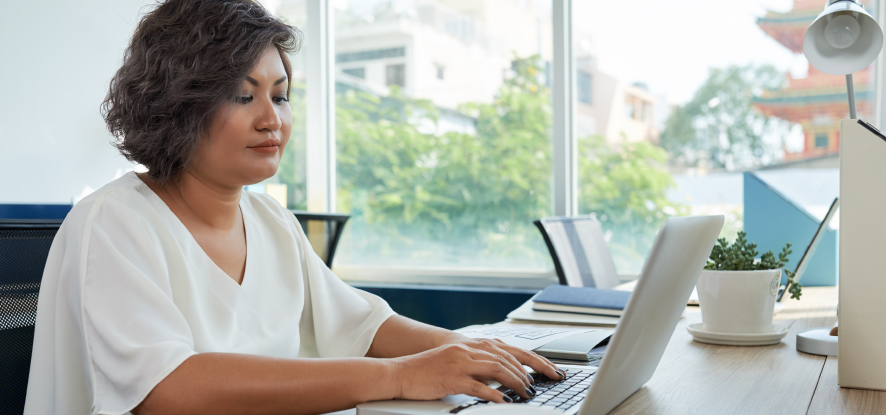 Seeking employment at any stage of your career takes strategy and stamina. The task of sifting through online job postings and email alerts in and of itself requires significant time and focus.
It might seem like a global pandemic can compound these demands, but it's important to remember that not all applicants are equally viable for all positions and not all positions are viable for you. So, if perceived competition and reduced options are getting you down, refresh your thinking. This could be the right time to position yourself in an industry that is actively hiring.
It's also a good time to expand your skill set or reinvest in your professional and personal relationships – all of which can lead to new and surprising opportunities.
Tip 1: Look for the Positive
Focusing your energies on what is possible right now is a far more productive strategy than waiting for things to return to "normal."
If you are facing added competition in your industry, consider how you might apply your skills to a different field. Healthcare and delivery services, for example, are currently doing well. Grocery chains, tech companies, and banks are also open for business. In some sectors, online shopping is thriving.
Consider which pandemic-induced trends are here to stay and ask yourself how you might apply your skills to those arenas.
Tip 2: Upgrade Your WFH Set-Up
Technology has kept pace with work-from-home needs, so you can set yourself up for success by familiarizing yourself with online tools.
Among the most popular:
You never know which platform a prospective employer might select for an interview, so take advantage of in-app tutorials and YouTube videos that offer tips on how different tools work on different devices. Test your appearance, volume, and lighting ahead of time with in-app resources or by having a friend set up a mock interview from start to finish (including the invite).
As the saying goes, you only get one chance to make a first impression, so make sure yours is as professional as possible. Assure your background has suitable-for-work photos and is uncluttered and tidy. Try to keep your face from appearing in shadow and dress as though you're attending your interview in person.
If you have roommates or live with family, chances are you're all using your home's internet more frequently. If your speeds seem slow or unpredictable, consider upgrading your service to ensure an interview or online application does not get interrupted.
Review Best Practices for Working From Home
Tip 3: Pursue Quality Over Quantity
It might seem as if you can't be choosy about employment during a pandemic, but if you master the art of compromise, the opposite might be true. In fact, being a new hire in uncertain times can work in your favor.
Remote work is a great place to start; it eliminates commute costs and enables you to spend more time with family, pets, and hobbies. This can elevate your quality of life, so if a salary and benefits package are less than optimum, negotiate a post-pandemic work-from-home plan. Alternatively, you can ask for a four-day workweek or additional time off.
If the job you're offered is on-site, inquire about safety precautions. Ask if you're responsible for providing your own personal protective equipment (PPE) and make sure your employer understands your personal risk factors. There are some trade-offs that might not be worth the price of employment during this time.
Tip 4: Consider Contract Work
Companies are dealing with a lot of unknown just like the rest of us. This can make it difficult to budget for permanent roles. If contract or freelance work is an option for you, it is worth pursuing not just for financial gain, but for the connections, skills, and resume builders you'll acquire along the way.
Some contract positions transition to full-time roles, so pursue these leads if they're in your preferred industry or at a company that matches your aspirations. Meeting and working with new people is one of the surest ways to open doors.
Tip 5: Network In a New Way
There are more ways to connect online than ever before. Start with family and friends. Catch up with people who know you for "you." Remind yourself of your values and interests and make this the foundation of your job search. Family and friends might also connect you with professional opportunities.
Reach out to hiring managers, past employers, and colleagues. With the latter, it is perfectly acceptable to start with a simple "Hello, how are you?" in these unusual and challenging times. From there, you can let people know you're available for work. If you're open to a career pivot, approach connections who work in fields that interest you.
Remember that a pandemic shifts perspectives on a global level. Everyone is affected to some degree, which means everyone is a bit more "human" and receptive to outreach.
If companies aren't hiring right now, they very well might ramp up hiring in the coming months or year – possibly at an expedited pace – so it's also important to keep your online profile and resume up-to-date. Employers hire people, not profiles, so it might be time to get more conversational in how you describe your work and goals.
Tip 6: Embrace Education
Now is the time to take that online course you never had time for in the past. Since some of these are free, stretch yourself and take a few. Along the way, you'll likely discover new strengths, along with ways to address deficits in your expertise.
Education can also be an avenue for meaningful change. You might discover assumptions you've made about your abilities that are no longer of value. It's never a bad time to outgrow old perceptions and grow into untapped potential.
Places to start:
You're much more than your resume, so don't forget to develop your interests outside of work. Take a cooking class or a writing course just for fun. Develop a hobby or two. It doesn't matter if you excel – what matters is that you're finding balance in stressful times and creating a compelling story to share with employers that is not on your resume.
Staying curious and open to new experiences is a great trait to point out to employers. So too, is a new degree or certificate. Many universities have recently expanded their online offerings.
The Pepperdine Graziadio Business School now offers degree programs that can be completed online, including an Online MBA that can be completed in as few as 20 months.
You can also expand your skill set and stand out to employers by diving into an online certificate program or workshop.
The Pepperdine Graziadio Business School currently offers virtual coursework in subjects as varied as Corporate Social Responsibility, Healthcare Management, and Leadership Essentials for Managers.
Depending upon the program, you can earn your certificate in a few days or a few weeks.