The Double Life of Professor Dad: Teaching Lessons in the Classroom and Learning at Home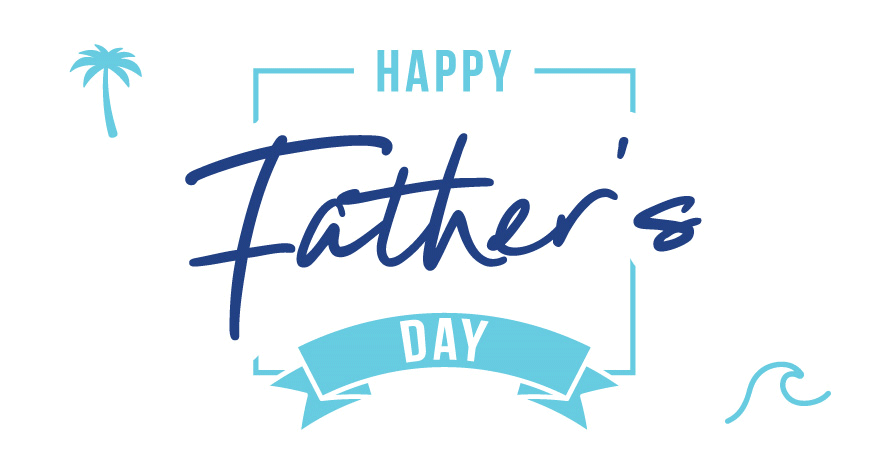 Father, papa, dad, baba. Plenty of ways to say father yet there's only one meaning for all. From day one, you gave your father a nickname to remember who they are and recognize their importance in your life. Little did you know, what started out as a nickname developed into much more – an everlasting love for a lifetime to come.
Engrained with the competitive spirit to succeed and the loyal support to never back down, our dads lived a life that's full to help their children reach their greatest potential. Lessons were taught along their journey to shape them into leaders of their community and role models for their future families. No one ever said that being a father is easy, neither did they say that being a working father is not possible. Dads carry a purpose with them wherever they go – whether it's work, a baseball game, graduation, or simply at home – they want to see others succeed.
Not to mention, the double act of working while raising a family is possible. Pepperdine Graziadio faculty members, Kevin Groves, Shawn Herrera, and Abraham Park, share their lessons of being a working parent – teaching in the classroom and learning from their children at home. What's the secret to a happy life as a professor and father? Let's just say that patience and wisdom are a part of the parenting process! Dive into the words of encouragement from our leading faculty fathers as their experiences ignite inspiration for new dads, professional papas, and paternal role models.
Read their Interviews
Tell us a little bit about your family!
Kevin: My wife Jill and I have been married for 16 years. We have two daughters, Anna (11) and Kate (9), who are just completing their 6th and 3rd grades. This year has been quite a transition for our family as we moved to Innsbruck, Austria for my appointment as a U.S. Fulbright Scholar at MCI Management Center Innsbruck. Our daughters transitioned to international schools in Innsbruck to complete their school year. They each joined classes with students from all around the world. In addition to learning a new language (German) and new cultural traditions here in Austria, my daughters have had the unique opportunity to establish friendships with students from many other countries and cultures.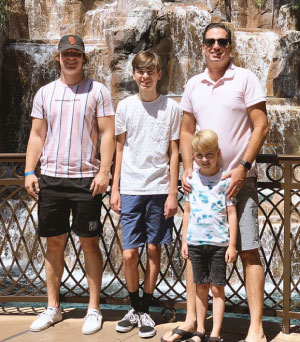 Shawn: My wife, Becky, and I met in high school and both graduated from USC Marshall School of Business. We've been together for 30 years, married for 23 years. We have 3 sons, (pictured with me to the right), Bryce (20), Brennen (16), and Brody (9). Their names all start with "B" for Becky. If we had a girl, there would have been another "S" name for Shawn in our family but that didn't happen. We have 3 dogs, Toby the cockapoo, Milo the wiener dog, and Princess Leia the bulldog. We're huge Star Wars fans. We've lived in Simi Valley, California for 20 years.
Abraham: I have three children, all Waves! Two graduated from Seaver College and continued their education at Graziadio – my youngest is still at Seaver. My wife Sarah and I have been married for 30 years, and she works at the law school. We have lived on campus since 2012, and we are a Pepperdine family, through and through.
What drew you to become a part of the Graziadio community?
Kevin: The strong reputation of the faculty, and particularly those who I had met at the academy and other professional organizations, was a big factor in my transition to PGBS. Another important factor for me was the balanced teacher/scholar model for faculty and the strong expectations that professors are at their best when asked to balance teaching activities with scholarship and research contributions to their field.
I was also very attracted to the Christian mission and values of Pepperdine and the Graziadio School. We strongly value the integration of faith and learning for our children's development in all aspects--spiritual, academic, athletic, artistic, etc., which is strongly aligned with the Pepperdine mission and values.
Shawn: Ten years ago when I was looking to pursue an MBA, I knew that Pepperdine [at the time] had a campus in Westlake Village, which was a convenient location from our home in Simi Valley. However, I ended up choosing the Executive MBA program which has classes in Malibu, West LA, and Irvine but not Westlake Village. LOL
A few years after graduation, Teri Tompkins, a former professor of mine, called and asked if I'd like to teach a class on "family business" (my wife and I have run our own family business, CheerForce, for 20 years). I said I'd love to and so began a new chapter in my career. In addition to my Graziadio faculty role, I soon after accepted a Graziadio staff position as Director of Corporate Relations to begin building the newly created department.
Abraham: Providence. After a career in law, business, and bi-vocational campus ministry, I pivoted to a PhD in Real Estate Finance in Cambridge, England. Afterwards, I was set to work for a UK real estate company when on a visit to the States, I happened to be introduced to Pepperdine. For the first time, I saw it might be possible to combine work and ministry in one place, which has been one of the most fulfilling parts of my job – to be able to experience lives transformed at Graziadio.
How does Graziadio support you as a father and faculty/staff member?
Kevin: Pepperdine and the Graziadio School has been incredibly supportive of me as a faculty member and as a father. Throughout my career journey, I have been blessed to have strong support from incredible department chairs (Ann Feyerherm, Teri Tompkins, Zhike Lei) and colleagues who have supported me in all aspects of my professional life as professor as well as my family.
I also greatly appreciate the culture of our school and our faculty regarding the recognition of the whole person – the idea that we are recognized and supported for the many facets of our lives and not only as professionals or faculty. During my time at PGBS, I have always felt a strong sense of support and appreciation for the parts of our lives that are important to share and appreciate, such as the growth of our families and the milestones of our children.
Shawn: Pepperdine understands that family is our first, and most important, priority. Not our number one excuse, but our number one priority. If an unplanned family need arises, Pepperdine understands that family comes first. We can fulfill our job duties without sacrificing our father duties because we know Pepperdine values us for more than simply the weekly 40 hours of work we provide.
Abraham: I have been at Pepperdine since 2007 so my story as a father is intertwined with my work here. And, as my kids have grown, I have also grown as a father, teacher, and administrator.
As my kids grew older and tried to figure out what they wanted to do in their lives, I saw not only them but their generation struggling with questions of vocation, grad school, and meaningful work. This definitely shaped how I led or designed programs to be appealing and confer purpose and value.
What are some of the lessons you are learning by being a father and working for Graziadio?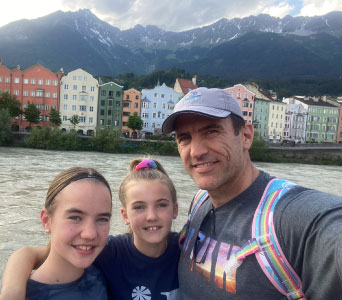 Kevin: I think the importance of patience is an important lesson that I've learned as a father, the willingness to let your children fail or struggle with various activities or pursuits, recognizing that there is great value in the process of struggling or not achieving immediate success. I also think the age-old lesson of your actions and role-modeling of behavior far exceeds your words is critical to being a father. The importance of being a role model for our children by remaining engaged in community service and volunteer projects, attending Mass services at our local church, and exposing our children to a wide range of activities (educational, artistic, cultural, athletic, etc.) so that they may find their calling. Perhaps most importantly, I've learned to never assume that you know what your children will find most engaging or fulfilling – you just never know what journey they will pursue! (see a picture of me with my children to the right)
Shawn: We are much better fathers when we ourselves are fulfilled from a sense of purpose and achievement with our work. Regardless of how much time a father spends with his children, those children are much happier when their father feels happy and fulfilled with their work. It's rare that an unfulfilled father can provide his kids with a fulfilling childhood.
Abraham: As a father to adult children, I have been learning how important it is to honor their decision making process as they navigate their futures. We who are teachers by calling and profession can tend to be "teacherly" toward our own children as well. My own children have called me out on that and it has really challenged me to grow from giving advice to being a better listener. Sometimes the best thing I can do for them is listen, encourage, and pray. Over the years, I have gotten to know my Heavenly Father better, I have learned how to have a father's heart not only for my students but also for those I work with. Some of those lessons include valuing each person as a uniquely created being with a unique calling, having a long-term perspective, and seeing the person not just as they are today but for their potential. Ultimately, I am learning to trust our Heavenly Father and to entrust them into His leading, to be their personal guide and Shepherd.
What advice do you have for working fathers in higher education?
Kevin: The advice that I would offer to any parents working in higher education is to fully engage your children in the many enrichment opportunities that the University has to offer (educational, cultural, athletic, musical, etc). It is such a blessing to be part of a vibrant university community that has benefited our children's growth and development.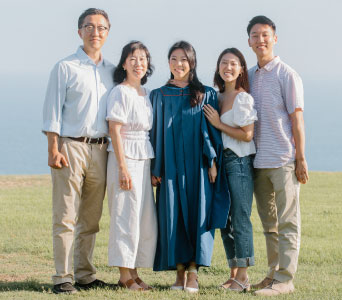 Shawn: Education, especially higher education, is a noble calling. It can be the great equalizer for society, benefit the greater good for the world, and bring a great sense of pride and purpose to those who make it their career. However, for a father, an even higher calling is raising your children to develop into the best versions of themselves. Students will have many teachers but your children only have one father. Keep perspective of your priorities.
Abraham: The world is changing and the higher ed world is also changing. So let's have a learning posture so that we learn from our children and their world (see a picture of my family to the right). My father was a brilliant man but also humble, not greedy. He believed that being a professor was a noble profession and that living nobly was better than being wealthy.
What words of wisdom do you have for your children as they develop their passions and values?
Kevin: Perseverance and resilience are what matters most. Talent and raw ability are helpful for starting the journey to pursuing their passions and finding their calling but the willingness to show grit and drive when things are challenging, and have the resilience to recover from setbacks, is invaluable.
Shawn: "Be more concerned with your character than with your reputation, because your character is what you really are, while your reputation is merely what others think you are." – Coach John Wooden
Abraham: As for developing your passions, you are uniquely created and that means your path will also be unique. Therefore, be free to venture out and experiment with different kinds of work but do it wholeheartedly, developing expertise along the way. Almost all of your various work experiences become useful in the end, though we don't always see how they all fit from our standpoint in time. Don't be afraid to make mistakes – we learn from them, and when we sincerely put our trust in God, He can even make our mistakes work for our good. I also think there is a lot of pressure these days to have a "passion". It may take time for us to find the path that God has planned for us. This path may not always be a smooth one but it's the road that will lead us to know our good Father.
As for developing values, our current consumer culture is based on the idea of extreme individualism, which leads us to idealize self, here and now. That is not a workable set of values for self, for happiness, or for a well-functioning society. Values are presumably based on what is true, good, and real. So my advice is to develop your values based on the goodness of Creator God, lived out in the person and character of Jesus Christ, as revealed in the Bible.
About the Faculty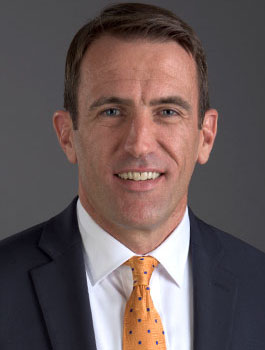 Kevin Groves, PhD
Professor of Organizational Theory and Management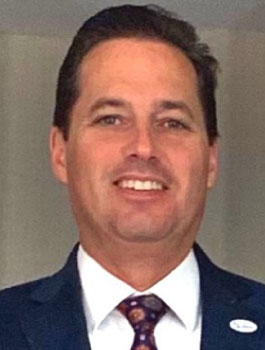 Shawn Herrera
Director of Corporate Relations | Adjunct Faculty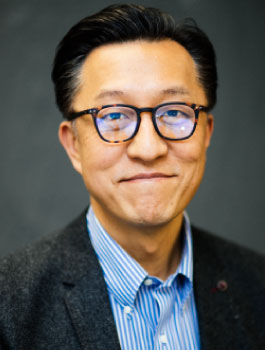 Abraham Park, PhD
Associate Dean of Academic Affairs | Associate Professor of Finance