Justin Lee (MBA '14) of BMO/Bank of the West Shares Business Wisdom from 20+ Years in Banking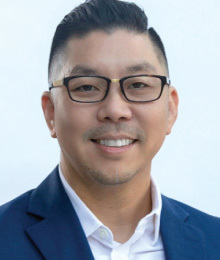 Justin Lee (MBA '14) is the Principal Lead in the Business Banking SME Division for BMO/Bank of the West, a leading North American bank with a 200+ year history of strength and stability. With over 20 years of experience in banking and data/technology management, Justin has established himself as a trusted leader and achieved remarkable success. His diverse and non-linear career path has exposed him to various roles in different lines of businesses, allowing him to gain valuable insights and become a well-rounded leader. Justin credits his experience at Graziadio for instilling in him the courage, confidence, and perseverance needed to overcome challenges and excel in his professional life. Discover more about Justin Lee's career journey and insights by reading his interview below.

Read Justin's Interview:
1. Can you tell us about your journey and experience in the banking industry that led you to your current executive role?
I started my banking journey at Wells Fargo Financial where I spent the first 6 years of my professional career, holding various roles in both sales and leadership in consumer credit and mortgage. From there I transitioned to Bank of America where I spent 11 years, leading teams in the Consumer and Commercial Credit/Small Business space. Prior to my current role at BMO/Bank of the West, I served as the Director/Head of Sales for a Commercial Real Estate Technology and Data firm where we offered a SaaS platform for Valuation Procurement to over 1000 banks. After spending a few years in private equity I actually began to miss banking, (Who knew!) so I recently made the decision to come back to the industry where I spent the previous 18 years of my career. Coming full circle, I now serve as the Principal Team Lead in the Los Angeles Market for BMO. (Formerly Bank of the West) I specialize in providing short and long term financing structures for mid size businesses including owner-user/investor commercial real estate, C&I financing, Corporate Card, and Treasury services. Having a healthy mix of experience in leadership, strategy, and sales over the years has helped me with a unique and fresh perspective every time I step into a role.
2. What are the key responsibilities and challenges you face in your role?
As the Principle Lead in the Business Banking SME Division for BMO/Bank of the West, I have a strong fiduciary responsibility to help business owners and investors grow and thrive. This comes with high expectations and responsibilities including providing sound advice while executing on the quantitative analysis and structuring of financials to provide the requested access to capital that businesses/investors need.
3. What are some of the most significant achievements or milestones you have accomplished in your career so far?
I am proud of the legacy that I have created as it relates to people. I like to think I've played a significant part in the lives of many young professionals. Whether it was a promotion that I was able to provide, or just simple advice in a critical time in an individual's career, I am proud of the legacy that I have created and the personal brand I was able to establish with so many people.
4. What is one thing that you learned from your experience at Graziadio that has influenced your life?
Graziadio has given me the courage, confirmation, and affirmation that I am able to do whatever I put my mind to. Coming upon new challenges has been easier because of this and it's given me a level of grit, perseverance, and confidence I didn't have before.
5. What advice do you have for those looking to build a similar career path or transition into your function or industry?
Be fearless. Know that you will not, nor will you have to know everything right away. Improve and invest in your ability to have agility. The ability to move and pivot and learn quickly are the keys to success in any field and in any industry.
6. What is your favorite book?
The 7 Habits of Highly Effective People by Stephen Covey