What Not to Do When Choosing a Master's Program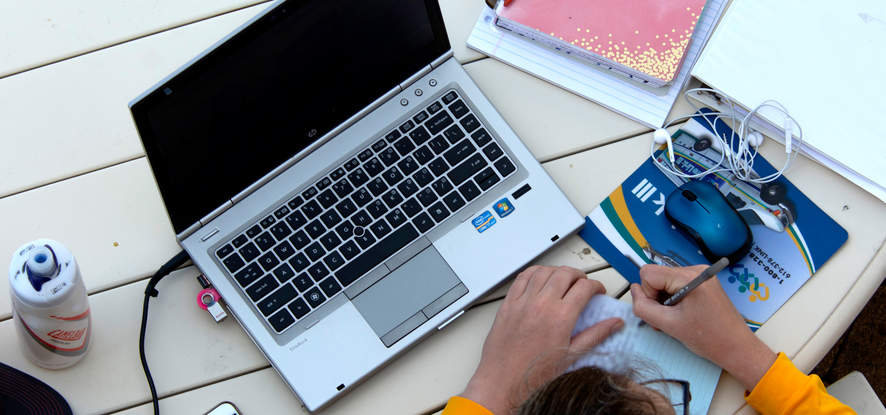 There are many benefits to earning a master's degree – broadened expertise, increased confidence, and improved on-the-job performance are just a few. In fact, many employers now require a master's degree as a baseline when considering job candidates.
That said, you don't need to rush out and get a master's degree in a field that mirrors your exact career aspirations. Today, you can deep dive into a variety of contemporary – even creative – fields of study to enhance your business know-how. Discover some commonly-made mistakes when choosing a master's program and how to avoid them below.
Mistakes to Avoid When Choosing a Post-Graduate Program
Some common mistakes you might make when you first consider earning a master's degree:
Thinking your master's degree has to be an MBA
Assuming you can't afford to get a master's degree
Believing you're too young or too old to get a master's degree
Telling yourself master's degrees are only for those who want to teach
The right post-graduate program can complement your existing skills and inspire alternative ways to problem-solve. A master's degree can also jumpstart an entirely different career, so keep an open mind throughout your exploration. Start by examining what you expect to get out of this experience – as opposed to what others might tell you to expect.
What Master's Program Should I Choose?
In your initial research, you'll probably encounter the following types of master's degrees:
| Master's Degree | Common Areas of Study |
| --- | --- |
| Master of Arts (MA) | education, communication, social sciences, music |
| Master of Fine Arts (MFA) | photography, painting, creative writing, acting |
| Master of Science (MS) | business, data, science, technology, mathematics |
| Master of Business Administration (MBA) | all aspects of business, including operations, management, leadership, accounting, marketing |
Beyond differences in areas of study and delivery formats, each of these degrees takes a different approach to learning. For example, MS degrees typically incorporate more research than MA programs. MS programs also offer a deeper dive into a specific area of business – like analytics or human resources – as opposed to an MBA, which covers a broad range of foundational business topics.
How to Choose a Master's Program
Master's degree programs are often flexible and can be:
Full- or part-time
On-campus or online
Both on-campus and online (hybrid format)
You might already have some lifestyle parameters that predetermine your master's degree options. For example, if you need to work full-time while pursuing your degree, you'll want a post-graduate program that offers classes at night and/or on the weekends. You might also consider programs that incorporate flexibility and online learning. If you are unable to relocate to pursue your master's degree, local programs will rise to the top of your list.
What to Consider When Choosing a Master's Program
Beyond practical considerations, there are personal and aspirational factors that can help narrow down your search. Start by asking yourself: "Why do I want to pursue a master's degree?"
Answers might be:
I want to advance at my current job
I want to land a new job
I want to teach
I want to challenge myself in an academic setting
I want to improve my collaborative skills
By taking time to explore your answers, you can find a post-graduate program that empowers you to achieve many goals throughout your career.
Do's and Don'ts When Selecting a Master's Program
Do think ahead when it comes to your schedule and lifestyle demands. This applies not just to your lifestyle right now, but over the next five to seven years. While most master's degrees can be completed in two to three years, some offer more flexibility if you need to work while pursuing your degree. If starting a family or moving to a different city is part of your five-year plan, consider how that might affect your completion time.
Do honor your personal interests. Some people love numbers and accounting, while others are inspired by interpersonal communication and organizational management. Data is a rapidly expanding field, but if analyzing numbers and outcomes holds little allure for you, you might not stick with the demands of a master of science in data analytics. Pursue what interests you, not what interests others.
Do consider hybrid learning. Having trouble deciding between on-campus or online? At some universities, you don't have to choose. Many programs now incorporate online learning into their on-campus programs, while other master's degrees can be completed remotely in their entirety. The Hybrid MBA program at the Pepperdine Graziadio Business School blends in-class instruction with virtual synchronous (real-time) sessions and asynchronous (self-paced) sessions, which yields greater flexibility for fully employed MBA students.
Don't rush your decision. If you've just completed your undergraduate work, you might need a break before embarking on another academic challenge. By taking time to build life and work experience, you'll be able to define your post-graduate program goals with greater clarity. Even if you're already working and you're clear on what you want out of a master's program, you could benefit from taking a step back for perspective.
Don't choose the right school for all the wrong reasons. Does where you get your master's matter? A school's reputation is important, but your ability to articulate and apply what you've learned will amplify the benefits of your degree more than name cache will. Experiential programs like the E2C Capstone Consulting Project at the Pepperdine Graziadio Business School enable master's students to put their curriculum into practice and build real-world experience.
Don't be dissuaded by costs. To help mitigate the costs of a master's degree investment, some schools offer merit scholarship programs and grant opportunities for graduate students. Both personal and federal loans are also worth exploring. If you're working full-time, inquire with your employer or HR department about full or partial tuition coverage programs. Every little bit counts when paying for graduate school and you don't want expenses to be a barrier to your advancement.
Choosing a Master's Degree for Your Career
Completing an accredited post-graduate program can help you:
Better your chances of a promotion at your current job
Inspire a career pivot or a move to a new company
Expand your professional network
Draw a higher salary than you might without an advanced degree
All of the above
Your professional goals will no doubt guide your post-graduate program selection, but they needn't restrict your professional options if you're unsure of exactly what you want to do next.
Some master's degrees build skills and deepen understanding that can be applied to different fields. For example, a master's in creative writing can enhance your communication skills and unlock innovative ways to solve problems in just about any role, while the learning amassed in a finance-focused master's program will transfer to an array of industries.
The flipside to this is when you know exactly what you want to do next in your career. If you're exploring teaching as a potential path, a master's in the field you wish to teach is a good idea. Knowing the market in which you want to advance can also guide your post-graduate program decision without being too prescriptive about the role you might pursue.
For example, if you are looking to advance in the real estate business, a degree like the Master of Science in Real Estate at the Pepperdine Graziadio Business School will provide a foundation that encompasses finance, law, decision-making, and economics, leaving you ample room to explore different jobs within that industry.
Choosing a Master's Degree for Your Strengths and Weaknesses
The right master's curriculum can draw your attention to untapped strengths and potential blindspots. To make the most of your academic experience, assess your professional development before, during, and after your degree program.
You might consider yourself someone who is not suited to leading because you're uncomfortable speaking in front of large groups. A master's program is an excellent place to experiment with this type of challenge in a safe setting. You might discover your capacity to speak in public is better than you assume, or you could identify other ways to apply your leadership potential.
Remember that an academic setting is a place to stretch yourself and learn about what motivates you, as well as what might be holding you back. Even if you're certain about what skills you want to build through your post-graduate work, you might be surprised by the additional strengths you discover along the way.
Getting Your Master's Degree at Pepperdine Graziadio Business School
The Pepperdine Graziadio Business School offers master of science degrees in both full- and part-time formats, with sophisticated online learning modules incorporated.
For those seeking an expedited track, full-time students at Pepperdine Graziadio can earn a master's in as little as 12 months.
Recruitment advisors are available to answer any questions you might have about:
Application deadlines
GMAT waivers
MS pathways to Pepperdine Graziadio MBA degrees
Financial assistance options
Want more information? Learn all about our Master's Degree Programs at Pepperdine Graziadio and explore application information for Pepperdine Graziadio Master's Degree Programs.