Pepperdine Graziadio's PKE MBA: Helping Senior Executives Scale Their Highest Peaks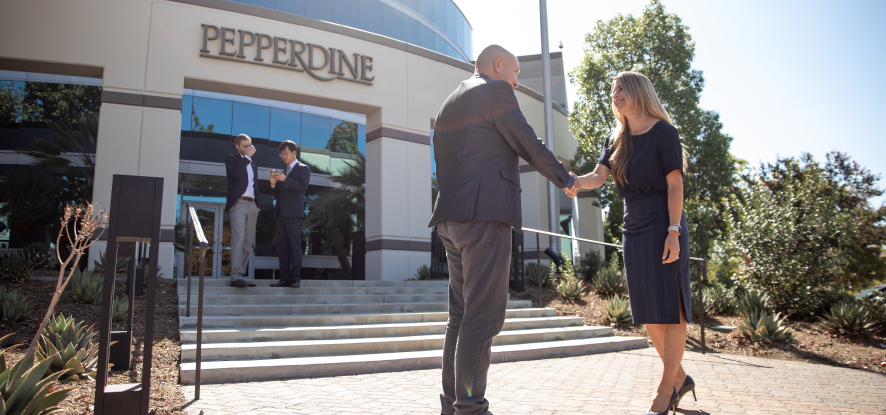 Mountaineering, attaining or attempting to scale high points on mountains, provides thrills and magnificent vistas for thousands of climbers. But mountain climbers don't just show up at El Capitan with a few ropes and a helmet and expect to scale the 3,000-foot monolith. To achieve that kind of climbing ability, experienced mountaineers need to develop strength, stamina, and technique.
Experienced climbers must first condition their minds and bodies. They endure tens of thousands of pushups, pullups, dips, squats, and lunges. They lift thousands of pounds of weights. They train in the elements to achieve the strength needed to lift the body vertically, step after step thousands of times. They learn to carry a load on their back to keep supplies close at hand safely.
Experienced climbers master techniques using their feet, arms, and back. They apply holds and positions to maneuver multiple surfaces and edges. They learn how to focus for hours. Expert climbing also includes relying on other climbers—especially the "rope team" in which climbers are linked together by a safety rope.
Much like mountain climbing, many senior-level executives need rigorous training and discipline to achieve their ultimate goals. They must manage individually and as part of a management team with competence and confidence. C-suite executives must respond to crises quickly and act decisively in the face of unpredictable forces that can upend a business. Led by a CEO, senior managers must develop a positive culture, design and refine operations, and focus on the bottom line.
As professionals move up in the organization, training becomes less frequent. Fewer peers are available for counsel and help in facing the organization's most complex problems. As many studies show, it can be lonely at the top. However, there are options for senior-level executives to learn and grow within a network of like-minded peers—one being at Pepperdine Graziadio.
Pepperdine Graziadio offers enhanced learning through the Presidents and Key Executives (PKE) MBA program to help business owners, c-suite, and senior-level executives identify and scale their highest peaks.
What is the Presidents and Key Executives Master of Business Administration?
The PKE MBA is the only program in the world designed for senior, C-suite executives, business owners, and bottom-line decision makers. It elevates past a traditional executive MBA and is strategically refined to challenge even the most senior executives—introducing tenured professionals to current and emerging business trends and insights.
Throughout the 15-month program, executives will experience a boardroom-style class setting, coupled with a stimulating academic curriculum facilitated by our world-class faculty. Executives will use their business models as the subject to cultivate an in-depth case study, allowing them to apply their research to their organization directly. Cohorts will challenge, support, and learn from each other—encouraging an atmosphere in which every leader is present at the table, establishing lifelong relationships, and driving business cultures forward.
Here are ten reasons senior executives should consider the PKE program:
A transformational learning experience. Many busy senior-level executives simply do not have the opportunity to think deeply or use acquired knowledge to examine a problem critically. Through PKE projects and group exercises, executives are given opportunities to explore complex, real-life scenarios and stretch their problem-solving skills to achieve individual and organizational success.
The boardroom setting allows senior executives to build an exclusive network of peers. Senior executives can interact with peers who have more profound knowledge in a specific area and usually include cross-functional and multidisciplinary expertise. Students take a deep dive into the distinct problem solving discussions that typically exist in boardrooms, such as generating and analyzing strategic options and creating the future through leading organizational change.
Classes are held only once a month to fit the busy schedules of a leading executive and cohorts meet at one of our conveniently located Pepperdine campuses. The importance of a convenient location for face to face learning cannot be understated. For PKE students, multiple local establishments can make traveling to meet more convenient, and an off-campus setting is conducive to separating from the day-to-day work environment. Even though virtual meetings are the current trend for executives due to COVID-19, professionals will eventually return to a physical office environment—at least partially. In work and training, senior-level executives need to prepare for that reality.
Learning in "get-away" and international locations. Several studies have shown that taking time away from the workplace can have physical and psychological health benefits. The PKE program includes a four-day practical executive workshop, a two-day, in-person ethics and law session, and an eight-day international session outside the United States.
Performing a live case study applicable to a current business need. Case studies are one of the best ways to stimulate new ideas and gain exposure to new skills and disciplines. Examining a real example can lead to new and advanced outcomes on a professional and personal level. In the PKE program, students are challenged to design, present, and initiate a strategic research project that continues throughout the program's duration.
Working alongside outstanding faculty. Pepperdine Graziadio faculty offer a unique combination of academic accomplishments and industry experience. From broad practices such as strategic thinking to technical areas such as corporate finance and accounting principles, faculty bring their academic and professional skills to the table. It is not uncommon for senior-level executives, including CEOs, to visit classes and offer insights at the faculty's invitation.
An executive coach is assigned to each cohort. Qualified professionals are constant companions for groups and individuals. They encourage self-awareness, clarify goals, define objectives, unlock potential, and act as a sounding board.
Extensive networking opportunities with an alumni network of more than 40,000 professionals worldwide. PKE students have an open door to access Graziadio's extensive network for personal advancement, career advice, connections, and giving back.
There is no GMAT/GRE requirement. Senior-level executives' accomplishments and experience negate the need for entrance exams. Pepperdine Graziadio is more interested in external factors for the PKE program, such as broad areas of expertise, work experience, and deep understanding of a particular subject matter–areas in which a standardized test is not relevant.
They are offered in the Fall and Summer terms. Graziadio's PKE program starts two times per year and is four-trimesters long. Multiple starts also help ensure classes are small enough to encourage interaction, one-on-one attention, more time for instruction, and easily adaptive coursework.
The Program at a Glance
The 38-unit Presidents and Key Executives (PKE) MBA program is a unique MBA program that enhances leadership competencies. It equips senior-level professionals with the knowledge, environmental sensitivity, analytical tools, and implementation skills. The program includes a four-day useful executive workshop, a two-day ethics and law session, and an eight-day international session outside the United States.
Here's a description of the breakdown of class projects:
Effective Executive Workshop
Each PKE MBA class begins with a four-day, live-in effective executive workshop. The workshop reviews the entire program and develops working relationships with faculty and other vital resources. It presents necessary information on management techniques and builds a learning team by creating a shared understanding of specific communications skills. While the students' privacy and individuality are respected and valued, students are expected to examine and learn from their behavior and others' behavior in the class. Classes are held at Villa Graziadio.
Business Applications and Strategic Management Project
One of the critical requirements for graduation from the PKE MBA program is completing a series of written projects. They are a culmination of a strategy formulation and implementation documents written for the participant's organization. Participants will complete one project in each trimester.
The integrated series of projects are expected to demonstrate the participant's mastery of program content. Students are expected to reflect a capacity in crafting and implementing the strategy. The overall exercise is expected to be multi-functional and has long-range implications for the organization's future position and image in the marketplace. Therefore, participants should have access to organizational data, such as marketing, manufacturing, financial, and personnel records. The final strategy document must be data-based. They also should include a summary of relevant literature and other reference materials.
A project team of one faculty member and a class advisor will be assigned to each student during the first trimester to ensure these projects' quality as a sufficient learning experience.
International Session
This session will involve eight days of travel to a foreign country and onsite company visits. It includes faculty-directed discussions and interactions with business, government, and community leaders. Following identification of the region to be visited, students will be assigned preparatory work. The students will apply integrated concepts and tools from courses in completing a required, graded cross-cultural academic project embracing conditions, strategies, and practices for global business implementation.
Ethics and Law Session
The conduct of business must be grounded in the highest ethics and full legal conformance. The session offers firsthand experience in issues of morality, ethics, law, and criminality. Although the ethics and law session's theme is carried through all PKE executive education program courses and activities, it will provide a unique and unforgettable learning opportunity.
Project Seminar
Students present an oral overview of a refined version of their strategic projects. With the project's completion and program imminent, faculty feedback in this course focuses on areas of the project that should be strengthened before the student prepares the final written version of the project report.
Application Recommendations
Individuals who are interested in applying for the PKE program can complete an information request, available here.
Merit-based scholarships are available for qualified candidates, and each applicant is considered during the admission review process. Scholarship recipients will be notified at the time of admission or shortly after that. We also offer a Graziadio Referral Scholarship to students referred by a Graziadio alumnus, current student, staff, or faculty member.
There are no formal testing requirements for admission eligibility to the program. Candidates who have taken the GRE or GMAT may submit scores as supplemental academic information for the Program Admission Committee consideration. For non-U.S. residents, please explore the application requirements for international students.
Using the PKE MBA Experience to Reach Your Ultimate Goal
The PKE program at Pepperdine Graziadio offers individuals the opportunity to determine their goals in the second half of a career. The degree will facilitate paths to greater self-efficacy, personal achievement, and personal career fulfillment. With a comprehensive approach to helping PKE students, Pepperdine Graziadio students strive to make a difference, positively impacting the greater good.
In the current and developing work environment, senior executives will need to know how to guide humans through an increasingly technological age. As the global economy enters this fourth industrial revolution and the smart machine age, Pepperdine Graziadio PKE graduates are equipped with the understanding of what it means to be a Best for the World Leader—leaders who apply innovative, educational, spiritual, and ethical approaches to impact their colleagues, customers, and communities positively.