Rising to the Occasion: MSRE Student, Toren Arusi, Discusses Making the Top 10 in the ARGUS University Challenge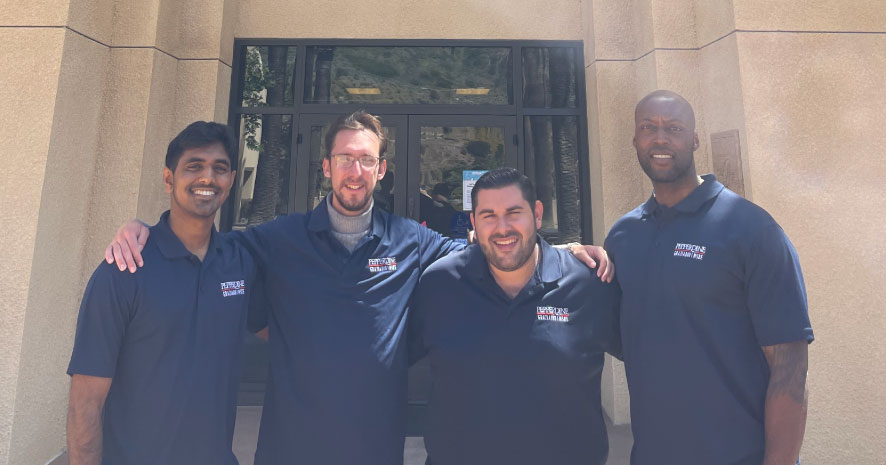 When it comes to exceeding expectations, we have our high-achieving students to thank. Through their tenacity to learn at an advanced level, they are taking their skills to opportunities beyond Pepperdine Graziadio and implementing innovative solutions toward changing the world for the better. At Graziadio, our students are the future of business.
An example of our students making waves in specialized industries comes from our Master of Science in Real Estate (MSRE) program. Within this degree program, students are taught by industry-leading faculty, such as Heather Boren, to navigate the ARGUS Enterprise software, a computer program designed to model realistic properties and develop fictional real estate scenarios based on current trends in the marketplace. Through learning this software, students have the additional opportunity to put their skills to the ultimate test in the ARGUS University Challenge, where they are given real-world business dilemmas regarding real estate issues to curate effective solutions.
One team of Graziadio MSRE students entered the competition with confidence and team camaraderie to end up within the top 10 in the Challenge. Amongst this talented group is Toren Arusi, Patrick Etcheverry, Tony June, and Aaron Wirekoon – and their journey together has only just begun. Immerse yourself in Toren's experiences throughout the ARGUS University Challenge and you might find yourself signing up for the next competition!
Read Toren's Interview:
1. Tell us a little bit about yourself and the traits you bring to the team.
I have a background in marketing and finance. Therefore, I was able to bring my strong understanding of finance and financial modeling to the table. I was able to build out the ARGUS model utilizing many of the assumptions that we came up with through extensive market research.
2. Why did you decide to pursue a master's degree in real estate?
I personally decided to pursue my master's degree in real estate because I am passionate about entrepreneurship and real estate. After working in marketing and sales for over three years, I couldn't ignore the fact that I have a passion for real estate. So, I did some research and found Pepperdine Graziadio's MSRE program!
3. In your own words, what is the ARGUS Enterprise University Challenge, and what is the value of participating?
The ARGUS University Challenge is a fictional, real estate-focused dilemma where we as contestants needed to curate a variety of solutions. As a future real estate professional, the value of participating in this challenge is wonderful. Aside from having concrete evidence of your ARGUS experience on your resume, participating in the challenge gives students an opportunity to work with a team on a more realistic real estate venture. There are clear problems that need to be solved and creative solutions are the key to success.
4. How did Graziadio prepare you to enter the ARGUS University Challenge?
I have to admit that the MSRE program set us up for success. We had two classes, both taught by Professor Heather Boren, that gave us all strong insight on how to use the ARGUS Enterprises' software. Professor Boren's classes prepared us to use the software effectively and our other classes gave us the essential foundational understanding of real estate that is necessary to succeed in every other aspect of the challenge.
5. What lessons did the team learn during the Challenge?
The team learned a great deal about how to work well with one another. One of our biggest successes was playing to each other's strengths and weaknesses. We knew that one of our team members has a strong understanding of market analysis, so he took the lead on that aspect of the challenge. Another team member had a stronger understanding of ARGUS than the others, so he primarily built the ARGUS models. Lastly, one team member had a very creative eye and utilized his creativity to build out our case study visual. Overall, our team was able to successfully play to each of our individual strengths.
6. Throughout the Challenge, did you encounter any obstacles as a team? If so, how did you overcome them?
Our team faced a few obstacles throughout the Challenge. If I had to choose the most difficult obstacle, it would be time management between the work of the Challenge and our actual school assignments. We overcame this by creating schedules in which we would all meet and work on the assignment together. Simply keeping each other accountable helped us successfully score in the top 10.
7. How has your perspective of real estate changed since competing in the ARGUS University Challenge?
Market research and creativity play a huge role in turning around an underperforming asset. When there is an asset that is facing high levels of vacancy, an asset manager must use true strategic creativity to convert that asset into its highest and best use. There are strategic partnerships, renovations, converting uses, and more ways to generate a higher net operating income for the asset.
8. In your opinion, what does the future look like for real estate?
Since the Challenge was based on a mall, I will speak about my outlook on retail real estate assets. Retail has suffered tremendously as a result of the pandemic. Therefore, there will be a major shift in how new retail assets get developed or even renovated. First, we will see more outdoor mall concepts to help with social distancing. Westfield Mall is currently renovating its assets to incorporate outdoor areas within some of its newer malls. While I can't say exactly what will prevail, we are in for some serious changes. We may see complete conversions of retail malls into workforce housing to address the housing shortage, especially in California. Only time will tell what happens to older malls, but there is new legislation being introduced regularly to help developers entitle properties for different uses.
9. How will you implement the lessons learned in the Challenge into your future professional career?
As I will be entering American Healthcare REIT as an Acquisitions Manager, I will take my creative market research skills and utilize them to acquire stronger assets for the company. I will utilize the strong underwriting skills that I have gained through my coursework in the Master of Science in Real Estate program. The ARGUS challenge has given me a real-world scenario to practice my skills and I intend to utilize those skills to become the strongest real estate professional possible.
Meet the Team
Toren Arusi | MSRE '22

Acquisitions Manager at American

Healthcare REIT

Patrick Etcheverry | MSRE '22

Acquisitions Intern at Vivo Living

Tony June | MSRE '22

Entrepreneur

Aaron Wirekoon | MSRE '22

Underwriting Analyst at Wells Fargo