Women Making Waves: DBA Candidate Sharifa Batts Details Her Doctor of Business Administration Experience
"Learning never exhausts the mind." - Leonardo da Vinci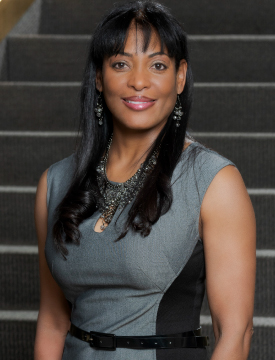 Alumna and DBA candidate Sharifa Batts (MBA '17) has a deep-rooted relationship with Graziadio. Earning her Executive MBA in 2017 and enrolling in the Executive Doctor of Business Administration (DBA) program shortly after, Sharifa has a rich history of academic involvement. Sharifa's highly positive experience within the Executive MBA program partially influenced her decision to stay with Graziadio to earn her DBA. Her vast educational journey has led to enriching experiences as she focuses on driving meaningful change for herself and those around her.
Approaching the completion of her degree, Sharifa is one of the first women and individuals to "advance to doctoral candidacy" for her final dissertation research proposal at Pepperdine Graziadio. Focusing her dissertation on the Human and Social Capital Contributions of Diverse Members, Sharifa's intentions to empower underrepresented groups is as powerful as it is timely. She hopes her participation in the DBA program will spark minority groups to become acutely aware of their capabilities, and drive a more diverse representation on company boards.
Being one step closer to earning her doctorate, Sharifa plans to leverage her DBA to help others and advance her professional career. In time, she seeks to lead as CEO of her own company. She continues to act as a constant motivation to her family, friends, and communities the importance of values-based leadership and perfectly exhibits the true meaning of a Best for the World Leader.
Interview with Sharifa
What was your reason for pursuing the Executive Doctor of Business Administration?
Before I completed my EMBA at Pepperdine, I started researching schools that offered a DBA program to further my education. Before I graduated with my EMBA, the Pepperdine DBA program was finalized so that the inaugural cohort could start in Fall 2017. I graduated with my EMBA in August 2017 and immediately started the DBA program in September 2017. I was motivated to enroll in the DBA Program to be a role model for my daughters, granddaughters, and increase awareness of underrepresented groups' contributions whose voice is not always heard.
What led you to choose Pepperdine Graziadio's DBA program?
I fell in love with Pepperdine during my EMBA experience because many of the faculty and students in my cohort became lifelong friends during our academic journey. I was anxious to continue to enhance my knowledge with a smaller cohort, and the start date of the new DBA program at Pepperdine aligned with my professional schedule. I was extremely excited knowing if I were accepted, I would be part of the inaugural group and graduate as one of the first DBA cohort students.
What influenced your dissertation, and what was your process?
My dissertation initially focused on leadership and succession planning, but during a residential one of the faculty explained, we need to have a topic we are passionate about. After I wrote a paper that focused on epistemic injustice in Dr. Anthony Hatzimoysis epistemology course, I realized being the only girl of five brothers, having two daughters, and two granddaughters, I was extremely passionate and motivated to concentrate on women and minorities. My topic evolved a few times after receiving valuable feedback from my cohort members and consulting with my chair, Dr. Cristina Gibson before I arrived at my approved topic. With the current heightened awareness of the negative impact of systemic racism, hermeneutical injustice, and marginalization of specific individuals and groups in society, I am confident my topic is extremely relevant and will positively impact these uncertain times.
What is the one takeaway you'd like someone to understand from your dissertation?
As members of the underrepresented groups become aware of their capabilities and connections, their representation on boards should increase. The composition of these boards will begin to match their employee base and the stakeholders the companies serve. The organizations will ultimately benefit from these contributions.
How has your career benefited from being part of the program?
Being a part of the program has made me a better leader in my career because I strive to do my best for my team, and I empower and train them to be leaders. My overall confidence has increased, and my communication skills have improved significantly.
What are your plans for the future after completing the DBA?
I have always been motivated to stand out and make a difference in my school, community, and workplace, so I hope to leverage my DBA to further my professional career in a prominent position at an organization and eventually become the CEO of my own company.
How will the DBA experience help you in your future personal or professional plans?
Being part of the Pepperdine DBA program has been a refreshing experience resulting in rigorous learning and dynamic discussions among a diverse mix of fascinating faculty and a fantastic cohort. Collaborating with these astute individuals contributes to my motivation to drive relevant and meaningful change in organizations. As a black woman, having a DBA will add credibility and set me apart from others as I become more marketable in the professional arena. I want to motivate my family, daughters, granddaughters, and soon-to-be grandson to always strive to be Best for the World Leaders to help communities and organizations with change for the future.