Celebrating AAPI Heritage Month with Dr. Dongshin Kim, PhD
Traditions are developed over time, from generation to generation, and intertwined between cultures. They are the glue that holds our values together and the driving force behind uncovering our purpose. As our traditions live on, our heritage is remembered for eternities to come. Through our existing heritages, we cultivate a community filled with diversity and open to change. At Pepperdine Graziadio, we are one family, composed of unique traditions and many stories that are embraced and shared with the community and beyond.
This May, we invite you to join us in celebrating and honoring our Asian American and Pacific Islander (AAPI) community by immersing yourself in their beautiful heritage. Assistant Professor of Finance and Real Estate, Dr. Dongshin Kim (Donn), openly shares the many traditions of Korean culture that have positively impacted his family's lives in the U.S. From Korean holidays to delicious Korean dishes, Donn and his family incorporate their Korean heritage into everything they do, teaching others about their custom traditions and appreciating the many different cultures around them. As Donn continues teaching at Pepperdine Graziadio, he is welcomed by the opportunity to share his heritage with students, colleagues, alumni, etc – further creating a sense of belonging within a diverse community.
Read the Interview:
1. Share a little bit about your background.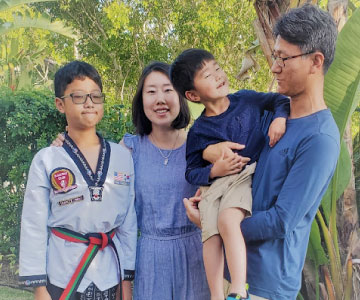 I am Dongshin Kim, I go by Donn, and am an Assistant Professor of Finance and Real Estate at Pepperdine Graziadio Business School. I was born and raised in South Korea, having moved to the U.S. in 2010 for my studies. I married my wife JK Lim when I was in Korea and together, we have two boys, a 4-year-old and an 11-year-old, both born in the U.S. You can imagine that we enjoy the mixed cultures and languages of everyday life – it's not easy but we try to only speak Korean at home. As a result, my older boy is a perfect bilingual and we hope we can help the younger boy to become bilingual as well.
Since my family moved to the US, we have adopted the American lifestyle in many areas – driving the car a lot, engaging in more outdoor activities, drinking sodas more than ever, and many more. One area that is difficult to change is food. I like and eat almost any kind of food from various countries but I still enjoy Korean food the most. My two boys also like Korean food more than other cuisines. JK, my wife, is a Certified Korean Food Cook – so, we can have the best Korean food every day. Who can blame us?
2. What are some Asian customs/traditions that you celebrate? Why are they important to you?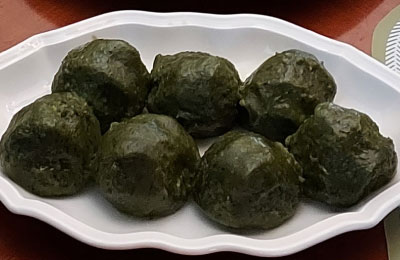 Hangawi is one of the biggest holidays in South Korea. It is a traditional Korean holiday that celebrates the harvest and gives thanks to our ancestors, parents, and family members. The holiday is similar to Thanksgiving. It is on the 15th day of August in the lunar calendar, which typically falls between August and October, and is a three-day holiday. Most Koreans travel to their parent's homes for the day to take part in family gatherings, which means very heavy traffic everywhere. A 100-mile drive can easily take 5-6 hours. Still, they love to travel to see their family because that is how important it is to us.
I love this day especially because it is celebrated with an "appreciative" spirit. It has also been my most awaited holiday because I could see all my extended family members, including my four older siblings, nephews, nieces, etc. Once, all of our families gathered together and there were almost 20 of us in my parents' house – it was always a really big party with a lot of great Korean foods. Songpyeon is the theme food for Hangawi which is a cake shaped like a half-moon made with rice flour (a dumpling size). The delicious and healthy cake is filled with sesame seeds, white beans, chestnuts, and other ingredients flavored with pine leaves.
Besides that, of course, we also prepare other popular Korean foods such as Bulgogi, Galbi, and more.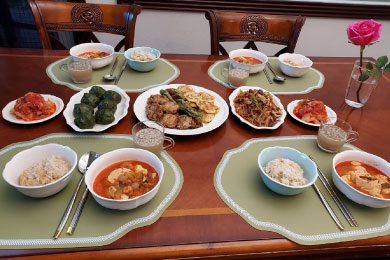 We celebrate this day by ourselves in America as my and JK's parents reside in Korea. Still, we love to celebrate the day. By celebrating Hangawi in the US, we remember our families and parents in Korea and think about their love and care for us. We have video calls with my family to meet and say thanks to them. The first thing my mother always asks is "Did you eat Songpyeon?", and we say "Yes!" They always show us a lot of various foods on their table they prepared. Even if we are away, we feel connected by celebrating this day.
Look what JK prepares here in the US for Hangawi!
3. Do you incorporate your heritage into your curriculum as a professor? If so, how?
Hangawi is a day for appreciation. It is amazing that every culture has days for thanksgiving, even if it is in different formats. I know that many Asian countries celebrate the same lunar day as Hangawi. Students and I talk about the similarities and differences of celebrations in different cultures at Graziadio. The Thanksgiving holiday is also a good time to share this tradition with American students. The important thing is that we give thanks. It is great to see how talking about my tradition opens our hearts to other cultures.
4. AAPI Heritage Month celebrates the influence and impacts Asian and Pacific Islanders have played in American culture. In what ways do you feel like you've been able to influence those around you and vice versa?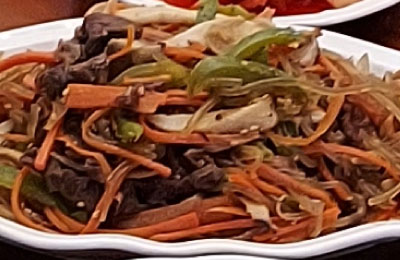 As an immigrant family, we continue making new friends. Food is always a good catalyst. The day of Hangawi and the celebration with traditional food are always good starting points to getting to know someone new. JK makes fantastic Korean foods for Hangawi (actually, she always makes incredible food). Again, JK is a Certified Korean Food Cook! For example, JK makes great Japchae (a popular Korean noodle dish).
We share the food with the people around us and is a really fun topic to talk about to start easily moving into deeper conversations about our culture and history.
Even if Hangawi is a family-oriented holiday, we cannot gather with our family in the US. So, we are making it more into a friend-based gathering in the US. We invite families like us who do not have relatives around and now it feels like more of a global celebration to us. How exciting!
5. Would you like to share any other thoughts with the community about your heritage?
Some side stories. Recently, I am excited to see the news about the popularity of Korean content such as K-pop, movies, and Netflix TV shows. South Korea is only a quarter of the size of California and has a 52 million population. South Korea does not have plentiful natural resources – there are a lot of mountainous areas where we do not have enough land for agriculture either. Thus, I believe, we had to find and develop areas where we can prosper by relying on creativity and authenticity. Now, those efforts are being recognized globally. As we celebrate Hangawi in the US, I hope people can appreciate different cultures as they express toward various Korean cultures. Jesus' two great commandments make everything possible to accept others: "Love the Lord your God with all your heart and with all your soul and with all your mind" and "Love your neighbor as yourself" (Matthew 22:37-39).