Graziadio Alumni Network - Los Angeles Council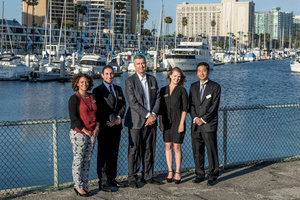 Mission
GAN-LA builds and enhances strong networks by providing useful information and resources, integrating social and business values while cultivating community, advancing Pepperdine University's reputation, serving alumni, students, and the local business community through network excellence.
Purpose
The Graziadio Alumni Network Council of Los Angeles (GAN-LA) is a group of business leaders committed to building mutually beneficial, strategic partnerships between alumni, the university and the community.
Events
GAN-LA hosts, sponsors and promotes a variety of events to offer its members opportunities for networking and continued learning. Events include executive panels, C-level presentations, and networking mixers. Please visit our Calendar of Events for upcoming events.
Meet the GAN-LA Council
Gisela Rojas, MBA '08
Chair
gisela.rojas@alumni.pepperdine.edu

Evahn Beresiwsky, MBA '08

Diana Gesshal, MBA '03

Wally Murdoch, MBA '03

Kiki Rice, MBA '09

Raffi Simonian, MBA '08

Gail Summers, MBA '03

Behzad Shakibai, EMBA '05
Vice Chair
behzad.shakibai@alumni.pepperdine.edu

Nathan Chandra, MBA '08

Denny Hooten, MBA '04

Nick Norris, MBA '09

Tim Shinbara, MBA '09

Fred Soelter, MBA '92

Chris Wicker, MBA '07
How to Get Involved
If you would like to get involved with GAN-LA, contact the Graziadio School Office of Alumni Relations at (310) 568-5639 or gsbmalum@pepperdine.edu. Or join our group on LinkedIn!