From International Student to Assistant Director: How Pepperdine Graziadio's MSML Program Shaped Joy Qiao's Career and Life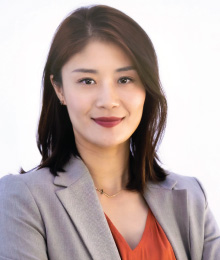 Liang (Joy) Qiao (MSML '19) found her true purpose and career fulfillment through Pepperdine Graziadio Business School's MSML program. From an international student to Assistant Director at Pepperdine University, Joy is a shining example of the transformative power of education. Learn more about the experiences that shaped Joy's career post-graduation in this blog.
Read Joy's Interview:
1. Tell us a little bit about yourself, professional and personal.
I am a Pepperdine Graziadio Business School alumna with a Master's in Management and Leadership. Currently, I serve as the Assistant Director of Marketing and Communications for Alumni Affairs, Parents Program, and Pepperdine Fund at Pepperdine University. To me, this institution is more than just a place where I obtained higher education–it is my second home since I came to the United States to pursue a new life. I hold deep love and gratitude for my beloved school.
Apart from my current role, I am involved in various volunteering activities at Pepperdine. I am a lifelong member of Beta Gamma Sigma–an international business honor society, I serve as a board member of the Horizon Scholars Foster Youth Program, an advisor for Pepperdine Chinese Student Association (CSSA), a training facilitator of Racial Healing Circles (Community Belonging Circles at Pepperdine), and a mentor in Career Coaching for undergraduate and graduate students.
My journey began with an intrigue in Program Operations and Project Management in the Media and Entertainment field, which led me to pursue a Bachelor's in Journalism, TV Producing and Directing at Nanjing Normal University–one of the oldest and most prestigious schools founded in 1902. After graduating from college, I landed a position as the Director of Operations for a popular quiz show, "Who's Still Standing," at Jiangsu Broadcasting Corporation, China's third biggest television network.
Being a Christ follower, I am a strong advocate for legal justice and animal rights. I enjoy serving as a service member on the broadcasting team at Dynamic Evangelism Church in Rowland Heights, California, and as a Community Development Volunteer for the Animal of World Foundation. My husband and I have rescued and adopted a dog and a cat (Monty & Panda), whom we love very much. My husband also serves the Pepperdine Community in his role as part of the Information Technology department at the Malibu Campus.
2. Why did you choose to pursue a MSML degree?
The decision to pursue a Masters in Management and Leadership degree was a pivotal moment in my life, as it empowered me with the tools and knowledge to become a purpose-driven leader. As someone who was born into a family of musicians and cultural heritage educators, I have always felt a deep sense of responsibility toward serving others.
After working in the entertainment industry for several years, I felt unfulfilled and was faced with a life-changing event when I was diagnosed with a brain tumor in 2017. It was during this difficult time that I turned to my faith for guidance and found the courage to explore a new path. I knew I wanted to study at a school that shared my values of service, purpose, and truth.
That is when I discovered Pepperdine Graziadio Business School and applied to the MSML program. I vividly remember the application interview with Desiree Williams, the program recruiter at that time, and the moment I received my acceptance letter. It was a life-changing moment that has set me on a path to become the leader I am today.
I am grateful for the MSML program–I have not only deepened my knowledge of management and leadership but also gained a new perspective on how to lead with purpose and integrity. As Assistant Director of Marketing and Communications for Alumni Affairs, Parents Program, and Pepperdine Fund, I now have the opportunity to give back to my alma mater and inspire future generations of leaders.
Being a part of the Pepperdine community and giving back through volunteer work with Horizon Scholars Foster Youth Program, Pepperdine Chinese Student Association (CSSA), Racial Healing Circles, and Career Coaching is deeply fulfilling and I am grateful for it all. Through my experiences, I have learned that leadership is not just about achieving personal success, but also about serving others and making a positive impact on the world.
3. What was your favorite class in the program and why?
Choosing a favorite class in the MSML program is like choosing a favorite song from your favorite band – it is so hard! Every class, from Behavior in Organization to Talent Management to Cross-Cultural Management, was engaging and insightful in its own way. However, if I had to choose just one, it would be Leadership and Literature with Dr. Virginia Green.
What made this class stand out for me was the way it examined leadership through the lens of literature. It was fascinating to explore how leadership has been portrayed throughout history and how it has evolved over time. Dr. Green's guidance helped me gain a much deeper understanding of the significance of leadership and the ethical challenges that come with it.
I still remember the final presentation for this class, where I led my classmates in practicing Tai Chi. It was an opportunity for me to share a piece of my culture and illustrate the concept of YinYang in leadership. Dr. Green's positive feedback on my presentation left a lasting impact on me. She said, "Your presentation was one of the BEST in the class! You did everything right. Thank you! This was excellent!" Her encouragement meant the world to me and continues to inspire me in my work today, as I strive to serve and support other students like myself.
4. Share your experience as an international student and the different ways you were engaged with the Pepperdine Community.
Being an international student and studying abroad alone without family members is not easy. The language barrier and cultural differences were my first two major challenges, but I am very grateful because I felt so much care and support from my professors, classmates, and advisors as the only student from mainland China. I am always a person who has a lot of energy and who loves getting to know people. While studying at Pepperdine, the community offered many valuable opportunities for me to network with students, professors, and alums.
5. How has your Graziadio experience impacted your career?
The experience provided me growth and strengthened my skills in leadership, which I believe is so crucial for any workplace to have good leaders who take risks, empower others, and inspire and navigate a team in the right way. Immediately following my graduation in 2019, I knew I wanted to find ways to give back, so I started applying for different positions at Pepperdine. Another challenge for me, and I believe for many international students, is the need for sponsorship from an organization. With only a one-year work visa and the COVID situation in early 2020, I did not have the opportunity to work for my alma mater, but I never lost faith, and neither did my professors, advisors, or staff from Pepperdine. They were willing to write recommendation letters for me, encourage me during the tough time, and keep me engaged so I would not feel defeated. I am finally here to serve and in the spirit of our mission, freely give after I have so freely received such love, kindness, and support from Pepperdine.
6. What advice would you give to current and future MSML students?
The first piece of advice I would give is to find your "why" for pursuing the MSML program. Why this program? Why now? In what ways do you believe this program will advance you? Have a clear vision–a vision of a better self that you can achieve after earning your degree.
One significant lesson I've learned from my experiences is the value of stepping back and courageously forging a new path when feeling stuck. Life is an ever-changing journey, and it's not always smooth sailing. At times, I find myself contemplating what my life would be like if I hadn't faced setbacks. Perhaps I would still be a TV director, enjoying a successful career but lacking a sense of deeper meaning and genuine happiness. I believe that life's challenges and the courage to break free from the status quo can lead us to a more meaningful existence. It is through these transformative experiences that we uncover our authentic selves and find the path that resonates deeply within us.
I would also encourage you to serve others as often as possible. When you serve, the sense of fulfillment you gain will bring you much joy. In 2011, The New York Times declared Alvin Wong "the happiest man in America." His secret? He shared, "If you want happiness for an hour, take a nap. If you want happiness for a day, go fishing. If you want happiness for a year, inherit a small fortune. But if you want happiness for a lifetime, help somebody else." At Pepperdine, you'll discover a nurturing environment where the pursuit of happiness is intertwined with the act of service. I urge you to embrace the culture of service at Pepperdine and explore the countless ways you can help others. By doing so, you'll not only contribute to the betterment of society but also discover a profound and enduring happiness that comes from making a difference in the lives of those around you.
Lastly, embrace faith and embody the adaptability of water. Faith brings strength, while fluidity enables resilience. Avoid fixed mindsets and adapt to diverse circumstances for continuous growth. Be like water—flexible, adaptable, and open to change. Embrace opportunities for personal growth and find fulfillment in the journey of self-improvement.