Multi-Business Entrepreneur Jennifer Johnson Shares Her Enlightened Story of Becoming "The Blessed Realtor of Malibu"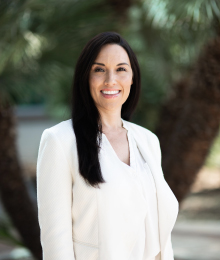 Accomplished entrepreneur and diversified businesswoman, Jennifer Johnson (MBA '20), was born to be an entrepreneur of many talents. Starting as young as an elementary school student, Jennifer developed a passion for business, re-selling her favorite store-bought candies and making a 100% profit. Through earning her MBA, Jennifer was presented with opportunities at Graziadio to further develop her professional network and inherit entrepreneurial skills to implement into her future business strategies. Upon graduating from Pepperdine Graziadio, Jennifer has founded several fast-growing businesses based on her interests and passions in life. From spiritual healing to real estate, her positive energy motivates her and those she works with to live life to the fullest each day; crucial in running successful businesses.
As an involved Graziadio alumna, Jennifer continues to spread her optimism and words of wisdom to fellow Waves as they grow into future entrepreneurs. Looking forward, Jennifer plans on developing her current businesses as well as educating others on the value of incorporating wellbeing into everyday life. A goal for Jennifer is to invest in property within her alma mater – the Malibu coast.
Read Jennifer's Interview:
Tell us a little bit about yourself, professional and personal.
I'm a Southern California beach native who grew up in Manhattan Beach. I fell in love with Malibu and have lived here since attending Pepperdine a couple of years ago. My career ventures include real estate, product creation and development, event planning, and spiritual energy healing (kundalini yoga, EFT, Reiki Master). I've found my connection to my spirituality has been a guide in my entrepreneurship. I often incorporate my crystals and healing modalities into all forms of my work, which I feel connects me to a greater purpose on a grand level. Being dedicated to personal and communal well-being, I was one of the founding members of the Wellness Committee at the Malibu Chamber of Commerce.
What inspired you to become an entrepreneur?
In my particular situation, I was born an entrepreneur. As early as elementary school, I began buying those little fruit-shaped sugar candies and selling them for a 100% profit. I've always had an interest in inventing anything that would make my life easier as well as a passion to share with others. Learning how to live the happiest, healthiest life then sharing it with others has been the driving force in my entrepreneurship experiences. As an adult, I have founded many companies over the years including a hormone balance vitamin pack (Jeniuscycle and MasteringMyMoon), reiki and magnesium infused deodorant (Vitalife Organics), an event company (Jenius Entertainment), and UPF 50+ sun protection visors (SóL Visors).
How does entrepreneurship relate to real estate?
I believe one who is drawn to work in real estate has to have an entrepreneur's heart as being a realtor is one hundred percent running your own business. I personally love how I get to be my own brand, "The Blessed Realtor of Malibu". I want the people I work with to feel great about the process and also themselves. I thrive on seeing others become more healthy, happy, and magical so it's natural for it to be a big part of my business. I like to give those I work with something that will increase their wellbeing, usually some type of crystal. My newest item is a white jade SóL stone, which helps with lymphatic drainage. Another top crystal is a black tourmaline so they can place at their doors to transmute negative energy into positive – it's all about cultivating good vibes and curating a wonderful life.
What is your biggest accomplishment to this day?
On a soulful level, each day my biggest accomplishment is being able to spread love and happiness to the world, loving life to the fullest, even through seemingly "negative" situations. My journey in life has taught me to trust the universe, knowing everything that happens is happening for my greatest good. I take the next best step forward instead of letting things bring me down. I learned this mentality from my amazing uncle's entrepreneurial example along with all the wonderful programs he's created – the Optimize coaching program is a must if you truly want to live your best life. On a business level, passing the real estate exam the first time I took it and being invited on to the Eklund Gomes Team of Douglas Elliman Malibu are my current biggest accomplishments.
What is the biggest challenge as an entrepreneur and how did you overcome it?
My biggest challenge has been figuring out how to work with others. After working with several people that were out of alignment with my vibe, I realized it's important to choose who you work with based on skills and what others enjoy (and don't enjoy). With my current Eklund Gomes Malibu team, I'm working with Sean Landon who is my perfect working partner. He loves to do contracts and is amazing at knowing how to get deals done so that all sides are happy. I enjoy using my magic to get us new listings and keep us both healthy and happy. We have been clear on who does what and appreciate each other for what we both contribute.
Why did you choose to receive an MBA from Graziadio?
After having started a number of companies from scratch with no real education around business, I wanted to learn how to properly start and run a company so I would have the right tools for success in all my future endeavors.
How did Graziadio prepare you for your career?
Graziadio prepared me for my career (and life!) by not only teaching me everything I could learn, but also going step by step of how business formulates, builds, sustains, and thrives. I also learned about the lifestyle I wanted to live. My professors and classmates taught me the type of people I wanted to be around and work with on an everyday basis. There really is no need for "work-life balance" when you love what you do and the people you work with – work becomes enjoyable and coworkers become family.
What advice do you have for developing entrepreneurs pursuing a Graziadio degree?
Put your ALL into it and go for it! While in school, you'll have great support from professors and classmates that won't be as available after you graduate, so don't be shy and make it happen. You'll either be successful or you'll learn what you need to improve on for the future. Be fearless and enjoy the process.
What goal are you aspiring to achieve in the near future?
While aiming to assist eleven homeowners sell their homes, I also plan to purchase my own property with a good amount of land here in Malibu so I can create a magical healing compound. This great opportunity is another future business I'm excited to dive into getting back into my spiritual healing roots!