Faculty Best Practices
John Tobin, JD
Adjunct Faculty, Business Law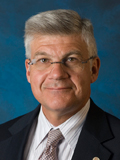 Describe ways in which you engage students in the classroom.
In my negotiation class, I shake things up on the very first day. I enter the class dressed in full military battle gear, slam down a book and say "As you were!" I outline in a very precise, detailed manner the course expectations, syllabus and assignments. Then I leave and re-enter as Professor Joe Cool, a very laid-back guy dressed in khakis and a turtleneck. You can't get a straight answer out of him; he's going to make the class up as he goes along. Then I exit and re-enter in a coat and tie as myself and ask students, between the two men, who would you rather negotiate with? They all say the second guy, because he was easygoing. But in business negotiations, you need to nail down specifics, so do you really want to deal with the guy who won't give you a straight answer? It's a fun exercise in perception, which is at the core of negotiation, and it makes them challenge conventional ways of thinking. It's also a great way to engage students right off the bat, rather than come at them with a 12-page lecture.
How do you ensure your teachings are learner-focused?
I like to keep it real and also personal. I'll ask who had an interesting negotiation this week, whether it's at home, church, work or other situation. By the third week, students are bringing in all kinds of interesting problems. It's all very confidential and I am emphatic about everyone in class respecting this "code of honor." We use the classroom as a laboratory, but the information shared cannot be taken outside the classroom.
How do you incorporate experiential learning in the classroom?
I generally like to keep the lecture down to about one hour, then use the other three hours for role playing. Some students act as sellers, the others are buyers. Some are project managers, some are technology staff. In each situation, one or both parties are trying to get something from the other and must conduct a negotiation. It's a very experiential way for them to learn how to fashion a position that not only benefits them, but incentivizes the other party to deliver what they need. It's about giving them real-world circumstances they can relate to so they can own the subject matter for themselves.