Faculty Best Practices
Kenneth Ko, PhD
Assistant Professor of Decision Sciences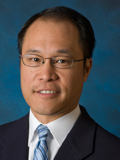 As a Blended Learning Faculty Fellow, what types of blended learning activities did you introduce to your class?
Once a semester, we conduct an entire class online. We can actually do a lot of the same things as we do face-to-face: give PowerPoint presentations, review spreadsheets, set up breakout rooms so students can meet in small groups. It enhances learning in two ways. First, the novelty keeps the class fresh and the students engaged. They welcome the variety. Second, many students are very comfortable in an online environment and learn well in that milieu. Everybody learns differently. Combining online with face-to-face sessions addresses the diverse learning styles of class members and maximizes opportunities for learning. It's not "either or" – it's "both and."
How do online tools keep your teaching learner-focused?
Much has changed in the last few years, and it's vital to adapt and communicate in ways that students are comfortable with. I use Yammer, Pepperdine's Facebook-like social network, in between classes to host discussion threads, make announcements, and address students' questions online. VoiceThread allows me to create a PowerPoint presentation online and record my voice on top of it. Camtasia, which is a similar application you can use with Excel, allows me to explain what I'm doing with a spreadsheet. When I give a lecture or demonstration in class, students can't click "rewind" and view it again. But since these tools are available online, they can access it whenever they want and review it as many times as they need to. It's a Facebook generation – we can't assume the way we did things 10 years ago is still the best way to teach this group of learners.
What are some techniques you use to keep students engaged?
It's important to mix things up – students become bored if we do the same activity over and over. In addition to lectures or written materials, I use additional resources, including a video clip from YouTube which features the vice chairman of Chevron and a DVD of the Hard Rock Café in which a senior director of finance discusses forecasting models. The material is brought to life when students can see how it is being used in a real company.