Renowned Healthcare Leaders Using Artificial Intelligence to Transform Delivery of Care Featured at Pepperdine Graziadio Future of Healthcare Symposium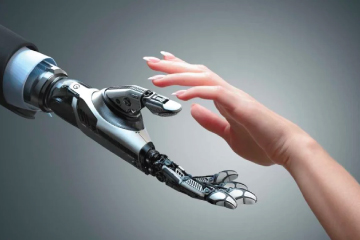 The Graziadio School is excited to host its 5th annual Future of Healthcare Symposium on March 21, 2019 at The Ritz-Carlton in Marina del Rey. Keynote speakers at this year's symposium, Healthcare Leadership in the AI Revolution: Opportunity in the Smart Machine Age, are Dr. Eric Topol, executive vice president of The Scripps Research Institute and Jeff Stibel, vice chairman of Dun & Bradstreet. The Healthcare Symposium brings together influential thinkers and experienced practitioners to discuss the opportunities and challenges with using artificial intelligence and technological innovations to improve healthcare efficiencies, access to care and patient outcomes. Attendees can network with peers to share best practices and discuss collaboration opportunities. The first 400 registrants will receive a complimentary copy of Dr. Topol's new book, Deep Medicine: How Artificial Intelligence Can Make Healthcare Human Again, which he will be signing at the event. Register and view the full agenda.
In his presentation, Brain Science Is Smart Science, Jeff Stibel introduces us to brain science, "real" intelligence, and how his company, BrainGate, is using AI to advance neuroscience and treat those with neurological disorders. Stibel also offers a practical application of brain science and how to keep your brain healthy in the modern digital age. In his presentation, Deep Medicine: How Artificial Intelligence Can Make Healthcare Human Again, Dr. Eric Topol explores the far-reaching changes that smart technology and smart machines are having (and will have) on the practice of medicine and the experience of providing and receiving healthcare.
The morning panel: The Intersection of Smart Technology and the Business of Healthcare includes a discussion with:
Kim Kamdar, PhD, a partner at Domain Associates, has been involved in cutting-edge therapeutic start-ups and has been a major part of identifying companies with promising molecular and companion diagnostics to support personalized medicine.
Belinda Tan, MD, PhD, co-founder and chief medical officer at Science 37, is a physician-scientist and educator. As an entrepreneur, she is driven by the audacious goal of building a universal medical-scientific ecosystem that will connect all people to scientists. Prior to starting Science 37, Dr. Tan joined a team of physicians to build the nationally scaled telemedicine company DirectDerm, whose services have improved health outcomes throughout central California.
Visar Berisha, PhD is the co-founder and chief science officer of Aural Analytics, an assistant professor at Arizona State University, and a research fellow in the department of neurology at Mayo Clinic. With a focus on speech and language production, his research focuses on using technology to better understand neurological disease progression.
The afternoon panel: Applying Smart Tech: Leading the Way includes a discussion with:
Rajan Merchant, MD is a board certified allergist-immunologist based in Woodland, California. For his 18 years of experience, Dr. Merchant has been recognized by the Dignity Health Leadership Development Program, and has been named one of Sacramento Magazine's top allergy doctors for three consecutive years: 2016, 2017, and 2018. Most recently Dignity Health and Propeller Health was selected as the Grand Award for 2019 Intelligent Health Association Improving Patient Care and Safety Award with Dr. Merchant being designated the physician champion.
Samuel Seaman, PhD is a professor of decision sciences at the Graziadio Business School, where he teaches graduate courses in applied statistics and evidence-based decision analysis using mathematical models to solve dilemmas in economics, finance, healthcare, and marketing.
Lisa Watanabe, MD is the Chief Medical Officer at CureMetrix, which is leveraging artificial intelligence to develop the next generation of medical image analysis technology for mammography. Dr. Watanabe is an Associate Clinical Professor of Radiology at USC and in 2017 she received the Women in Neuroradiology Leadership Award from the American Society of Neuroradiology.