Five Students Receive $50,000 Scholarship in Honor of Pepperdine Graziadio's 50th Anniversary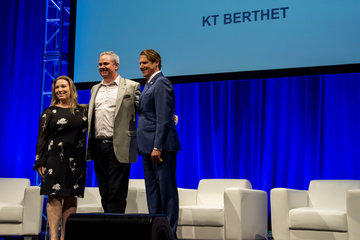 In honor of Pepperdine Graziadio Business School's 50th anniversary, we are pleased to have awarded five students a $50,000 scholarship for the Part-Time MBA (FEMBA) program. Each of these students exemplify Best for the World Leaders and we are thrilled to provide each of them with $50,000 to support their education and preparation for the workforce of the future. The winners were recognized onstage during the Pepperdine Graziadio 50th anniversary celebration, "Industry 4.0: The Future of Humanity in the Smart Machine Age," which was held on April 2, 2019 at L.A. LIVE in Downtown Los Angeles. The scholarship recipients were:
Austin Caldwell, senior manager, premium services at AEG / STAPLES Center / Microsoft Theater
KT Berthet, product manager at Farmers Insurance
Giang Hong, department administrator at Kaiser Permanente
Angela Park, associate manager, consumer products at Activision Blizzard
A winner from AON will be announced in fall 2019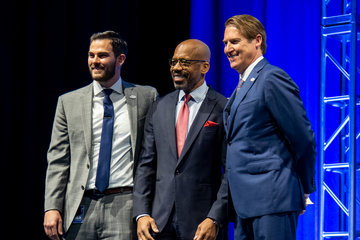 In addition to the $50,000 MBA scholarship, all admitted and enrolled employees from the partner organizations listed above will receive a 10 percent tuition scholarship toward any Graziadio MBA or MS degree program. At the Industry 4.0 event Pepperdine Graziadio dean Deryck van Rensburg, Apple co-founder Steve Wozniak, Singularity University founding executive director Salim Ismail, and Institute for the Future's Bob Johansen, along with several other influential thought leaders, shared their insights on how employers can prepare for the 4th Industrial Revolution and how employees can ensure they remain competitive as automation increases in nearly every industry sector. A women's leadership panel, featuring Johnson & Johnson consumer's chief marketing officer Alison Lewis, Britta Wilson, vice president of Inclusion Strategies at Pixar Animation Studios and Dalana Brand, vice president of people rewards and experience at Twitter, also discussed how women's roles at work will change during the age of automation.
For more information about becoming a corporate partner, please contact Shawn Herrera at shawn.herrera@pepperdine.edu.