Executive Associates Members
When you make a gift to the Graziadio School, you support business education that combines the very best academic and real-world preparation in a curriculum that honors the core values of integrity, stewardship, courage, and compassion.
Alumni support is an especially important endorsement of the school, which directly impacts current students and faculty. The Pepperdine Graziadio School has a large and vibrant alumni community that provides a valuable resource beyond the classroom.
Be Part of Something Bigger

We invite you to join the Executive Associates community. As a member, your gift will provide scholarships for worthy students, help recruit world-class faculty, and support the strategic initiatives set forth by Dean Van Rensburg. You will broaden your personal and professional network and be recognized for your leadership and legacy. Executive Associates are part of an elite inner circle at Pepperdine University with access to an array of cultural, educational, and entertaining events exclusively for our loyal supporters. The annual contributions from Executive Associates help the Graziadio School meet the challenges of financial need for highly deserving students while still growing the school's national reputation.
| Associate Level | Gift |
| --- | --- |
| Executive Dean's Associate | $25,000 |
| Executive Platinum Medallion Associate | $10,000 |
| Executive Gold Medallion Associate | $5,000 |
| Executive Silver Medallion Associate | $2,500 |
| Executive Associate | $1,000 |
| Recent Graduate Associate* | $500 |
| Student Associate** | $250 |
*Must have graduated in the last five years
**Must be a current student
Century Club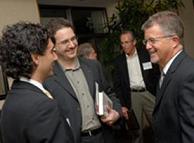 Many students, alumni, and friends do not realize that full tuition pays only two-thirds of the cost of a Pepperdine education. The other one-third is paid for with the help of the Graziadio Fund. This fund is essential in advancing the quality and reputation of the business school in meeting its greatest needs.
With your annual support, the Graziadio School can continue a legacy of providing an exceptional learning experience for the next generation of business leaders.
| Club Level | Gift |
| --- | --- |
| Graziadio Gold Century Club | $600 |
| Graziadio Silver Century Club | $300 |
| Graziadio Century Club | $100 |
For more information about investing in the future and increasing the value of your degree, please contact:
Brittany D. Sorrentino
Assistant Vice Chancellor Advancement
310.506.6718
brittany.sorrentino@pepperdine.edu