What Can You Do with a Master's in Human Resources Degree?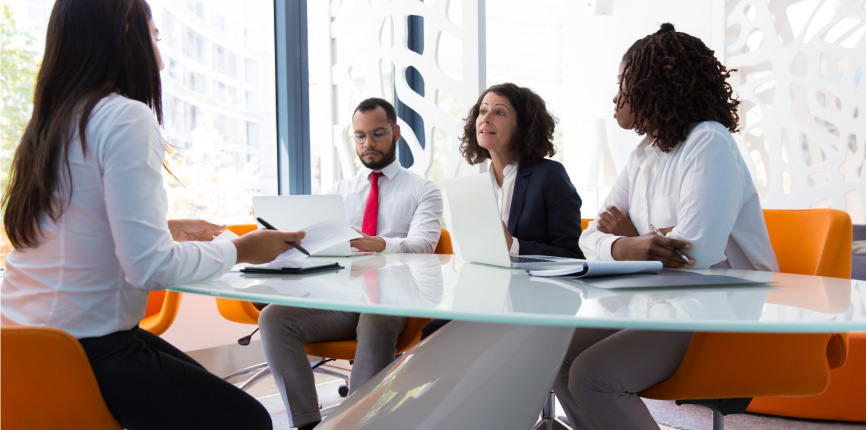 Why Choose HR as a Career Path?
Human resources are an essential component of any business or organization and a rapidly growing industry in the job sector. People working in the field of human resources are responsible for the hiring, administration, and training of personnel; they manage the resources of employees. Some of their duties include recruiting and staffing; compensation and benefits; training and learning; labor and employee relations; and organization development. Under the umbrella of HR exists numerous specialized roles, often concentrated in these above fields. HR is a career path that will always be necessary and valued by organizations and businesses. The industry has grown considerably over the years with the expansion of companies and the competitiveness of the job market. The skills learned in a Bachelor or Master of Human Resources can not only propel students into high-paying HR roles but compliment other careers.
Majoring in Human Resources
HR professionals enter the workforce with a wide variety of educational backgrounds, usually with at least a four-year bachelor's degree. A Bachelor's degree in human resources or even psychology, sociology, or personnel management is favored for most HR positions as these areas of study offer the best training. While it is possible to enter the field of human resources with other degrees, candidates who have studied closely related subjects will be favored over someone with a bachelor's degree in a more peripheral subject such as science. A background in legal studies can be beneficial to carving out a career in human resources as a large component of the field is understanding the rights of both employees and employers. Qualifications in dispute resolution can also be an asset to HR professionals as the necessary skills of negotiation and handling conflict is essential to the role of HR workers. Additionally, some HR professionals have a background in math which helps them to create turnover reports, determine salaries, and understand affirmative action reports.
In addition to having a bachelor's degree, working professionals can also obtain an HR certificate. This is especially beneficial to someone working in an entry-level position. HR certificates can also aid in transitioning an employee from one department of HR to another. It is common for large companies to offer workshops and classes that sharpen their existing professionals' HR skills. Certifications in HR include the Professional in Human Resources (PHR) as well as the Senior Professional in Human Resources (SPHR).
Careers in Human Resources
While the umbrella of human resources encompasses a wide variety of jobs, most people who work in the field fall into the following five categories: HR generalists, managers and directors, recruiters, learning and development managers, and compensation and benefits managers.
HR Generalists
An HR generalist is typically a mid-level position with the duties of overseeing the day-to-day operations of the HR department. Since they are a generalist, they must be an expert on various aspects of HR to ensure the department runs smoothly. Most HR generalists earn a salary between $56,600 - $84,000.
HR Managers and Directors
HR managers and directors work for a company or organization to maximize the value of their employees. Their role is to create a harmonious workplace that is both supportive and productive. They do this by recruiting suitable employees, administering benefits programs, handling disputes and disciplinary procedures and serving as an unbiased link between employees and employers. A part of their role is to advise on any issues that may occur within the work environment such as sexual harassment claims and equal employment opportunities. HR managers must also stay on top of the latest regulations and policy changes. An HR manager's salary falls between $83,000 - $136,000 while an HR director makes more, usually between $109,200 - $172,000.
Recruiters
Recruiters are responsible for seeking out potential employees best suited for a role within a company. They work for clients to find the right fit by posting job descriptions, identifying potential candidates, and then interviewing them to assess their suitability for the client's role. As the hiring landscape gets more competitive, recruiters will become more in demand. A recruiter's salary is between $49,000 - $80,400.
Learning and Development Managers
The primary duties of learning and development managers are to supervise and train employees. They do this by organizing trainings and working with senior-level managers to help implement learning and development strategies that can boost the performance of a company's employees. Learning and development managers make between $134,500 - $191,500 annually.
Compensation and Benefits Managers
The role of a compensation and benefits manager is to plan, develop, and oversee programs that pay employees, which is particularly important in larger companies. Compensation and benefits managers must be informed of state regulation and policy changes that can affect employees and the company they are working for. The median salary for someone working in this role is $122,200.
Study Human Resources at Pepperdine University Graziadio Business School
Human Resources is a career sector that is constantly expanding. At Pepperdine University's Graziadio Business School, we offer a Master of Science in Human Resources (MSHR). This program is concentrated on sharpening your HR skills to lever you above other potential HR candidates. Our MSHR is designed to be completed over three trimesters targeting all the core business principles in order to expand HR theory and practice. Furthermore, we provide our students with the opportunity to earn their degree as a full-time student or online. Pepperdine University offers prospective students a chance to visit the Graziadio Business School where a recruitment advisor can ask any questions you may have about our programs. Learn more about our HR curriculum and start your application today. If you are a non-U.S. resident, please review our application requirements.