The Future of Work and the Post-Pandemic Landscape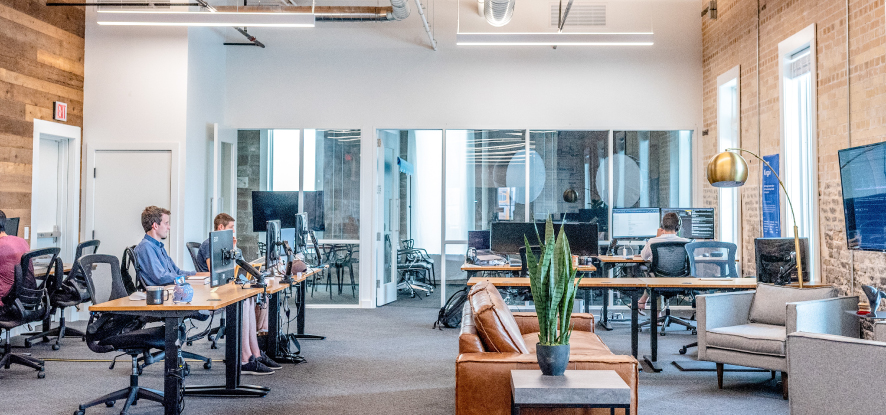 The way we work may be changing for good. With lockdown stretching from weeks to months to more than a year in some places, there's plenty of evidence to parse the effects of working and learning from home. As students, workers, and families assess what post-pandemic productivity looks like, companies are doing the same – with a notable level of confidence.
The Future of Companies
New Plans for Known Brands
According to microsoft.com, research conducted by the Microsoft Work Trends Index revealed, "80% of managers say they expect more flexible work-from-home policies post-pandemic, and more than 70% of employees say they expect to take advantage of them."
Company-driven surveys across different industries show similar responses; employees like flexibility and they're willing to work hard to maintain it. Remote work (a.k.a. "working from home" or "WFH" – or the less contemporary – "telecommuting") is no longer viewed as an outlier's option.
Remote-work policies do more than accommodate work-life balance and individual productivity habits. Cost benefits for companies going remote extend to:
less office-space overhead
reduced business travel costs
accelerated tech innovations
a broadened talent pool
Buildremote.co tracks a breadth of companies announcing remote-work policies, with Ford Motor Company, Verizon, Nationwide Insurance among them.
Benefits of Bragging Rights
In Silicon Valley, where disruption is a badge of achievement, tech companies are especially interested in sharing new plans.
In a bold statement to CNN, Twitter's Chief HR Officer Jennifer Christie said, "If our employees are in a role and situation that enables them to work from home, and they want to continue to do so forever, we will make that happen."
Quora CEO Adam D'Angelo announced a similar policy, noting existing barriers to working in Silicon Valley can now be lifted: "Most of these barriers – commutes, housing costs, and immigration – are not about to change, whereas the technology that supports remote work is going to continually improve."
Some say Google laid the groundwork for other Silicon Valley heavy hitters to declare new policies when CEO Sundar Pichai announced Google's flexible/hybrid approach. By that rationale, JPMorgan Chase might have similarly liberated Wall Street.
Daniel Pinto, Co-President and COO of JPMorgan Chase, proclaimed to CNBC: "We are going to start implementing the model that I believe will be more or less permanent, which is this rotational model. Depending on the type of business, you may be working one week a month from home, or two days a week from home, or two weeks a month."
Bottom line: Employers are ready to work with employees on remote work arrangements, and that could be vital to attracting top talent.
The Future of Job-Hunting
Before agreeing to the next new role near home, consider how the post-pandemic landscape opens up new positions in farther-reaching places.
Innovation and Ideation
Accenture surveyed 539 global insurance executives as part of its Technology Vision for Insurance 2020. Of those asked, 82% said their organizations will invest at least 1% of the company's total revenue in new digital technologies.
That might sound like a small percentage, but its impact could be big. While the pandemic expedited an unfortunate loss of jobs and cutbacks, it also yielded to digital solutions and the personnel that drive them.
Even as roles phase out, new ones emerge because innovation is, at its core, people-driven. Designers, product managers, marketers, and team leaders all help discover, build, and implement new ideas. Likewise, companies attempting to pivot or stay afloat need expert guidance on how to navigate change.
Bottom line: Those with degrees and concentrations in organizational change and digital innovation could be primed for exciting opportunities.
Geography and Competition
When companies choose to go 100% remote, their prospective talent pool is ostensibly the entire planet. It's safe to say recruitment and HR will experience some shifts. The global talent search could also mean those candidates living in less expensive cities could have a slight edge if they can afford to accept lower salaries than their counterparts in pricier places.
Keep in mind, however, that if you live in a more expensive city like San Francisco, New York, or Los Angeles, your experience in a competitive market could make you attractive to hiring managers. Some companies may hire workers from out-of-state with the expectation they'll relocate after a trial run, while others may hire with no such stipulation.
Bottom line: As the landscape widens, rethink how you position yourself. Understand that a move could be necessary down the road, so make sure you're clear on your terms going into a new role.
Compensation and Negotiation
Facebook Founder and CEO Mark Zuckerberg announced that while his company is ready to consider hiring outside of Silicon Valley, remote employees who elect to move to less expensive cities must notify Facebook as they could see a reduction in salary.
After a tough financial year, the idea of a pay cut probably sounds unpalatable. That said, savvy, post-COVID negotiators (particularly those enjoying WFH flexibility) are finding ways to make up for shortfalls. If an offer does not meet your expectations, consider asking for:
expanded health and retirement benefits
home office hardware and supplies
increased paid vacation time
tuition matching for continuing education
Compensation can encompass everything from healthcare to stock options to freed up personal time. If you're not sold on an arrangement at the outset, ask your employer if your schedule can be reassessed in six months or a year. Put it in writing, if necessary.
Bottom line: This is a great time to rethink your terms and priorities. Be prepared to renegotiate as the landscape continues to shift.
The Future of Your Workplace
Once you've locked in a new role or work schedule, take a moment to celebrate. Then proceed with cautious optimism. A fully remote workplace and a partially remote workplace can be very different experiences. Both will take time to evolve – particularly if you're in a hybrid situation.
Culture and Contribution
In many cases, entire teams adopt similar on-site/off-site schedules. That is, everyone is remote on certain days, then everyone is at the office for in-person meetings on other days. If remote work is more the exception than the rule, however, it presents some challenges.
When you're the lone wolf conferencing in via video, what might you miss in the chatter on the way in and out of the room? To the restroom or cafeteria? In the elevator at the end of the day? Happenstance conversations aren't always small talk – they can be where ideas spark and connections are made.
On-site work may also offer more exposure to higher ups and mentors, which can strengthen career momentum. Some companies – including Amazon – are sticking to traditional on-site, five-day workweeks because they're betting the employees who are the right fit for them place a premium on in-person collaboration and learning.
Bottom line: If remote work is not endemic to a company's culture or how you perform at your best, the benefits might not outweigh the challenges. On-site has advantages, too.
Privacy and Practicality
Depending on how much work you'll be doing from home, your employer might offer to provide you with equipment, upgraded internet, or access to office supplies. Before you embrace these add-ons, ask yourself:
Would you accept a laptop that has monitoring software installed?
Are you comfortable with meetings being recorded?
Will your log-ins to company-owned websites be tracked for hours and usage?
What types of security precautions are you taking? Will your company cover enhancements, if needed?
A permanent arrangement warrants a different awareness than a temporary one. Most teams have benefitted from seeing a more "human" side to their peers, but how much blurring between "home" and "office" is acceptable? How long will we tolerate kids, pets, or a patchy internet connection disrupting a meeting flow?
Bottom line: Most people are on board with remote work, but keep channels of communication open so everyone is clear on what's expected in return for working from home.
New Thinking for a New Era
Right now, there's a window in which workers can exercise some leverage when it comes to scheduling and remote work, but be prepared for some trade-offs. Armed with clarity on your own terms, you'll be able to make more peace with what you negotiate.
If possible, leave the door open to adjust your arrangement in time. With some care and communication, you can create a better work-life balance even as you help your place of business thrive.
Learn to Push Limits
Gain an edge on the new landscape through the Pepperdine Graziadio Business School. MBA concentrations like Leadership and Managing Organizational Change and fast-track degree programs like a 12-month Master of Science in Business can build acumen at a pace that matches innovation.
Pepperdine Graziadio also offers a concentration in Digital Innovation and Information Systems to both full- and part-time MBA students, so you can build skills that apply directly to the current wave of change.
See All Pepperdine Graziadio Degrees and Programs
Explore Pepperdine Graziadio Careers and Professional Development