Cloud9 Advisory and Pepperdine Graziadio Collaborate on MSBA Capstone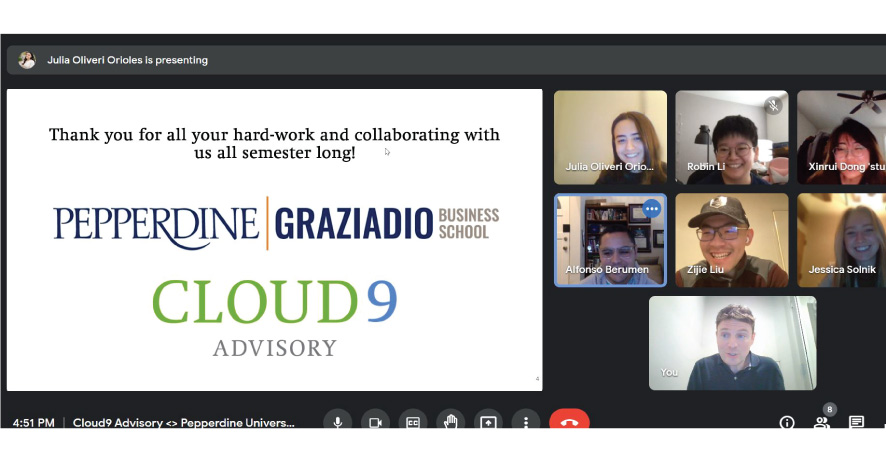 Pepperdine Graziadio students who are working towards a Master of Science in Business Analytics (MSBA) degree have the opportunity to complete a capstone course project. For projects in both 2021 and 2022, the MSBA program partnered with Cloud9 Advisory. Cloud9 is a finance and technology services company focused on offerings around CFO-as-a-service, tax and business advisory services, and cloud technology advisory services.
The Origins Behind the Cloud9 and Pepperdine Graziadio Collaboration:
Cloud9 Advisory's CEO and Founder, Chad Cavanaugh; and Pepperdine's Lecturer of Decision Sciences, Alfonso Berumen; met back in the early 2010's in Los Angeles, California. They hit it off immediately, and Professor Berumen actually attended Chad's wedding.
They have remained friends throughout the years and co-authored a business journal piece. They later reconnected on this project, with Cloud9 supplying the data and overall goals; and Berumen working with them to ensure the tasks provided the students with suitable opportunities to practice their skills, while also offering technical support for the students in the classroom. Cloud9 was thrilled for a chance to work with Pepperdine's Graziadio Business School Students, as they learned from Pepperdine pre-project that these students have a 100% satisfaction rate, according to "Why Hire a Pepperdine Graziadio Business School Intern?". C9 was glad to offer students a chance to network and work with a real-world dataset.
The MSBA Capstone Course Project:
The project offered the graduate students an opportunity to work with a real-world dataset on public Pandemic Relief data. The first cohort of MSBA graduate students were tasked with creating a heat map of this data; the project took place for about a month in November/December of 2021. The group experienced a multitude of technology frustrations, ranging from data refresh hardships and the inability to work with the full dataset to compute limitations. After the completion of this cohort's project, Cloud9 worked hard to develop solutions to the issues the students had faced. For Cohort II, they reinvented the toolkit for the program by implementing a major change: adding the use of Google BigQuery and Connected Sheets (pictured). The second cohort kicked off in May 2022 and by the time it had ended in early August, it was clear that using Google Cloud Platform (GCP) had made a positive impact. Robin Li, a student originally in Cohort I, helped C9 redesign the process for Cohort II. This set Robin in a unique position to identify the differences in insights between the two Cohorts. Robin states that " a lot of Cohort I students were spending most of their time struggling to deal with large dataset, so it became difficult for them to deliver business insights in the end. Also, working on local devices doesn't allow them to refresh the analytics promptly whenever the original dataset is updated." Conversely to Cohort I, MSBA students who participated in Cohort II were split into groups and assigned four different prompts. The prompts combined technical and business skills, and were based around activities such as creating a dashboard, identifying fraud, constructing a database, and pitching GCP as a data analytics tool. Connected Sheets' data refresh tool allowed students to work on the newest versions of the data, which ensured greater efficiency and accuracy in their analysis. Pepperdine students and Cloud9 employees had greater communication and collaboration due to the use of GCP; its status as a user-friendly tool for those without an analytics background simplified the understanding between the two groups. Cohort II was immensely successful overall, as Graziadio students got to explore their skills on a real-world dataset, and Cloud9 was provided with useful and applicable data research.
The Impact on Graziadio Students and Cloud9 Advisory:
Through this collaboration, Pepperdine Graziadio students had the opportunity to develop tangible skills that will allow them to better understand and address current market demands. The project demonstrated the connection between the technical skills the students already possess and how those are related to real-world business objectives and insights. According to Berumen's syllabus, the course was specifically designed to enhance the student's professional communication skills, develop creative problem-solving and analytical skills, and increase understanding of the global environment as it affects the workplace. Using Google Cloud Platform, students utilized BigQuery and Google Connected Sheets in order to gain new experience with cloud-based platforms to prepare them for a variety of post-graduate opportunities. GCP offers a data refresh option, which lets students consistently analyze the updated versions of the dataset; an aspect they may not be used to when working with more traditional platforms. Furthermore, the dataset was Macroeconomic-related, which provided students with greater insights into real-world business applications.
Professor Berumen spoke about the takeaways from the project, "With access to Cloud9's Google Cloud resources, the students were able to work directly with Big Data efficiently and effectively. The students were able to apply code, perform statistical analysis, and create visualizations using this over 11 million record, 50+ variable dataset. Additionally, the owner of Cloud9, Chad, was heavily involved in communicating with the students and providing project direction. In the end, it provided the students an opportunity to have a direct impact on Cloud9's strategic initiatives as an advisory firm giving them direct exposure to real-world analytics projects."
Furthermore, a post-project survey was conducted to further understand the student's takeaways from the project. On a scale of 1 to 5, all student participants rated their experience working with Cloud9 on this project as either a 4 or a 5, indicating the project was an insightful opportunity for them. Students were questioned about their biggest takeaways, with one student answering "I learned how to work in an environment that was constantly changing; it was a great learning experience for the real world. It also allowed us to exercise our SQL skills." Students also commented on the benefits of using GCP, and expressed their appreciation for working with "a real-world application of data analytics and exposure to working with professionals".
The Collaboration Continues:
Cloud9 Advisory and Pepperdine Graziadio's MSBA program have already continued this partnership for the past two years, with hopes to continue working together in the future. Robin Li, has since graduated from Pepperdine; yet has continued to work part-time with Cloud9 Advisory as a data analyst. Robin was able to continue her work on the Pandemic Relief Dataset, originally introduced to her in the capstone course.