Faculty Best Practices
Dave McMahon, DBA
Associate Professor of Marketing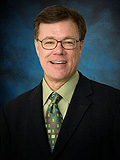 How do you build relationships with students?
In my class, I like to encourage the free flowing of ideas – you could call it "controlled chaos." My goal is to create a "we're all here to help each other get better" atmosphere. I share my life with them, which encourages them to share their lives with me and creates a sense of camaraderie and trust. When you walk into my class, I won't be able to tell you exactly what we'll be talking about, because the students determine it themselves, and each group is different. The way to help them be the best they can be is to allow them to participate in crafting how the journey will go. They're MBAs, we can give them that type of freedom and trust them to make substantive contributions. And they always do.
How do you ensure your teachings are learner-focused?
In my class, we work hard on presentation skills. In marketing, this is important. Students form consulting teams and do seven practice presentations, all of which are recorded and reviewed together. Each student is evaluated by their peers and given real time feedback, which takes their presentation skills to a new level. For the final presentation, students determine each others' grades, and people are very honest. It gives them a sense of where they are, as opposed to where they think they are. They say it's the most nerve-racking, but also the most valuable exercise. They appreciate it because it makes a difference in their presentations at work and helps get their projects looked at more favorably. They like having the ability to practice in class, so they can bring their A-game to work.
Describe ways in which you engage students in the classroom.
I don't lecture too much – instead I make the class very interactive, which means students must be prepared. I tell them they are going to learn outside the class learn how to think inside the class. I don't want them to simply regurgitate information. To master an idea, you must learn to look at it from many different perspectives.
In my Executive MBA class, students work on developing marketing plans for their own companies. In the beginning of the semester, I'll meet with each student individually and spend at least an hour scoping their project so it makes a difference for their company and their career. It helps them get focused and inspires them to do something that's really going to make a difference.
I see myself as a coach. I try to make it fun, but also intense. Students tell me I'm tough, but fair, and that I really care.